Alfa Romeo 145 & 146
With the Alfa 33 needing to be replaced, it was decided to build the all new car in two slightly different styles. The results, first shown in 1994, are the 145 with three doors and the 146 with five. The design and structure of the front ends are both the same, but from the A-pillar back the two cars are different. Aerodynamically, the 145 has a drag coefficient of 0.32 and the 146 of 0.31.
The floorpan used the Tipo as a starting point, and retained the latters basic suspension layout of MacPherson struts at the front and trailing arms at the rear, obviously optimised to give the traditional Alfa Romeo handling and driving experience.
The mechanical parts are identical on both the three and five-door bodystyles. Introduced initially with the boxer motor (1600 with 103bhp and 1700 with 129bhp) from the Alfa 33 (and before it the Alfasud), these were soon replaced by the new dohc twin spark units which are now common across the whole Alfa Romeo range. (Diagrams illustrating this technical solution can be seen here and here.) These engines include a 1370cc (103bhp), 1598cc (120bhp), 1747cc (144bhp) and 1970cc (155bhp) plus there is the 1910cc (105bhp) JTD diesel turbo. The 1.8 and 2.0-litre petrol engines also feature a variable inlet manifold in order to provide improved toruqe across the engine speed range.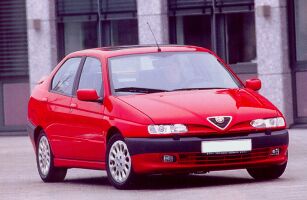 The introduction of the twin spark engines in 1996 was accompanied by various suspension and steering tweaks, including the much more direct steering similar to that used on the revised 155. The range topping 2-litre cars are known as the 'Green Cloverleaf' in 145 form, and 'ti' in 146 form. There are also 'Junior' models produced, harking back to the 1970's GT Junior coupes.
In keeping with the safety oriented times, these cars come complete with ABS, seat-belt pretensioners, energy absorbing steering wheel and front and side airbags as standard, whilst the design incorporates side impact bars, crumple zones and similar ( 145 and 146 safety).
---
Technical Details

Driveline
transverse engine at front with front wheel drive
Suspension
front : MacPherson strut with telescopic dampers and coil springs plus anti-roll bar
rear : independent with telescopic dampers and coil springs plus anti-roll bar
wheelbase : 2540mm
front track : 1472mm (1468mm on GC & ti)
rear track : 1441mm (1428mm on GC & ti)
Brakes
front : ventilated discs, diameter 257mm (1.6TS); 284mm (others)
rear : discs, diameter 240mm
rear load proportioning valve
handbrake operating on the rear via cable
dual hydraulic circuit with servo assistance
ABS
Gearbox
5 speed manual
Steering
Rack and pinion with speed sensitive hydraulic power assistance
2.1 turns lock to lock (2.63 on boxer engined cars)
Kerb Weights
145 1.6 boxer : 1140kg; 1.7IE 16V : 1190kg
145 : 1.6TS : 1165kg; 1.8TS : 1195kg; Green Cloverleaf : 1240kg
146 : 1.6TS : 1190kg; 1.8TS : 1215kg; 2.0ti : 1275kg
Here you can see sectioned drawings of the 145 and 146 and diagrams showing the structure of the 145 and 146.
---
---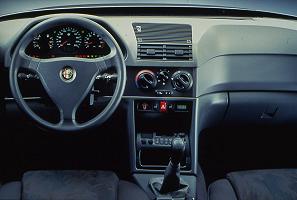 Performance

| | | | |
| --- | --- | --- | --- |
| model | max speed | 0-60mph | in gear acceleration |
| 145 1.7IE 16V | 124 mph | 9.4 sec | |
| 146 1.6TS | 114 mph | 11.4 sec | 14.0 sec (50-70 in 5th) |
| 145 Cloverleaf | 129 mph | 8.0 sec | 9.8 sec (50-70 in 5th) |
---
---
Tuning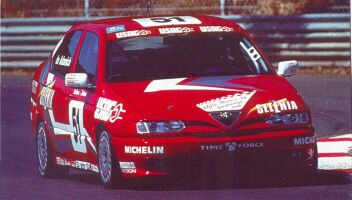 Easily carried out modifications include installation of a free-flow air filter (a cold air duct is also a worthy mod) and fitment of a less restrictive exhaust system to improve the driveability, 'Chips' are also available which (claim to) increase the power, driveability and torque all at the same time.
The brakes can be improved by fitting drilled and grooved discs, using a superior pad compound and fitting stainless steel braided flexible hoses. A higher specification brake fluid, with a higher boiling point, will also increase the amount of extreme usage the brakes can cope with before fading occurs.
Dampers and springs are readily available for the 145/6 which will improve the handling, and a strut brace can be fitted at the front to increase the stiffness of the bodyshell. Depending on the comfort-performance trade-off, harder bushes (from Nylon or similar) can be fitted which will reduce the amount of compliance in the suspension.
---
Buying / Selling
The boxer engined models are considerably cheaper than the twin spark engined cars - they are considered less refined and lacking in torque. The later twin-spark powered cars are much more refined, although the one to really go for is the Green Cloverleaf. A true 'hot-hatch' this model sacrificed refinement for thrills, but it succeeded. Fuel consumption does however suffer. For those with more practical requirements, the 146 ti has the same go but with four doors.
---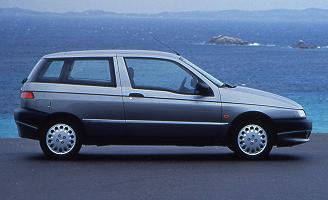 Links
A Spanish 145 website.
A general 145 website.
A 145 forum.

---

For books on Alfa Romeo see our Online Bookstore
There is also a list of all our picture galleries (including museums, motorshows and various events).
Wallpapers/Desktop Backgrounds of numerous Alfa Romeo's (including the 145 and 146) also available to download.
---
145 & 146 comment form
---
Your Comments
Five years ago I bought an Alfa Romeo 146 (boxer engine). I think its a great car with a special character though its quite expensive to maintain. I think they should do a bit of extra work on product quality. Nevertheless, driving an 146 is a pleasure. (Pavlos, Greece)
I am writing from Singapore, I owned a 146 TS for 3 years now. The sound and the revs are delicious. The body roll and suspension are not able handle to a limit. The main agent technicians are slowing killing the brand with the cut-corners repairs and diagnostics.
Fun to drive, brakes are not "functionable" when engine is cold. Main agent says it's a "design limitation" (??). Quite thirsty though.(Alfa 146 1.6 Boxer)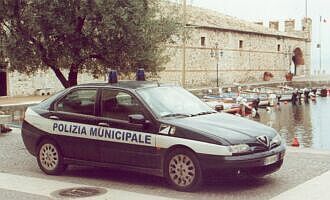 I am from malaysia...i owm a 146 ti for 3 years now.. it is a fully upgraded one..with racing cams..chips...free folw exhaust,air filter...lowered springs...koni absorber..is a truly wonderful car..though maintenance at tiems r expensive...after a dyno test..it produces 210 bhp..from the original 150 bhp
Here are my conservative results. I've just finished having my 2.0l litre Twin Spark tweeked and thought you may like to know the out come, first I had a powerflow stainless steel exhaust system fitted from the cat - back (i.e. not inc. the cat) , from Alpha Tyres at Leeds (UK), guaranteed for life £300 all in, you have to take it back once a year for a check-up though. Then I took it to Kershaws (Tel 01759 373399) near York (UK) , these guys have been tuning Alfas for over 20years, they checked the existing power on there rolling road, 151BHP, then they fitted a K&N air filter, and a Superchip all for £305, then rechecked it, 171bhp was the final figure, but the comparison test estimate a 8BHP gain (im unsure of the mathematics behind the test ), but theres definitely a vast improvement in torque, no more flat spots, better rev range etc, to finish off with I put a drop of slick 50 in, the induction roar and the exhaust sound fantastic, My advice is if your keeping your Alfa get it done, you know it makes sense!
I've recently bought a 1998 145 1.8 16v TS. Really pleased with it - it sits at 80mph and is raring to go! Amazed at the space inside and love that Alfa snarl! (Alison, UK)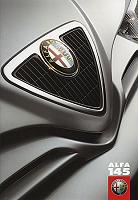 I have owned an Alfa 146 1.6 boxer for 5 years.I must admit that it has excellent road handling,but it isn't a fast car because of the weight.Also has very high driver's seat(disadvantage coming from Fiat)and shock absorbers absolute garbage after 35000 km.Enough with the bad points!The car has the cuore sportivo in it!Really delightfull when driving in high revs(Nickos T, Greece)
I have a red 145 1.6 Boxer. It's a great car - very reliable, gorgeous looking and fun to drive. It's an early model (1995) but still looks really good. NO rust and the inside still looks good after 67,000 miles. I will have another one soon - a 1.8 T.Spark version. The 145 comes highly recommended by me. (William P, UK)
I am from Argentina and own an Alfa 146, TS 1998, is red, is fast, is Italian, and I love it. I bought it because its motor, the way it turn,the glorious sound when running, and its DESIGN. This is my definitive brand of cars and I will always have one in the future. I Know they have some problems, but they are like a woman you can't live without one. (Roberto)
I've bought an Alfa Romeo 145 2.0 16V T.Spark. It feels great, it sounds great. It's nice to feel the hole power of the engine coming from the gas step and it's fine to go through the roads with it. Unfourtunately not all roads in Brazil are able to keep this car at it's most!
I have a 146 ti which is a fantastic looking car. I have fitted a powerflow filter and rage exhaust. The car is extremley quick and I will be keeping it for a good while.
Four years ago I bought my 145 2.0TD which had at that time run only 125000 km's. By now, the car has run 290.000 km and is still going strong. Two new brakedisks and new front wheelbearings are the only serious repairs. And: no rust at all. Excellent car!
---
Use the buttons at the top to navigate further, or
---
Copyright © 2000 to 2008 CarsfromItaly