Alfa Romeo 6C cars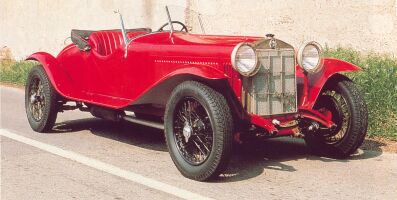 First shown to the public in 1925, with production starting in the following year, the 6C1500 was a new car designed by Vittorio Jano. Many features were continued from his P2, a car which had won the Grand Prix World championship the year before. The engine was an all new 1487cc six cylinder, sohc unit producing 44bhp @ 4200rpm and fitted with a single carburettor.
Soon afterwards the sohc head was replaced by a dohc unit, which, fitted in the 1500S (Sport), produced 54bhp. In some markets this was sold as the Gran Turismo. The sohc unit continued to be available on special order until 1930.
A further development was the 6C1500SS, or Super Sport. This had a supercharged version of the same engine, using a Roots type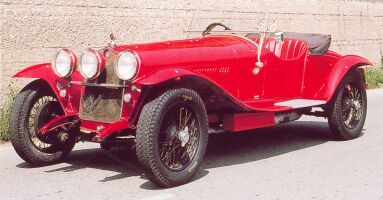 blower at 5psi, and produced 76bhp. This latter was very successful in motorsport including winning the Mille Miglia in 1928.
In 1929 the next development was introduced, the 6C1750. This was available in three different versions, a sohc unit with 45bhp, a dohc unit with 55bhp and a supercharged unit with 85bhp. Chassis' were made available with two wheelbase lengths, although a small number of extended length GTC (compressore) cars were built. Again these cars were used with success in a variety of motorsport competitions.
The 6C1900 emerged in 1933 using the bore and stroke of the 8C2600, giving a displacement of 1917cc. The engine produced 68bhp, but only few examples were built, it being an interim unit.
1934 saw the introduction of the all new 6C2300 engine. This was a dohc unit and was produced in three different states of tune. The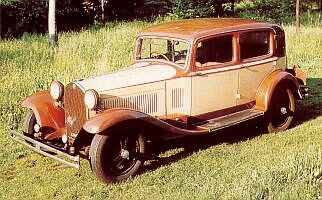 long wheelbase cars got 70bhp, the short wheelbase cars got 76bhp and the Pescara cars got 95bhp. The latter featured a lightweight body by Touring.
Developed from the 6C2300, the 6C2500 arrived in 1939, and continued in production until 1952, with some interruption during the war. The main production again used three variants, the basic unit giving 87bhp, in the Sport, with a higher compression ratio, this was increased to 95bhp, whilst in the Super Sport and fitted with three single choke carburettors, it produced 105bhp. A competition version, the 6C2500SS corsa, had an engine producing 125bhp.
After the war the power outputs dropped slightly due to the poor quality of fuel available, except in the last competition version, the 6C2500 Competizione, where the engine was persuaded to give 145bhp for the 1950 Mille Miglia. The most famous post-war version was the 'Freccia d'Oro' which used the long (3000mm) wheelbase and a 90bhp engine, whilst smaller numbers of Super Sports and Turismo's were also produced.
Production volumes were as follows :

| | |
| --- | --- |
| 6C1500 : | 1,058 |
| 6C1750 : | 2,259 |
| 6C1900 : | 197 |
| 6C2300 : | 1,611 |
| 6C2500 : | 2,591 |
---
---
Technical Details

Driveline
longitudinal engine at front with rear wheel drive
Engines
6C1500 : 1487cc (62x82mm) six-cylinder in-line engine, sohc & dohc versions
6C1750 : 1752cc (65x88mm) six-cylinder in-line engine, sohc & dohc versions
supercharged versions of both the above engines were also built.
6C1900 : 1917cc (68x88mm) six-cylinder in-line engine, dohc
6C2300 : 2309cc (70x100mm) six-cylinder in-line engine, dohc
6C2500 : 2443cc (72x100mm) six-cylinder in-line engine, dohc
Wheelbase
6C1500 normal : 2900mm (4 seat) 3100mm (6 seat)
6C1500 Sport & Super Sport : 2920mm
6C1750 Turismo : 3100mm
6C1750 Sport & Gran Turismo : 2920mm
6C1750 Super Sport & Gran Sport : 2745mm
6C1750 Gran Turismo Compressore : 3160mm
6C1900 Gran Turismo : 2920mm
6C2300 Turismo : 3210mm
6C2300 Gran Turismo & Pescara : 2925mm
6C2300B Gran Turismo, Corto, Mille Miglia & Pescara: 3000mm
6C2300B Turismo & Lungo : 3250mm
6C2500 Turismo : 3250mm
6C2500 Super Sport & SS Corsa : 2700mm
6C2500 Coloniale : 3100mm
6C2500 Sport (& Freccia d'oro) : 3000mm
6C2500 Competizione : 2500mm
Brakes
drums on all four wheels
Gearbox
4 speed manual
---
---
---

For books on Alfa Romeo see our Online Bookstore
There is also a list of all our picture galleries (including museums, motorshows and various events).
Wallpapers/Desktop Backgrounds of numerous Alfa Romeo's also available to download.
---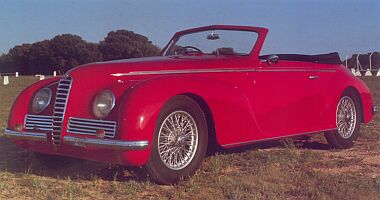 Use the buttons at the top to navigate further, or
---
Copyright © 2000 to 2008 CarsfromItaly