Alfa Romeo Arna

On 9th October 1980 in Tokyo, Ettore Massacesi and Takashi Ishihara signed the accord forming AR.N.A. SpA (Alfa Romeo Nissan Autoveicoli). Three years later, at the Frankfurt Motorshow of 1983, the result was launched, the Arna. It was basically a Nissan Cherry (or Pulsar) bodyshell and rear suspension fitted with an Alfasud engine, drivetrain and front suspension. The independent rear suspension of the Cherry made it the first production Alfa Romeo to have such a layout. The body panels were shipped from Japan to the all new assembly plant at Pratola Serra near Naples, after which they were shipped to the Alfasud factory for completion.
Originally it was launched with the 1186cc (63bhp) engine and both three- and five-door bodystyles, known as the L and SL respectively. At the 1984 Geneva show Alfa Romeo launched the Ti. With three doors, front and rear spoilers, a bright new interior and most importantly the 1351cc engine fitted with two twin downdraught carburettors and generating 86bhp. The final changes came in 1985 when a variety of interior trim changes were joined by a twin-choke version of the 1.2 with 68bhp.
Some normal S and SL versions also got the 1351cc engine with 71bhp, whilst a small number of 1.5Ti's were built using the 95bhp 1490cc unit.
Despite the (supposed) economic logic of this union, the Arna was never very successful and production ceased after only three years. It was also badged the Nissan Cherry Europe and sold through Nissan dealers - this is easily recognizable by the different rear light treatment to the standard (Japanese) Cherries.
Production (Arna) :
1.2 3-door L - 4,533 early, 5,489 late
1.2 5-door SL - 20,296 early, 15,913 late
1.3 3-door Ti - 3,145
1.3 3&5-door SL - 1,438
1.5 3-door Ti - 297
---
Technical Details

Driveline
longitudinal engine at front with front wheel drive
Engine
1186cc 4 cylinder horizontally opposed with 68bhp @ 6,000rpm
1351cc (80x67.2mm) 4 cylinder horizontally opposed with 86bhp @ 5,800rpm
1490cc (84x67.2mm) 4 cylinder horizontally opposed with 95bhp @ 5,750rpm
Suspension
front : MacPherson strut with telescopic dampers and coil springs plus anti-roll bar
rear : independent with telescopic dampers and coil springs
wheelbase : 2416mm
front track : 1392mm
rear track : 1402mm
Brakes
front : discs
rear : drums
dual hydraulic circuit with servo assistance
Gearbox
5 speed manual
Steering
Rack and pinion
Kerb weight
1.2 3-door/1.2 5-door/1.3ti : 850kg (all)
---
Tuning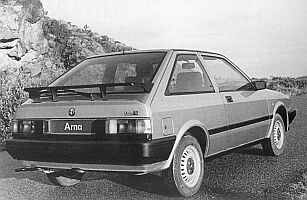 Easily carried out modifications include installation of a free-flow air filter (a cold air duct is also a worthy mod) and fitment of a less restrictive exhaust system to improve the driveability. Depending on the version, the twin carburettors from the Alfasud ti can be fitted, which will give a noticeable improvement.
The brakes can be improved by fitting using a fluid with a higher specification, such as DoT5, drilled and grooved discs, using a superior pad compound and fitting stainless steel braided flexible hoses.
Dampers and springs can be made for the Arna which will improve the handling, and strut braces can be fitted at the front and rear to increase the stiffness of the bodyshell.
See also the tuning section on the Alfasud.
---
Maintenance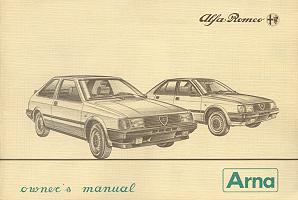 Scheduled maintenance :
Replace air filter : every 20 000km
Check valve clearances : every 20 000km
Engine oil & filter change : every 10 000km or 12 months
Transmission oil change : every 40 000km
recommended engine oil : SAE 10W/50 API SE
recommended transmission oil : SAE 80W/90 API GL 5
engine oil capacity (sump & filter) : 4.0 litres
transmission oil capacity : 2.6 litres
Tyre pressures front/rear : 1.8bar / 1.6bar
---
Identification

| | | |
| --- | --- | --- |
| Model No. | Details | Engine No. |
| 920A | Arna L, 3-door, 1186cc, from 1983 | AR31000, from 1984 AR30500 |
| 920AA | Arna SL, 5-door, 1186cc, from 1983 | AR31000, from 1984 AR30500 |
| 920A1B | Arna ti, 3-door, 1351cc, from 1983 | AR31010 |
---
Buying / Selling
Some tips to do before selling : (they may seem obvious, but most people don't do them and thus are in a weaker bargaining position)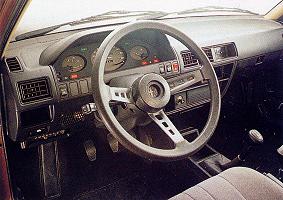 Tidy inside the car thoroughly : hoover the floor, empty all pockets, ashtrays (wash), glove compartment etc..., wipe the trim with a damp cloth, give the cockpit a good airing to get rid of any odours ! Reset the trip meter to 00000 - it is a pleasant (subconcious) surprise.
If the car has been standing give it a good run - this will clear out the engine (reduce exhaust smoke), put a shine on the brake discs and loosen up any joints that may otherwise make some noises.
'Back to black' products are very effective at temporarily restoring bumpers and trim. This makes a big difference to any car. Do it a week before you expect people to view the car, otherwise it may be a bit too obvious !
Jetwash under the car, especially under the engine and in the wheelarches. The prospective buyer may be an enthusiast, and this makes it easier for them to see what they want to check.
Obviously wash the car and clean the windows !
If you are going to buy a car always check the following :
When considering an Arna, it is very neccessary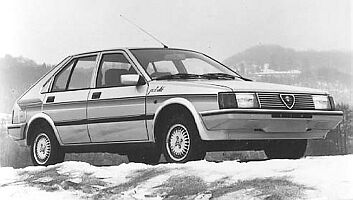 to check the bodywork. Pay special attention to the wheelarches, inner wings, suspension and engine mounts, sill, door pillars (check for sagging doors), scuttle panel and the floor (doors, bonnet and hatch are also susceptible, but are more easily replaced). If a sunroof is fitted check around the edge for signs of rust.
Check that there are no mismatching panels, large areas of discolouration or signs of fresh paint. Compare the paint colour in the engine bay with that of the exterior.
Check for a damp carpet or the presence of mould - if the carpet is damp then the floor is almost certainly corroded.
Check the main electrical functions - wipers, lights, etc... try putting the main beam and wipers on at the same time. Check the headlight reflectors for rust.
Check for excessve wear in the rear suspension bushes.
Check the brake pedal does not go to the floor if pressed hard for a long time and check the gearchange for clean engagement.
The engine should be run up to temperature, check the exhaust for smoke, the condition of the breather (look for mayonnaise), the condition of the oil filler cap (again white deposits can indicate head gasket or other serious problems) and the colour of the coolant (preferably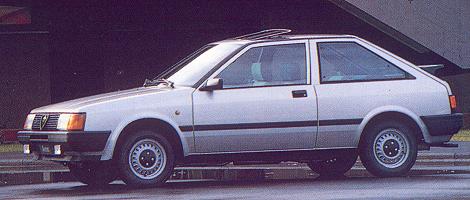 not brown!). If the car has an oil pressure guage this should not drop below 1 bar at idle, and should be around 3 to 4 bar at speed. Listen to the noise of the engine, then depress the clutch and engage first gear. Whatever noise has disappeared was coming from the gearbox, what remains is from the engine. Check the colour of the oil using the dipstick. A golden-brown is best, darker brown is ok, but thick and black should be avoided.
Check tyre wear, uneven patterns could imply a bent chassis.
Always take it for a test drive. Check that the car tracks in a straight line with no steering input and remains in a straight line under braking. Find a large open area and complete several lock to lock turns (also in reverse), listening for any noises.
---

For books on Alfa Romeo see our Online Bookstore
There is also a list of all our picture galleries (including museums, motorshows and various events).
Wallpapers/Desktop Backgrounds of numerous Alfa Romeo's also available to download.
There are also various statistics regarding production and sales.
---
Arna comment form
---
Your Comments
I've always liked Alfa Romeo cars, but never the Arna, a Nissan tin can with a sad Alfa engine under the bonnet (any engine would be sad with the Cherry body around it!) (Patrizio C, Italy)
Look for Arnas in scrapyards! Arnas (or "Cherry Europe" Nissans) are excellent sources of Alfa Romeo flat-fours that could be used to rejuvenate better Alfas (Alfasud, Sprint...). Don't let these great engines get scrapped with the horrid Arnas! (AL, Italy)
To the Arnas will happen the same thing as to cars like the Ford Edsel or the R 4 built by Alfa--no one cares until all are scrapped--but this car is belonging to the history of Alfa like a 6 C 2300. Maybe in 20 years we will enjoy to see one of them still alive. (Rainer, Germany)
---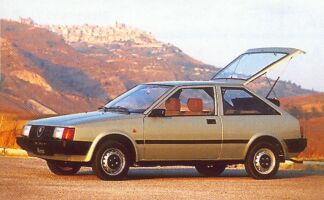 Use the buttons at the top to navigate further, or
---
Copyright © 2000 to 2008 CarsfromItaly