Alfa Romeo Spider & GTV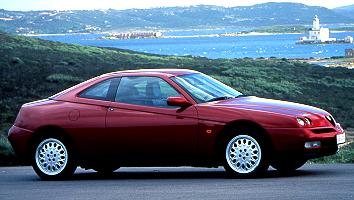 The GTV coupe and Spider convertible were launched at the Geneva Motorshow in March 1995, after a long period where Alfa Romeo had no real sporting models in its range. Really the spiritual successors to the Betone GTV coupés and the Duetto Spider respectively, both were designed in-house at Alfa Romeo (with some assistance from Pininfarina).
The chassis is originally based on the Tipo platform but is heavily modified with MacPherson strut front and an all new multilink rear suspension. The latter mounts the suspension onto a light alloy subframe which in turn is bolted to the car. Through careful design of geometry and bush compliance a small amount of rear wheel steer has also been included. This results in exceptional handling, which has been praised by many journalists, a factor which is further improved through the use of a very quick steering rack, with just 2.1 turns lock to lock.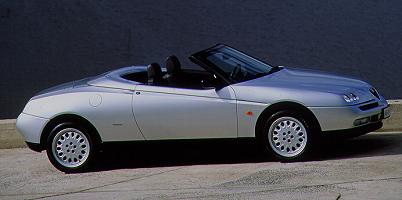 Power came from any of the following; a 1747cc twin spark 16V (144bhp), a 1970cc twin spark 16V (155bhp), a 1996cc V6 turbo (200bhp) or a 2959cc V6 (12V with 192bhp or 24V with 220bhp). The latter was the fastest production Alfa Romeo to date when new.
The GTV accomodates two (plus two!), whilst the Spider is strictly for two. The open topped car features a folding soft-top, with a five hoop frame, which completely disappears from site under a flush fitting cover. An electric folding mechanism is fitted on some versions. As would be expected the GTV has a much more rigid chassis, although considerable work was (successfully) done to ensure that the Spider does not suffer from scuttleshake.
A mid-life update in 1998 is recogniseable by the addition of a chrome rim around the Alfa shield in the bonnet, whilst a more significant change was the addition of an (optional) six-speed gearbox for the 3.0 24V version. Various other details were changed and the cockpit was slightly redesigned.
More significantly facelifted versions of both the Spider and GTV were relased at the Geneva Motorshow 2003. Both got a much deeper 147-style front grille, whilst the GTV also gained a significant power boost with the addition of a a 240bhp 3.2-litre 24V V6 engine. A variety of detail modifications were also carried out to the interior, suspension etc. Official preview pictures can be seen here, whilst images of the cars at the motorshow are here.
| | |
| --- | --- |
| | |
---
Technical Details

Driveline
transverse engine at front with front wheel drive
Suspension
front : McPherson strut with telescopic dampers and coil springs plus anti-roll bar
rear : independent multilink with telescopic dampers and coil springs plus anti-roll bar
wheelbase : 2540mm
front track : 1449mm (3.0 V6 : 1508mm)
rear track : 1487mm (3.0 V6 : 1530mm)
Brakes
front : discs, ventilated, diameter 284mm (305mm on 3.0 V6)
rear : discs, diameter 240mm
handbrake operating on the rear via cable
dual hydraulic circuit with servo assistance
Gearbox
5 or 6 speed manual
Steering
Rack and pinion with hydraulic power assist
Kerb weight
GTV 2.0TS : 1370kg; 3.0 V6 : 1415kg; 2.0 V6 turbo : 1430kg
Spider 2.0TS : 1370kg (61% front, 39% rear)
---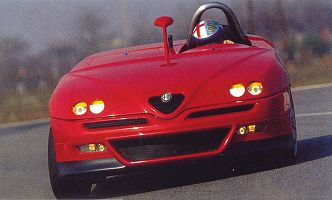 Monoposto
A one-off prototype for a racing car, the Monoposto was effectively a modified Spider, fitted with the 3.0 V6 from the GTV. Modified aerodynamics saw (apart from the removale of the windscreen) a new front and rear bumper, as well as a rigid (albeit removable) tonneau hiding a rather small passenger seat. Other touches included a 70's prototype style rear-view mirror and an F1 style in-car camera. Various options were studied, including producing a kit for existing Spiders, a limited run for a one-make series and others, but in the end it remained a single prototype.
---
Performance

| | | | |
| --- | --- | --- | --- |
| model | max speed | 0-60mph | in gear acceleration |
| GTV 2.0TS | 129 mph | 8.0 sec | 11.1 sec (50-70 in 5th) |
| GTV 3.0 V6 | 145 mph | 6.6 sec | 8.8 sec (50-70 in 5th) |
| GTV 2.0 V6 turbo | 146 mph | 7.4 sec | |
| Spider 2.0TS | 122 mph | 9.4 sec | 12.8 sec (50-70 in 5th) |
---
---
Tuning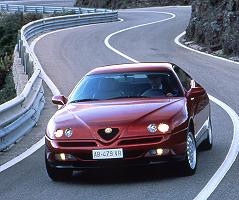 Easily carried out modifications include installation of a free-flow air filter (a cold air duct is also a worthy mod) and fitment of a less restrictive exhaust system to improve the driveability, 'Chips' are also available which (claim to) increase the power, driveability and torque all at the same time. There are also companies offering such accessories as traction control and launch control, and for those desiring yet more power, 3.5 litre conversions.
The brakes can be improved by using a higher specification fluid, fitting drilled and grooved discs, using a superior pad compound and fitting stainless steel braided flexible hoses.
Dampers and springs are readily available for the Spider and GTV which will improve the handling, and a strut brace can be fitted at the front to increase the stiffness of the bodyshell. The rubber bushes can also be replaced by items made from less compliant material.
---
Buying / Selling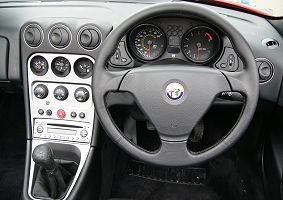 Try your nearest Alfa Romeo dealer....
As well as all the normal checks, look particularly at the following :
1. Uneven tyre wear at the front (especially inner the edges) which usually indicates that the tracking will need readjusting (relatively inexpensive).
2. Uneven tyre wear at the rear (accompanied by a knocking noise) can indicate loose suspension bolts (rear link).
3. Correct funtioning of the air-conditioning (if fitted).
4. Ensure you get the brown 'master' key in case you lose the others.
---
Links
An owner's specialised GTV V6 website.
---

For books on Alfa Romeo see our Online Bookstore
There is also a list of all our picture galleries (including museums, motorshows and various events).
Wallpapers/Desktop Backgrounds of numerous Alfa Romeo's also available to download.
---
Spider/GTV comment form
---
Your Comments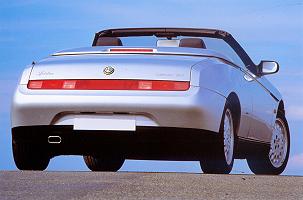 I've just purchased a GTV 16v TS and it's wonderful. I can't stop grinning inanely and even driving to work is now a pleasure. (Chaz, UK)
Hi my name is Frank A. from the Dominican Republic, I have a 98 V6 Spider and I love it! Its beauty and powerful is incomparable, in it I feel more glamorous than in a Mercedes or BMW or whatever, that is the best Italian car ever designed, this car have what others car miss, that is personality, its unique.
I bought my 2.0 Spider Lusso new this Summer and what a car! I love it! If you want a convertable sports car and you can afford a Spider, get it. It looks better, handles better and goes better than the MX5 and Z3 brigade, which I have driven. Next year I am going for the 3.0 GTV and my order is being placed very soon. There is just something about Alfa Romeos and since I have had my Spider I have gone out and got myself a 146 as a run-about too. They really are fabulous cars. I can't stop smiling! (Si, UK)
Hello a weeks ago I bought a GTV 2.0 TS, sold my old audi coupe. You know the reason I bought the car was because of it's stunning looks, I thought even if it's not that quick or good handling,then i wouldn't care because it looks gorgeous, but guess what it drives as good as it looks, fantastic car if you are thinking of buying one don't think, just go for it, oh sure it's italian and I'm sure it will have niggling problems, but hey who cares, just drive a GTV, then find yourself stopping just so you can get out and look at it. (Gav, Scotland)
Hi my name is Alex. I have just bought a GTV 2.0 TS and I think it is the best car I have ever owned! I had a 156 1.8TS before this and found it a bit slow. Only thing is the back seats are a bit of a joke. (Al,UK)
Hello a weeks ago i bought a gtv 2.0 ts, sold my old audi coupe. You know the reason i bought the car was because of it's stunning looks, i thought even if it's not that quick or good handling,then i wouldn't care because it looks gorgeous, but guess what it drives as good as it looks, fantastic car if you are thinking of buying one don't think, just go for it, oh sure it's italian and i'm sure it will have niggling problems, but hey who cares, just drive a gtv, then find yourself stopping just so you can get out and look at it. (Gav, Scotland)
---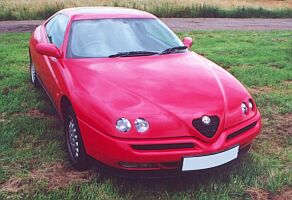 Use the buttons at the top to navigate further, or
---
Copyright © 2000 to 2008 CarsfromItaly