Ferrari F50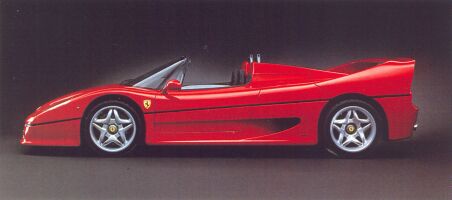 The F50 was built with the aim of making a road car which was as similar to a Formula One car as possible. The two main technologies being a naturally aspirated V12 at the rear and a carbon-fibre chassis with a stressed engine. The F50 has both of these.
The engine was developed from the 1990 3.5-litre F1 unit and retains its length, five valves per cylinder and 65deg vee angle. The capacity was increased to 4698cc, catalytic converters were fitted and both the inlet manifold and exhaust feature variable geometry systems. Dry-sump lubrication (complete with three scavenge pumps), forged titanium conrods and various magnesium castings complete the powerplant.
The body retains the F1 concept of a carbon-fibre central tub - from the front bulkhead to the hollow rear one (which contains the fuel cell). To the front bulkhead is bolted the front suspension and steering rack, to the rear the engine. The body panels are all unstressed and also made from carbon-fibre. Steel is used for the roll-bars, door-bars and the frame supporting the radiator.
The rear suspension bolts to the magnesium gearbox housing, and like the front suspension, uses horizontally mounted coil/damper units activated by pushrods. All the dampers are electronically adjustable, controlled from an electronic module which measures numerous parameters (steering wheel angle & velocity, vertical & longitudinal acceleration, brake pressure and vehicle speed). All suspension joints use rose-joints/uniballs.
As usual, the job of designing the F50 was given to Pininfarina. Initially intended to be available in both coupe and barchetta versions, these were later merged into one design, convertible by the owner. The drag coefficient of 0.372 is high, but results from the high levels of downforce required. At its top speed the F50 generates over 400kg of downforce, helped by the flat bottom with rear diffusers, the rear wing, and the upward exiting radiators a the front.
A total of 349 examples were produced.
---
Technical Details

Engine
4698cc (85x69mm) 60 valve quad-cam 65deg V12 with 513bhp @ 8,000rpm
aluminium cylinder head, cast-iron cylinder block
compression ratio : 11.3:1
Suspension
front : double wishbones with pushrod activated (horizontally mounted) coil spring/damper units with adaptive damping plus anti-roll bar
rear : double wishbones with pushrod activated (horizontally mounted) coil spring/damper units with adaptive damping plus anti-roll bar
wheels (front/rear) : 8.5x18in/13x18in
tyres (front/rear) : 245/35-ZR18/335/30-ZR18 Goodyear GS-Fiorano
wheelbase : 2580mm
track (front/rear) : 1620mm/1602mm
Brakes
ventilated discs (diameters : front 355mm; rear 335mm)
Brembo four pot callipers, Pagid pads
Transmission
6 speed manual
hydraulically actuated, twin-plate (dry) clutch
transmission oil to water (engine coolant) heat exchanger
Steering
rack and pinion, unassisted, 3.3 turns lock-to-lock
Empty weight
1230kg (42% front / 58% rear)
Engine (dry) weight : 198kg
---
---
See our picture gallery index for images from museums, motorshows and events.
There are also wallpapers/desktop backgrounds available to download.
---
Use the buttons at the top to navigate further, or
---
Copyright © 2000 to 2011 CarsfromItaly