Ferrari GTO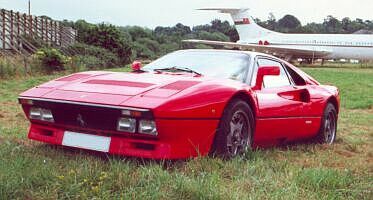 Designed as a homologation special for the new Group B regulations, 200 units were required to be produced. In the end 272 examples were built during 1984 and 1985, but the formula never came to fruit and so the 288 GTO remained an, albeit exotic, road car.
It was loosely based on the 308 but with many significant changes. The engine had a reduced capacity of 2855cc to meet the maximum capacity of 4-litres (with an equivalence factor of 1.4) with its twin IHI turbochargers and intercoolers. Also fitted with electronic fuel injection it generated an impressive 400bhp. The positioning of this unit was also different to the 308, since it was mounted longitudinally, the chassis being stretched by 110mm to accomodate it (the rear luggage space was also sacrificed to further this aim!). The chassis also featured increased tracks front and rear and a variety of other changes to decrease weight and improve stiffness.
The body was basically that of a 308 with numerous extra vents and ducts, and made from a variety of light materials (nomex, kevlar, aluminium, fibreglass) to keep the weight down to a minimum. Other distinguishing features are the additional driving lights in the front grille, the unique wing mirrors and the slatted vents behind the rear wheels.
---
Technical Details

Engine
2855cc (80x71mm) twin turbo 32V V8 dohc (per bank) with 400bhp @ 7,000rpm
boost pressure : 0.8bar, compression ratio : 7.6:1
Suspension
front : double wishbones with coil springs plus anti-roll bar
rear : double wishbones with coil springs plus anti-roll bar
wheelbase : 2450mm
track (front/rear) : 1559mm/1562mm
Brakes
ventilated discs all round with servo assistance
Transmission
5 speed manual plus ZF self-locking diff
Steering
rack and pinion
Empty weight
1,160kg
---
---
See our picture gallery index for images from museums, motorshows and events.
There are also wallpapers/desktop backgrounds available to download.
---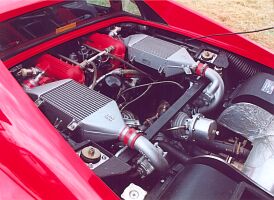 Use the buttons at the top to navigate further, or
---
Copyright © 2000 to 2011 CarsfromItaly