Ferrari 400 Superamerica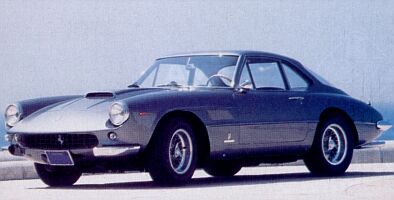 January 1960 saw the release, at the Brussels Motorshow, of the new 400 Superamerica. Replacing the 410SA, the new car used a shortened 250GT chassis and a larger, 3967cc, version of the Colombo V12. This, using cylinder heads also derived from the 250GT, produced 340bhp (with triple Weber 42DCNs), although various carburettor installations seem to have produced varying outputs. Suspension used wishbones and coil springs at the front, whilst the conventional live axle was retained at the rear. The four speed transmission also featured an overdrive whilst braking was by discs on all four corners.
Just under 50 examples were built, mostly with bodywork by Pininfarina (in various styles including both coupes and cabriolets), with approximately the second half (from late 1962 onwards) having a slightly lengthened wheelbase.
---
---
Engine
3967cc (77x71mm) 60deg V12 with 340bhp @ 7,000rpm
Suspension
front : double wishbone with coil springs
rear : live axle with leaf springs
wheelbase : 2420mm (later 2600mm)
track (front/rear) : 1359mm/1350mm (later 1455mm/1450mm)
Brakes
discs all round with servo assistance
Transmission
4 speed manual with overdrive
Kerb weight
1,200kg
---
See our picture gallery index for images from museums, motorshows and events.
There are also wallpapers/desktop backgrounds available to download.
---
Use the buttons at the top to navigate further, or
---
Copyright © 2000 to 2011 CarsfromItaly