Ferrari 599 GTB Fiorano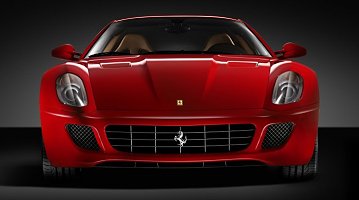 The new two-seat classic front-engine rear-wheel-drive Ferrari, to replace the 575M, known as the 599 GTB Fiorano, was revealed to the world at Geneva in early 2006. Fiorano after the circuit Ferrari uses to hone the performance of its track and road cars; GTB as in Gran Turismo Berlinetta; and 599 to reflect the displacement of its V12 engine divided by 10.
An all new all-aluminium two-seater, it is, as usual, designed by Pininfarina. Significant testing in the wind tunnel concentrated on downforce and drag. The optimisation of the Ferrari 599 GTB Fiorano's underbody, the rear diffuser and external form resulted in an aerodynamic load of just 160 kg at 300 km/h, whilst, the Cd (drag coefficient) is just 0.336.
The Ferrari 599 GTB Fiorano is an exceedingly sculpted car, where every new angle brings something new to light, carefully combining sportiness and elegance. Internally, there is a balance between the car's sporty vocation and the feeling of intimacy and safety that skilled hand-crafting and detailed personalisation provide. The passenger areas of the car are trimmed in luxury leather while the driver area and controls use more high-tech carbon-fibre and aluminium detailing.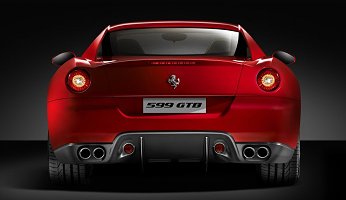 The central rev counter can have a red or yellow background, there is a central grip to provide extra support for the passenger and new adaptive racing seats feature carbon-fibre side rests. Other standard features include front bi-xenon headlamps and rear LED lights, dusk and rain sensors, dual-zone climate control, electrically adjustable steering-wheel column, hideaway radio/CD player and key with integrated volumetric anti-theft device with motion sensors.
Technically, the specifications of the engine are outstanding: 5999 cm3 displacement, with a specific power output of 103bhp/litre. Chain driven twin overhead camshafts per cylinder bank feature continuously variable timing on both inlet and exhaust cams to optimise torque delivery and drivability at both low and high revs. A twin-plate, low inertia clutch helps lower the centre of gravity. The Fiorano's engine delivers a maximum torque of 608 Nm at 5,600 rpm and pulls well at all engine speeds. Its maximum power output is 620 hp at 7,600 rpm with a maximum engine speed of 8,400 rpm. Particular attention was also paid to fuel consumption which is the same as in the previous model, under similar use, despite a significant leap in performance. Development work for the Ferrari 599 GTB Fiorano also focused on the distinctive sound the engine makes, both to enhance driving pleasure and also to provide a quieter ride inside the cabin itself.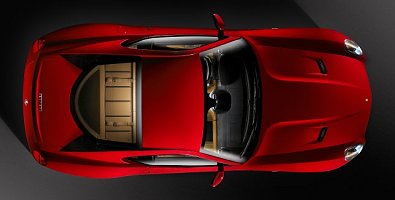 The new generation F1 gearbox that made its debut on the Ferrari 599 GTB Fiorano is a further development of the F1 gearbox used on all of the models in the Ferrari range. The F1-SuperFast system enhances the car's high-performance capabilities by using the elastic energy within the transmission components, together with the integrated electronic engine and gearbox management programmes, to speed up gear change times. The various stages involved in changing the gears are implemented in parallel (non-sequentially) and this results in exceptionally fast gear shifting. In fact, it cuts overall gear-shift times to just 100 ms.
The new electronic control systems result in easier, smoother high-performance driving, thanks to maximum grip out of bends (a 20% increase in acceleration compared to a traditional traction and stability control system) and predictable handling even in extreme situations. The F1-Trac is integrated adapts the car's behaviour to the driving conditions: the Sport setting provides the best balance between stability and performance on the road while Race ensures clients maximum performance combined with consistently brilliant handling.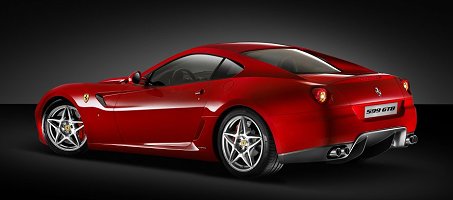 The 599 GTB Fiorano uses a new magnetorheological (MR) suspension system. Unlike traditional systems, this reacts instantly to road conditions and driver inputs, thanks to the fact that the dampers use a fluid the viscosity of which is modified by applying an electronically controlled magnetic field. What this means in practice is greatly improved body control which in turn directly improves handling and road-holding due to optimal tyre grip in all road conditions. The result is a much safer and more enjoyable driving experience courtesy of reduced roll and greater control when accelerating, braking and cornering.
The steering wheel-mounted vehicle dynamics control switch, originally developed for the 1996 Formula 1 season, has been taken a step further for the new Ferrari 599 GTB Fiorano. This integrates the stability and F1-Trac traction control systems, the F1-SuperFast gearbox and the SCM (Magnetorheological Suspension Control) fluid suspension. This means that the driver can select the correct setting for the grip conditions at any given time. Readouts are displayed on the new on-board Multi Display unit so that the information for specific setting is instantly available to the driver (e.g. lap times, tyre temperature and pressure or trip computer readouts.)
---
Technical Details

Engine
5999cc 65deg V12 48v dohc (per bank) with 620bhp @ 7,600rpm
Suspension
front : double wishbones and coil springs
rear : double wishbones and coil springs
Adaptive damping with electronic control (Magnetorheological system).
245/40-19 (front) and 305/35-20 (rear) tyres
Brakes
ventilated discs all round with Brembo callipers, servo assistance and ABS
Transmission
6 speed manual, hydraulically actuated with steering-wheel control optional
Steering
rack and pinion with power assistance.
---
---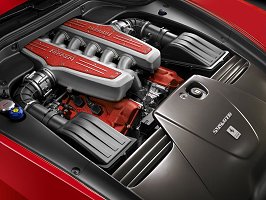 Performance

| | | |
| --- | --- | --- |
| model | max speed | 0-100 km/h |
| 599 GTB Fiorano | 205 mph+ | 3.7 sec |
---
See our picture gallery index for images from museums, motorshows and events.
There are also wallpapers/desktop backgrounds available to download.
---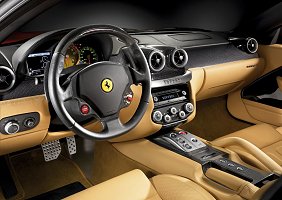 Use the buttons at the top to navigate further, or
---
Copyright © 2000 to 2011 CarsfromItaly