Fiat 1400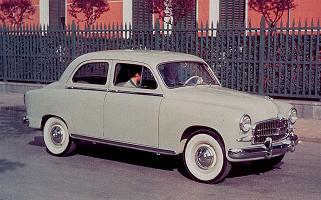 Introduced at the Geneva Motorshow in 1950, the 1400 was the first true 'new' Fiat after the war, both mechanically and stylistically. It used a load bearing body, the first time in a production Fiat, and had a 1395cc four cylinder engine with 44bhp located at the front, driving the rear wheels. At the same time, the 1400 cabriolet was launched which was essentially the same as the berlina but with a folding soft top fitted. he extra strengthening required added 90kg to the weight.
The Turin Motorshow of 1953 saw the release of the 1400 diesel. This was the first diesel equipped car built by Fiat and was fitted with a 1901cc four cylinder engine with indirect injection (with the Ricardo Comet pre-combustion chamber) which produced 40bhp at 3200rpm.
At the Turin show in the following year, 1954, the 1400A was presented. This had various improvements to both the bodywork and the engine. The latter was improved to produce 50bhp, whilst the most noticeable changes to the former were a new grille and rear lights. The same changes (including the new body) were also carried across to the diesel.
The final version of the 1400, the 1400B, was again released at the Turin Motorshow, this time in 1956. The engine received another improvement in power to 58bhp whilst the brakes and suspension were also modified. The body was agian lightly modified, a central fog-light was fitted to the grille and a two tone paint scheme applied.
As with most other mass-produced cars of the period, the 1400 was used by various carrozzerie to form the basis of their models. Some can be seen here.
Production of the 1400 stopped in 1958, with the following approximate total production volumes :
| | |
| --- | --- |
| 1400 | 77,000 |
| 1400 diesel | 13,500 |
| 1400A | 50,000 |
| 1400B | 40,000 |
---
Technical Details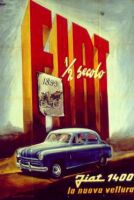 Driveline
longitudinal engine at front with rear wheel drive
Engine
1395cc (82x66mm) ohv four cylinder in line with 44bhp @ 4,400rpm (later 50bhp @ 4,600rpm then 58bhp @ 4,600rpm)
1901cc (82x90mm) ohv four cylinder in line diesel with 40bhp @ 3,200rpm
Suspension
front : Independent, lower wishbone, coil spring and telescopic damper plus anti-roll bar
rear : solid axle with telescopic dampers and leaf springs
wheelbase : 2650mm
front track : 1326mm (diesel : 1330mm)
rear track : 1320mm (diesel : 1325mm)
Brakes
front : drums
rear : drums
handbrake : transmission band brake
Gearbox
4 speed manual
Steering
worm and roller
Kerb weight
original berlina and 1400A : 1130kg
diesel : 1240kg
1400B : 1185kg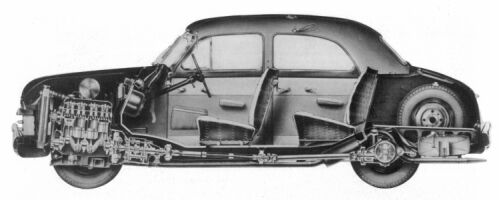 ---
---
For books on Fiats see our Online Bookstore
There is also a list of all our picture galleries (including museums, motorshows and various events).
Wallpapers/Desktop Backgrounds of numerous Fiats also available to download.
---
1400 comment form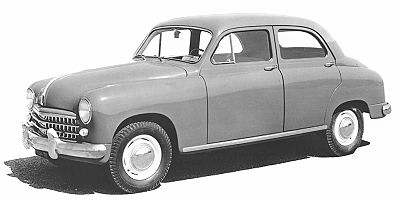 ---
Your Comments
An uterly wonderful little car to drive,that handles, brakes, and that is really comfortable,great around town or nicer to drive on country roads. I have previously owned one and sold it, and now own another (under restoration). (Tony, Sydney)
---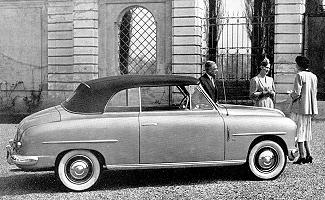 Use the buttons at the top to navigate further, or
---
Copyright © 2000 to 2008 CarsfromItaly