Fiat 1800/2100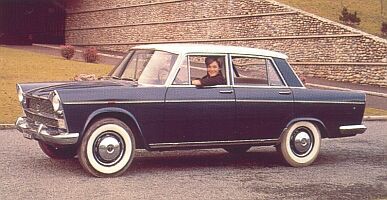 At the Geneva Motorshow of 1959 Fiat introduced two new six-cylinder models, the 1800 and 2100. Powered by either a 1795cc with 75bhp or a 2054cc with 82bhp, they were the pinnacle of the Fiat range. These cars were the first Fiats to use torsion bar suspension at the front and the first since the war to use a straight-six engine. Alongside the berlina there was also produced a Familiare (estate) in both 1800 and 2100 form. The only technical difference between the Berlina and Familiare were the larger tyres fitted to the latter and the different final drive ratios used.
Later in 1959 Fiat introduced the 2100 Speciale. This was longer, wider and taller than the berlina and was easily recogniseable since it had four headlights rather than two, as well as having a different grille and lacking the chrome side-stripe of the normal cars. Equipped by the Carrozzerie Speciali department of Fiat, it was designed to be used by diplomats and the Vatican, but was also on sale to the general public. Mechanically it used the tyres and final-drive ratio of the 2100 Familiare but was otherwise unchanged.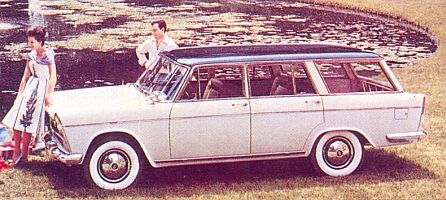 From 1960 an automatic clutch also became an option on the 2100, whilst the whole range could be specified with a sunroof, transistor radio, electric radio aerial, whitewall tyres and a heated rear window. The Speciale was also offered with an optional leather interior.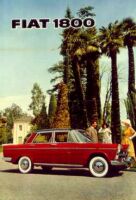 In 1961 the range was revised. The 1800 became the 1800B (available as Berlina and Familiare) whilst the 2100 was replaced by the 2300. The 1800B received a more powerful engine (up to 86bhp), disc brakes on all four wheels, a new rear axle and revised rear suspension. The interior also experienced some changes, but the exterior remained the same. 1962 saw the 1500 engine being fitted to the 1800, this model is covered on the 1300/1500 page.
The production volumes were approximately 30,000 for the 1800/2100 and 1174 for the Speciale. Production of the 1800B stopped in 1968.
---
Technical Details

Engines
1795cc (72x73.5mm) straight-six with 75bhp @ 5,000rpm (later 86bhp @ 5,300rpm)
2054cc (77x73.5mm) straight-six with 82bhp @ 5,000rpm
Suspension
front : Independent, torsion bars and telescopic dampers plus anti-roll bar
rear : solid axle with telescopic dampers and coil springs
wheelbase : 2650mm
front track : 1340mm (1800B : 1345mm)
rear track : 1307mm
Brakes
front : drums
rear : drums
handbrake : cable operated on rear callipers
Gearbox
4 speed manual
Steering
worm and roller
Kerb weight
1230kg (1800/2100 Berlina)
1265kg (1800B)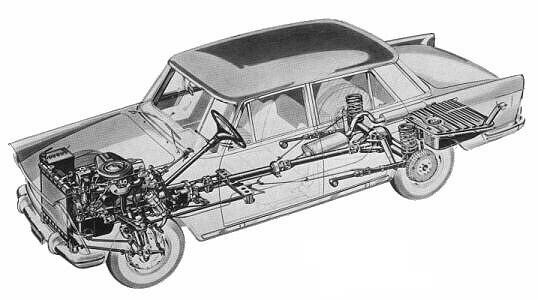 ---
Links
A Spanish Seat 1500 website (their 1800/2100/2300)
---
For books on Fiats see our Online Bookstore
There is also a list of all our picture galleries (including museums, motorshows and various events).
Wallpapers/Desktop Backgrounds of numerous Fiats also available to download.
---
1800/2100 comment form
---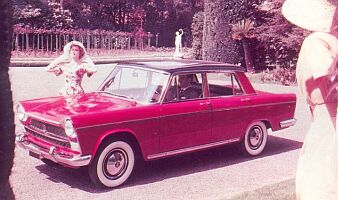 Use the buttons at the top to navigate further, or
---
Copyright © 2000 to 2008 CarsfromItaly