Fiat 508 Balilla & 1100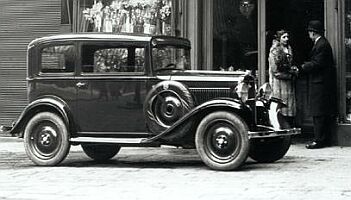 Debuting at the Milan Motorshow of 1932, the 508 or Balilla was initially available with a three-speed transmission and three bodystyles, a Berlina (two-door) a torpedo and a spider (plus a light van !). It used a 995cc four-cylinder sidevalve engine with 22bhp @ 3,400rpm. Squarer in dimensions than its period competitors, this engine enabled the Balilla to maintain 55mph and returned around 35mpg. Features included a gravity fed Zenith carburettor, a pedal operated starter and a high-mounted distributor to avoid flooding issues. Hydraulic brakes, a hand throttle, a transmission handbrake and an excellent turning circle were all standard, whilst a free-wheel mounted behind the gearbox was an option.
In the following year the 508S or Sport was unveiled. This had extra power (up to 30bhp) and a new Spider bodywork by Ghia. Mechanical changes included a mechanical fuel pump from a rear mounted tank and friction dampers (instead of the normal hydraulic ones). Different versions were produced and later it was also given a coupe body, or 'berlinetta aerodinamica'. 1933 also saw the military version, the 508M released. Initially a 2/3 seat spider it later was also poduced as a torpedo, berlina, camioncino (small truck) and furgoncino (small van).
In 1934 the range was revised with the arrival of a four-speed transmission. The wheelbase was stretched slightly, the bodywork was updated, a four-door style was added and the engine increased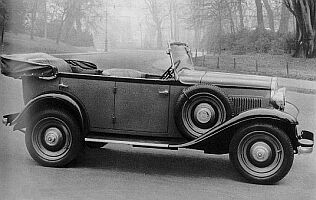 in power up to 24bhp. A 30bhp unit was available as an option. The Sport also got the new transmission, albeit with different gear ratios, and an engine with 36bhp. This latter employed an all-new cast-iron cylinder head with pushrod operated overhead valves.
1937 saw the Balilla receive a new engine of 1089cc with an aluminium cylinder head and overhead valves and producing 32bhp. The body was updated to reflect the style of the 1500 and Topolino and it was officially named the Balilla 1100 (or 508C). Shortly afterwards was also born the 508L (or 'Lunga') with a stretched wheelbase whilst a cabriolet was also produced. For the Mille Miglia of 1938 Fiat developed the 508C MM, a coupe with an aerodynamic body and a engine tuned to give 42bhp. It won its class in that race. A small number of spider versions were also built.
The 508C was also produced from 1939 in 'Militare' form (until 1945) and in 'Coloniale' form (until 1943), the former a utilitarian 'jeep' like vehicle, the latter a larger, heavier vehicle. Both utilised a 30bhp 1089cc engine with the four-speed transmission. In 1939 the 1100 was introduced. A 508C with a new grille (taken from the recently launched 2800) little else changed, and it remained in production until after the war. Numerous versions were produced including a berlina, berlina with canvas opening roof, cabriolet and a long-wheelbase version.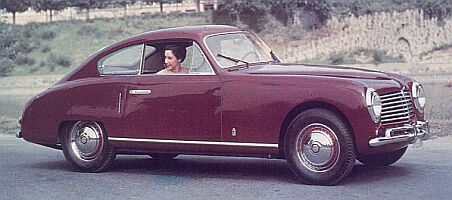 Following the cessation of hostilities Fiat introduced in 1947 the 1100S, a two seat 'aerodynamic' coupe with a 51bhp version of the old 1089cc engine. Various other small mechanical changes were also made. That was followed in 1948 by the 1100B. This time the changes were mainly mechanical, the body remaining similar whilst the engine got more power (35bhp) and the suspension was improved. It too was available in a long-wheelbase version (with only 30bhp) and also a taxi version.
The next variant to be released was the 1100E (and the long-wheelbase EL) in 1949. The spare-wheel moved to an internal location (in the boot rather than on the outside of the bootlid), the gearchange moved to a column mounted lever (rather than a floor-mounted item) whilst the transmission became synchronised on second, third and fourth gears. A coupe designed by Pinin Farina, the 1100ES, was also released. It primarily used the mechanicals of the 1947 1100S.
The Balilla/508/1100 family ceased production in 1953 when the new 1100/103 was released. Production figures were approximately 41,395 of the first (3-speed) series, 71,700 of the second (4-speed) series, 57,000 of the 508C, 74,000 of the original 1100 (from 1939), 401 of the 1100S, 25,000 of the 1100B/BL and lastly around 58,000 of the 1100E/EL/ES. The Balilla was also built under licence in France by Simca and in Germany by NSU.
---
| | |
| --- | --- |
| | |
---
Technical Details

Driveline
longitudinal engine at front
rear wheel drive
Engine
995cc (65x75mm) in-line four cylinder side-valve with :
three-speed - 22bhp @ 3,400rpm
four-speed - 24bhp @ 3,600rpm
508S - 30bhp @ 4,000rpm
995cc (65x75mm) in-line four cylinder overhead-valve with 36bhp @ 4,400rpm
1089cc (68x75mm) in-line four cylinder
Suspension
front : rigid axle with leaf springs
rear : rigid axle with leaf springs
wheelbase : 2250mm (from 1934 : 2300mm); 508C/1100 : 2420mm; 508L : 2700mm; 508C M : 2427mm
hydraulic dampers on 508, friction dampers on 508S
track (front/rear) 508 : 1187mm (early Sport ; 1180mm)/1200mm
track (front/rear) 508C/1100 : 1231mm/1226mm
track (front/rear) 1100E : 1231mm/1228mm
track (front/rear) 508C M : 1242mm/1239mm
Brakes
foot - hydraulic operated drums all round
handbrake - transmission type on drum behind gearbox
Gearbox
3 speed, later 4 speed (syncro on 3rd and 4th) manual
Steering
worm and roller
Empty weight
508 (3 Marce) : 685kg; 508S (3 Marce) : 600kg
508M : 785kg
508 (4 Marce) : 710kg
508C : 850kg
1100 : 890kg; 1100B : 905kg; 1100E : 940kg
See also the 1100A chassis and a section through an 1100A.
---
---
---
For books on Fiats see our Online Bookstore
There is also a list of all our picture galleries (including museums, motorshows and various events).
Wallpapers/Desktop Backgrounds of numerous Fiats also available to download.
---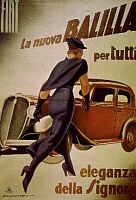 Use the buttons at the top to navigate further, or
---
Copyright © 2000 to 2008 CarsfromItaly