Fiat Coupé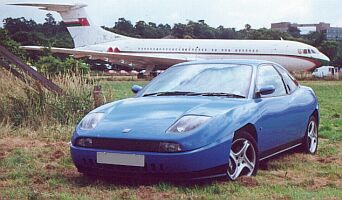 The Fiat Coupé, based on the Tipo platform, entered production in 1993. Power came from either an 1995cc 16V (142bhp) or a 1995cc 16V turbo (195bhp) engine (both developed from engines taken from the Lancia range, the latter from the Integrale). In 1996 the 1747cc 16V (130bhp) engine from the Barchetta was transplanted into the Coupé, and then in 1997 both 2 litre units were replaced by the new 5 cylinder 1998cc engines, both with (220bhp) and without (147bhp) a turbo.
An all new body was designed in-house by Fiat, although production of the car was given to Pininfarina due to the low volumes. The two door coupé body still allows normal useage of the rear seats and contains many interesting styling touches such as the door handles high in the b-pillar to keep the doors clean, the faired headlights, motorcycle style filling cap, strip of body coloured metal across the dashboard, etc... Maintaining this theme, Fiat introduced a push button starter switch on some later models.
To cope with the performance of the five cylinder turbo engine (220bhp and 310Nm) that variant also comes fitted as standard with a limited slip differential (called Viscodrive) and four pot Brembo brake callipers. In 1998 a 20v turbo Limited Edition saw the introduction of a six speed gearbox (which also became optional on other turbo cars) as well as a bodykit and various details. In 1999 the six speed box became standard on the turbocharged model.
Production ceased in 2000.
| | |
| --- | --- |
| | |
---
Technical Details

Driveline
transverse engine at front with front wheel drive
Engines
1995cc (84x90mm) 4 cylinder in-line dohc 16V turbo with 195bhp @ 5,500rpm
1747cc (82x82.7mm) 4 cylinder in-line dohc 16V with 130bhp @ 6,300rpm (picture)
1995cc (84x90mm) 4 cylinder in-line dohc 16V with 142bhp @ 6,000rpm
1998cc (82x75.65mm) 5 cylinder in-line dohc 20V with 147bhp
1998cc (82x75.65mm) 5 cylinder in-line dohc 20V turbo with 220bhp @ 5,750rpm
Suspension
front : MacPherson strut with telescopic dampers and coil springs plus anti-roll bar
rear : independent with telescopic dampers and coil springs plus anti-roll bar
wheelbase : 2540mm
track (front/rear) : 1483mm/1468mm (front : 1491mm on 20V turbo)
Brakes
front : discs, ventilated, diameter 284mm (305mm on 20V turbo)
rear : discs, diameter 240mm
handbrake operating on the rear via a cable
Gearbox
5 or 6 speed manual
Steering
Rack and Pinion with power assisstance
Kerb weight
original 1995cc 16V : 1250kg
1997 20V turbo : 1310kg ; distribution front/rear : 67.2%/32.8%
1997 1.8 16v : 1180kg
Dimensions
20v turbo
---
---
Performance

| | | | |
| --- | --- | --- | --- |
| model | max speed | 0-60mph | in gear acceleration |
| 2.0 16V | 124 mph | 9.5 sec | 50-70 (5th) : 11.9 sec |
| 2.0 16V turbo | 140 mph | 6.8 sec | 50-70 (5th) : 7.9 sec |
| 2.0 20V | 134 mph | 8.6 sec | |
| 2.0 20V turbo | 149 mph | 6.0 sec | 50-70 (6th) : 6.2 sec |
---
Tuning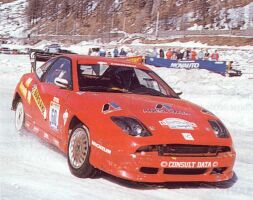 Easily carried out modifications include installation of a free-flow air filter (a cold air duct is also a worthy mod) and fitment of a less restrictive exhaust system to improve the driveability, 'Chips' are also available which (claim to) increase the power, driveability and torque all at the same time.
The brakes can be improved by fitting drilled and grooved discs, using a superior pad compound and fitting stainless steel braided flexible hoses. Numerous aftermarket conversions are available to further improve the stopping power of the Coupé.
Dampers and springs are readily available for the Coupé which will improve the handling, and a strut brace can be fitted at the front to increase the stiffness of the bodyshell.
Due to the commonality of many of the parts there is a wealth of tuning information and knowledge around, the four-pot 2-litre unit being the same at the integrale etc. This can be well used when preparing a Coupé.
---

For books on Fiat see our Online Bookstore
There is also a list of all our picture galleries (including museums, motorshows and various events).
Wallpapers/Desktop Backgrounds of numerous Fiats, including the Coupé, also available to download.
Screensavers of the Fiat Coupé available to download (free).
---
Identification
The model code for the Coupé was 175. The engines started with the 16V 2.0-litre turbo which was also a type 175, the 1.8-litre engine was 183 and the 16V 2.0-litre n/a engine was the type 836. The 5-cylinder 20V engines were all type 182 with various suffix.
---
Links
An Austrian Coupé website (in German).
The UKFiat Coupé Owners Club site.

---
Coupé comment form
---
Your Comments
I've just bought a 1995 16V Coupe and haven't stopped laughing yet. It is so much fun to drive. It's not a turbo (which keeps my insurance down a bit) but even so what a car! It's got enough guts to make me smile and looks absolutely wonderful, a definate head turner (it's brrrrrrooom yellow). Sticks to the road like glue and goes well, go on have a laugh, buy one!! (Mike S, England)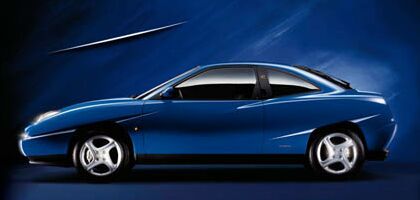 I can honestly say I have never had a car with such "grin factor". Forget your troubles, bury your right foot and hang on. I'm running a 20V turbo with a straight through exhaust, and it is a real blast. I just wish it was driven from the opposite end (rear wheels) that would make it a real hoot around a track.
Buy one now. Where else can you get 0-60 in 6 secs and 155mph top speed for 10 grand? (Wish I'd not bought mine new!). Have fun. (Dave, UK)
Just bought a 20v Turbo 1998 (R) from a local garage in light blue. It is the fastest car I have ever driven, it is a pleasure to own and drive. Looks the part. Puts a smile on my face every time I drive it. You must get one!!! (Paul, Wales)
Also just got me one, a Coupé 20V Turbo and it's the best compromise ever, small, looks good inside out, fuel consumption like a Fiat Bravo 1.6 and power enought to make the driver constant happy and others complete mad. The only drawback is the insurance and some service stuff (ex: you have to lift out the engine to change the cambelt !?) But hey, as Fiat said: Fiat Coupé, a Ferarri for the people ! (Mathias M, Sweden)
I´m a owner of a 20V Coupé. I´ts painted in rosso speed, which is definetely the best colour for that beauty! I enjoy the perfekt suspension, but what a engine! I guess there´s nothing that sounds better, especially over 4500rpm! I´ts so much fun to to drive with this car!!! There can´t be any better!!!
---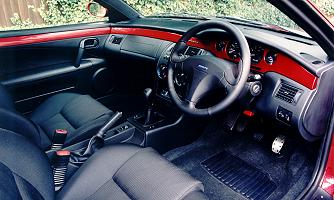 Use the buttons at the top to navigate further, or
---
Copyright © 2000 to 2008 CarsfromItaly