Fiat Doblò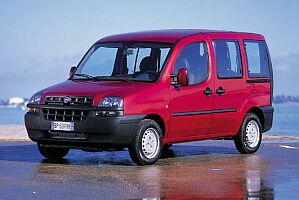 The Doblò was first seen at the Paris Motorshow in 2000 and is a hybrid car/MPV. Based on the chassis of the Palio Station Wagon the 'car' or MPV version features a spacious five-seater interior with two sliding rear doors plus a large hatch (or asymmetric opening doors). The rear seats are split folding to leave a large luggage area if required (up to 3000 litres with seats folded), whilst storage compartments abound in the cabin, including an innovative shelf above the windscreen. Safety also featured heavily in the design, with ABS, airbags, three-point seatbelts with pretensioners and a optimised structure. Other versions, including a high-roof variant and a light commercial vehicle (known as the DoblÚ Cargo) are also available.
Constructed at only one plant, in Turkey, the mechanicals also borrow heavily from the Palio. The suspension uses McPherson struts at the front whilst the rear has a rigid axle with leaf springs. Braking is by ventilated discs at the front and drums at the rear with ABS available as an option, standard on some models and in some markets. Two engines, a 1242cc petrol (65bhp) and a 1910cc diesel (63bhp) were offered from the start, with 1.9JTD (100bhp then later 105bhp) diesel and 1.6 16V (103bhp) petrol engines being introduced later. A Natural Gas powered (bifuel, also running on petrol) version was also available in some countries.
The Malibý was a version with various external features highlighted in chrome finish and a richer content.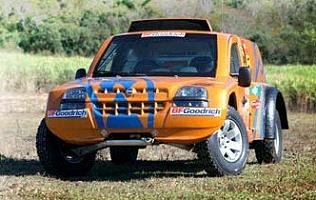 2004 saw another slight revision to the range. Visually little changed, some versions got body coloured rear pillars (instead of the black) whereas under the bonnet a more significant change took place with the deletion of the basic 1.9 diesel and the addition of the highly acclaimed new 1.3 16v MultiJet turbodiesel with 70bhp. Internally trim, plastic colours and features were tweaked across the range.
The range was also expanded with the addition of the "Family" version, a seven seater, the extra seating being obtained by fitting a (removable) two seat rear bench seat behind the existing rear seats. Access was gained by tipping the two outer rear seats forward.
In Brasil the Doblo Adventure was offered, which features extra plastic trim around the wheelarches, a more aggressive 4x4 style front and rear design and various detailing to all enhance the off-road image of this vehicle such as the rear door mounted spare wheel. That country also saw a competition version developed for rally-raid type events. Powered by the Fiat 2.4-litre 20v petrol unit pushing 195bhp through the rear wheels, it features a significantly modified bodywork and some rather striking orange and blue graphics !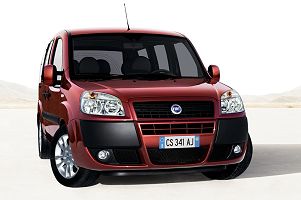 Late 2005 saw the New DoblÚ released, with significant changes to both the mechanical and design apects of the vehicle. Mechanically the most significant changes were to the engine range. The New DoblÚ is fitted with three diesel, one petrol and one dual-fuel engine. The diesels are all more powerful derivatives of the earlier units, being an 85bhp 1.3 16v and 105bhp and 120bhp versions of the 1.9 8v unit. The petrol unit is a 77bhp 1.4 8v FIRE whilst a 1.6 dual-fuel engine will run on either petrol or methane (CNG) with a power output of 92bhp when running on methane and 103bhp on petrol.
Visually the New DoblÚ is immediately recognisable thanks to the completely redesigned front end, with new headlights, a new bumper and new grille. At the rear the lights and bumper are also all new. Inside the dashboard remains a similar look, albeit with new colours and improved material, whilst the door panels, seats and fabrics are all new.
See a video of the Doblo here (4.5MB).
---
Technical Details

Driveline
transverse engine at front with front wheel drive
Suspension
front : MacPherson strut with telescopic dampers and coil springs plus anti-roll bar
rear : rigid axle with leaf springs plus anti-roll bar
wheelbase : 2566mm
track (front/rear) : 1495mm/1496mm
Brakes
front : discs, ventilated, diameter 257mm
rear : drums, diameter 228mm
handbrake operating on the rear via a cable
ABS (optional)
Gearbox
5 speed manual
Steering
Rack and Pinion with power assistance
Kerb Weight
1220kg (1.2)
1290kg (1.9D)
Click here for a cutaway drawing of the DoblÚ
---
---
---
Performance

| | | |
| --- | --- | --- |
| model | max speed | 0-100 km/h |
| 1.2 | 142 km/h | 18.9 sec |
| 1.9 D | 141 km/h | 20.9 sec |
---
For books on Fiat see our Online Bookstore
There is also a list of all our picture galleries (including museums, motorshows and various events).
Wallpapers/Desktop Backgrounds of numerous Fiats also available to download.
---
Doblò comment form
---
Your Comments
Hello, this is the car which we were waiting for, we certainly by this car.
I live in France and have ordered my Doblo (2 months delivery), XLS Diesel, the test drive was very impresive responsive and very quite, in my opinion excellent value and very practical. (GW)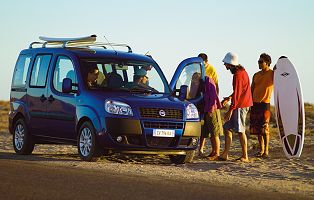 I can't believe how ugly it is! Surely with all the talent in Italy, they could have come up with a better looking design.A disappointed Fiat lover. Australia
Just purchased my Fiat doblo last week ... I love it! :-)
I wanted a low cost practical vehicle so I purchase my Doblo six months ago. It's great even my 20 year old son and his mates think it's "cool". (Bryon, UK)
I have recently purchased a Fiat Doblo 1.9 JTD ELX. This is the best vechile I have ever owned. It was purchased as a low cost second car but has now become our main transport. We now judge all vechiles by the Doblo. It is a shame that it is so ugly but it is a price well worth paying. (Bob H, UK).
Took delivery on Friday. One broken speaker cover on rear parcel shelf though. Makes people stare! Had many admiring looks too Had quite a few comments on how good it looks!
Every car has its own uniqueness. What Doblo has, is the attractable design and spacious cabin then any car of its the same size. I bought a week ago and it has been a jaw dropping and eyepopping experience for onlookers. I'm so happy driving something that excited others, too. (Zoylao, Singapore)
I own a DOBLO 1.6. elx since 10-2004. I just love it!.Good driving and plenty room.Everyone who takes a ride is entousiastic. Great Car!! No complaints.
I love this car! I bought it a year ago and I can say that this car gives a lot of pleasure. It's fun to drive! Plenty of space and view. Buy one! (Peter B, Holland)
---
Use the buttons at the top to navigate further, or
---
Copyright © 2000 to 2008 CarsfromItaly