Fiat Sedici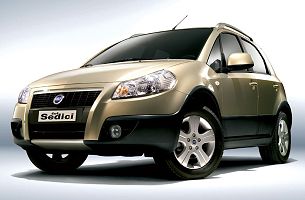 Launched into the public eye at the 2005 Bologna Motorshow, the Fiat Sedici took Fiat into a new and growing market segment, that of the lifestyle SUV. Named after the sum of the calculation 4x4 (sedici is Italian for sixteen), it is a joint venture with Suzuki using their 4x4 knowledge, Fiat's award winning diesel engine technology and the undisputed design talent of Giugiaro.
Built in Hungary, the Fiat Sedici is a completely new vehicle featuring a full four-wheel-drive system and with one, five-door, bodystyle available. Designed by Giorgetto Giugiaro, it follows the Fiat brand values in that it is more compact than most rivals, and has many design features taken from normal saloons rather than jeeps. Practicality and usability feature high on the list of requirements, and exceptional visibility aids the manoeuvrability of the Sedici.
Mechanically it uses an electronically controlled 4x4 system which allows three operating modes, '2WD', 'Auto' or 'Lock'. In '2WD' mode all the drive goes through the front wheels, giving benefits in fuel consumption. In 'Auto' mode the drive is normally through the front wheels unless the system detects traction problems (using the ABS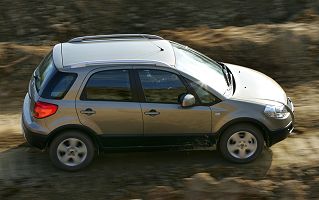 wheel speed sensors) in which case drive is transferred to the rear wheels. In 'Lock', which operates up to 60km/h, the drive is transferred to both the front and rear wheels in an even 50/50 split. These different modes are possible due to the use of an electronic centre differential, and enable the Fiat Sedici to perform exceptionally economically on-road and still be very capable when it goes off-road.
Power for the Fiat Sedici comes from two engines, a 120bhp 1.9 8v MultiJet turbodiesel and a 107bhp 1.6 16v petrol unit with VVT (Variable Valve Timing) and EGR (Exhaust Gas Recirculation). The diesel version has a DPF (Diesel Particulate Filter) fitted as standard. Transmissions are manual 5-speed for the petrol and 6-speed for the diesel.
Internally the Fiat Sedici is well equipped and finished with quality materials. Flexibility is exceptional thanks to the independently adjustable rear seats, the large boot (270 up to 670 litres with the rear seat fully folded) and the numerous storage compartments. Two trim levels are available, as well as eight exerior colours, two interior fabrics and two leather options.
Safety is standard, with ABS, ESP, up to 6 airbags and all the other features expected in the current marketplace, as well as a modern structure designed to ensure the safety of the occupants.
Mid-2008 saw the first major change to the Sedici, with the introduction of a 4x2 model. Due to ever growing sales of 'fake' off-road vehicles, Fiat introduced both engines in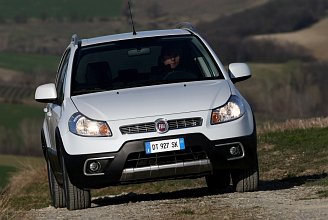 the Sedici combined with a front-wheel-drive only transmission. Around the same time a series of minor tweaks were made to the model.
By 2009 around 75,000 had been sold and it was time for a revised model and range. As well as noticeable front and rear restyling and new exterior colours, the new Sedici featured two new engines and revised interiors with new instrumentation, sound system, fabrics and options. Mechanically, both 2WD and 4WD (on-demand system, where it can be manually selected, or switched to automatic) drivetrains are available, whilst the brakes were upgraded with a change from drums to discs at the rear.
In terms of engines, both petrol and diesel engines were replaced with new Euro5 compliant units. The new petrol engine is a 1.6 16v with 120bhp, driving through a 5 speed transmission, whilst the diesel is a 2.0 16v MultiJet with 135bhp driving through a 6 speed transmission. A 4-speed automatic is available in some markets coupled with the petrol engine and 2WD drivetrain. Both engines offered a significant increase in power over their predecessors, as well as a reduction in consumption and emissions.
See a video of the Sedici here (5.2MB).
---
| | |
| --- | --- |
| | |
---
Technical Details

Driveline
transverse engine at front with four wheel drive or front wheel drive
Engines
1586cc (78x83mm) dohc with 107bhp @ 5,600rpm and 145Nm @ 4,000rpm
1910cc (82x90.4mm) sohc MultiJet turbodiesel with 120bhp @ 4,000rpm and 280Nm @ 2,050rpm

1598cc (78x83mm) dohc with 120bhp @ 6,000rpm and 156Nm @ 4,400rpm
1956cc (83x90.4mm) dohc MultiJet turbodiesel with 135bhp @ 3,500rpm and 320Nm @ 1,500rpm

Suspension
front : MacPherson strut with telescopic dampers and coil springs plus anti-roll bar
rear : Torsion beam
wheelbase : 2500mm
track (front/rear) : 1495mm/1495mm
Brakes
front : discs, diameter 280mm
rear : drums, diameter 220mm - after 2009 discs, diameter 280mm
handbrake operating on the rear via a cable
ABS with EBD
Gearbox
5 (petrol) or 6 (diesel) speed manual, 4-speed auto available
Single-plate dry hydraulically operated clutch
Steering
Rack and pinion with electric power assistance
Dimensions
length / width / height (mm) : 4115 / 1755 / 1620
Weights
4x4 versions : petrol 1245kg, diesel 1350kg
---
---
Performance

| | | | | |
| --- | --- | --- | --- | --- |
| model | max speed | 0-100kph | combined consumption | CO2 emissions |
| 1.6 petrol 107 4x4 (2008) | 170 km/h | 10.8 sec | 7.1 l/100km | 173 g/km |
| 1.9 MultiJet 4x4 (2008) | 180 km/h | 11.2 sec | 6.6 l/100km | 174 g/km |
| 1.6 petrol 120 4x4 (2009) | 175 km/h | 11.5 sec | 5.1 l/100km | 134 g/km |
| 2.0 MultiJet 4x4 (2009) | 180 km/h | 11.2 sec | 5.4 l/100km | 142 g/km |
---
For books on Fiat see our Online Bookstore
There is also a list of all our picture galleries (including museums, motorshows and various events).
Wallpapers/Desktop Backgrounds of numerous Fiats also available to download.
---
Sedici comment form
---
Your Comments
Send us your comments
---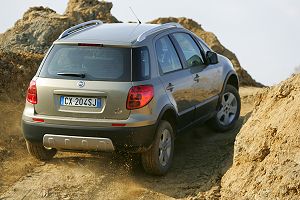 Use the buttons at the top to navigate further, or
---
Copyright © 2000 to 2011 CarsfromItaly