Fiat Stilo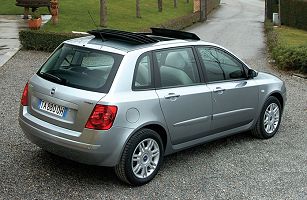 The long awaited replacement for the Bravo/Brava, the new 'Stilo' as it has officially been named (internally, project 192), was released officially at the Geneva Motorshow in March 2001.
Following on from the Bravo/Brava pair, Fiat are stressing the different characters of the three and five door versions of the new car. This time, however, there is only the one name for both models. The heritage of the Bravo can be seen in the design of the three door car, whilst the five door model retains more styling cues from the three door version than was the case with the Brava.
The three door car has a slightly shorter body, a much lower roofline, and the driving position is lower, whilst the five door car is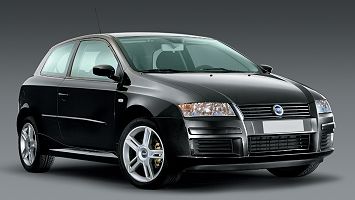 slightly longer, has a much higher roofline and has a raised drivers seating position. The latter model is described by the official press release as being a traditional car with the benefits of a monovolume added, with ease of entry, excellent interior space and raised driving position being quoted. The rear seat is also adjustable in two parts. The three door car is claimed to empahsise driving pleasure, individualism and performance, whilst the five door concentrates on on-board comfort, interior space (and the implied safety), versitility and a competitive price. The range comprises three trim levels (Active, Dynamic and Abarth), the two bodystyles, six engines (see below) and seventeen different colours.
The engines comprise 4 petrol units and two diesels. The former start with a 16V 1.2-litre unit (coupled to a six-speed gearbox) include 1.6 and 1.8-litre 4 cylinder 16V units and conclude with the 2.4-litre 5 cylinder unit (fitted with the Selespeed transmission) with 170bhp in the Abarth version. The diesels are both 1.9 JTD units, one with 80bhp and the other with an extra 35bhp thanks to a variable geometry turbocharger and an intercooler.
The suspension is a conventional MacPherson strut setup at the front and a modified torsion beam system at the back. Disc brakes are standard all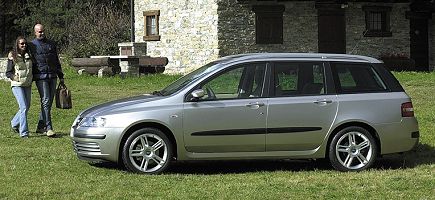 round on all models, and include Bosch ABS as well as EBD (Electronic Brakeforce Distribution), ASR (Anti Slip Regulation), MSR (MotorSchleppmomentRegelung) and a brake assist system. An ESP (Electronic Stability Program) system is standard on some models. The steering is assisted electrically, proportional to the speed, and includes two levels of assistance, selectable by the driver. One is aimed for normal driving, the other (with more assistance) for town driving and parking. Above 70km/h the two systems coincide.
The interior is aimed to offer class leading levels of equipment and includes fully adjustable seats and steering wheel, customiseable central-locking, various displays, trip computer, six-speaker sound system (with more available as an option), electrically heated and adjustable door mirrors, adjustable head restraints and various other 'goodies'. An automatic dual-zone climate control system with an air quality sensor (controlling recirculation) is optional as are electrically adjustable seats (with a memory), cruise control (standard on the Abarth), improved sound systems, CONNECT integrated communications and navigation system, steering wheel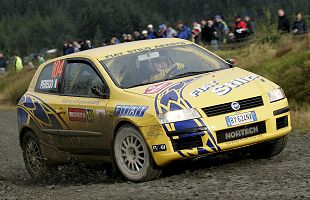 controls, rain sensor, automatic headlights, parking sensor, radar cruise control, remote control central locking, completely keyless entry and start system, segmented glass sunroof and more.
Occupant safety has been concentrated on, both in the design of the structure and in the provision of six airbags as standard (two front, two side and two window bags with two sidebags in the rear optional), height adjustable front seatblets with pretensioners, adjustable head restraints, side intrusion bars, fire protection system and more.
Other novel features include the now established 'follow-me-home' headlights (first seen on the Punto) and the new 'puddle-lights' which illuminate the ground beneath the front doors when the doors are opened ! The Paris Motorshow of 2002 saw the release of the Stilo MultiWagon. The estate version of the range it retains the same wheelbase, but is longer and taller than both the 3 and 5 door versions. As well as the cavernous loadbay, the interior is designed to be flexible and has many seating combinations. Some can be seen here. A revised rear suspension ensures minimum intrusion giving a wide, low area, whilst touches like the separately opening rear window make life with the car much easier.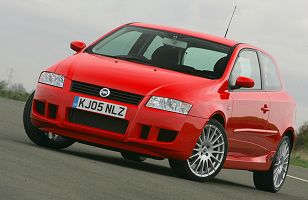 2004 saw a mild revision to the range with various content, trim, material and colour changes. Significant design changes concerned only the rear of the 5-door, which was noticeably improved by the redesign of the light clusters. Mechanically, a new 1.4 16v engine with 95bhp replaced the 1.2 16v unit, whilst the 2.4 Abarth became available with a manual transmission as well as the Selespeed as offered before. Around this time the new MultiJet diesel units became available, with various variants of the 1900 turbodiesel being introdued, from 100 to 150bhp, the latter also with 16 valves. In South America the Stilo also used a different 1.8-litre engine, a sohc 8v unit with a capacity of 1796cc and a power output of 105bhp.
Various special editions were built, most famously the 'Stilo Schumacher'. This originally was a 2.4-litre 3-door only available in a special colour, Ferrari red, but various markets used various engines and indeed in some countries also five-door variants were produced (and other colours !).
Click here for pictures of a variety of interior details. Click here for a video of the Stilo crash test, and here for a TV advert for the Stilo featuring Michael Schumacher.
There is also a competition version, built for a single make rally championship, the Stilo Abarth Rally. There are more details here.
CarsfromItaly was at the Geneva Motorshow, see our Fiat page for pictures of the launch of the Fiat Stilo.
CarsfromItaly was at the Frankfurt Motorshow, see our Fiat page for more pictures of the Stilo.
CarsfromItaly was at the Paris Motorshow, see our Stilo MultiWagon page for pictures of the launch of that version.
---

Screensavers of the Fiat Stilo available to download (free).
---
---
Technical Details


Driveline
transverse engine at front with front wheel drive
Engines
1242cc (70.8x78.9mm) dohc 16V 4-cyl with 80bhp @ 5,000rpm
1368cc (72x84mm) 16v 4 cylinder dohc with 95bhp @ 5,800rpm
1596cc (80.5x78.4mm) dohc 16V 4-cyl with 103bhp @ 5,750rpm
1598cc (80.5x78.4mm) dohc 16V 4-cyl with 103bhp @ 5,750rpm
1747cc (82x82.7mm) dohc 16V 4-cyl with 133bhp @ 6,400rpm
2446cc (83x90.4mm) dohc 20V 5-cyl with 170bhp @ 6,000rpm (picture)
1910cc (82x90.4mm) sohc 4-cyl turbo diesel with 80bhp @ 4,000rpm
1910cc (82x90.4mm) sohc 4-cyl turbo diesel with 115bhp @ 4,000rpm
1910cc (82x90.4mm) sohc 4-cyl turbo diesel (MultiJet) with 100bhp @ 4,000rpm
1910cc (82x90.4mm) sohc 4-cyl turbo diesel (MultiJet) with 120bhp @ 4,000rpm
1910cc (82x90.4mm) dohc 4-cyl 16v turbo diesel (MultiJet) with 150bhp @ 4,000rpm
Suspension
front : MacPherson strut with telescopic dampers and coil springs plus anti-roll bar
rear : torsion beam axle with telescopic dampers and coil springs
wheelbase : 2600mm
track (front/rear) : 1514mm/1508mm all except Abarth : 1518mm/1512mm
Brakes
front : ventilated discs, diameter 257mm (1.2 & 1.6), 284mm (1.8 & diesels), 281mm (Abarth)
rear : discs, diameter 251mm (all)
handbrake operating on the rear via a cable
ABS, EBD, ASR, MSR plus ESP on some models
Gearbox
5 or 6 speed manual
Selespeed hydraulically operated clutchless system on Abarth
dual cable gearshift mechanism and hydraulic clutch on all variants (except Abarth)
Steering
Rack and pinion
electrical power assistance
Kerb Weight
range from 1090kg (3 door 1.2) to 1320kg (5 door 1.9 JTD)
3dr Abarth : 1265kg
5dr 1.8 : 1295kg
Click here for a cutaway of the 3-door Stilo.
Click here for a cutaway of the 5-door Stilo.
---
---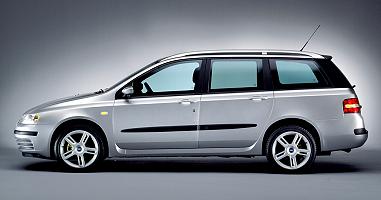 Links
The official Fiat website
The official Fiat Stilo website
One owners personal Stilo website
The European Stilo Community website

---
Desktop wallpapers
Click on the correct screen resolution for you computer and the picture will open in the window. You can then right click and set as desktop.

See also our Wallpapers/Desktop Backgrounds page.
---

For books on Fiats, see our Online Bookstore
There is also a list of all our picture galleries (including museums, motorshows and various events).
Wallpapers/Desktop Backgrounds of numerous Fiats, including the Stilo, also available to download.

Screensavers of the Fiat Stilo available to download (free).
---
Stilo comment form
---
Your Comments
The 3 door looks okay, if a bit dull from the front. The 5 door could be Japanese... Honda's New Civic springs to mind. Grade B-, disappointing given recent standards.
Beautiful car but quite German-influenced!(VW Passat/Seat Leon ) No matters, I love it. (Thomas, Belgium)
The 3 door looks sexy. Nice hot hatch.
It's very handsome. Espcially the 2.4 hgt 175 BHP!!!!! (Renato, Italy)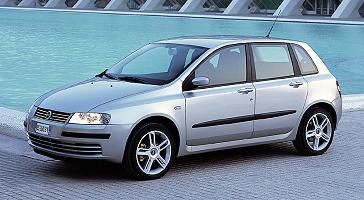 I'm a bit disappointed ! The Stilo looks very much like a VW/Audi-product and this is not an advantage. Gone is the distinctive styling, the slender bodylines, the extraordinary backligths, the lowslung aggresive but elegant bonnet of the Bravo/Brava twins ! Especially the frontend and the headlights resemble a VW Polo with edges. The backsight is downright ugly. What happened to italian style ? I hope FIAT does not see the Stilo as a future design direction. After all, the different-from-all-others characteristic looks of the latest models made me buy a FIAT (Marea)in the first place ! Now I could at next also buy a Skoda...
The car is styless disaster!!! Nothing original at all at the car. I wont talk about 5-door version because it is not worth a word. The 3-door should be a sporty version but it failed by all means. Judging by the picture, it can not be any better live! For those who are comfortable with the fact that it looks like VW/Japanesse product, you are attending wrong forum! When I saw the picture first I remembered the Honda Civic and its epitaph to the one of the greatest sporty car with style and name. Guess I will go deeper into my pocket for Alfa 147.
I agree that the five door version look a bit Japanese, but the three door looks great. Just to remind the critics,it is the Audi A3 that looks like a Brava! A 2,5 HGT would be just great! (Geir, Norway)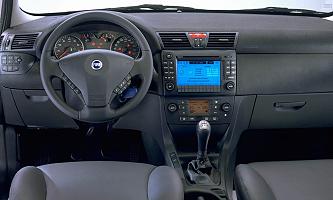 The 3 doors its quite pretty, less for the 5 doors which look a bit dull. Anyway I hope for a better quality inside in and out.(Roberto, London)
3 Door is okay but 5 door Yuk! I still prefer the Bravo though. I'll be able to pick one up cheap now when thet release this..Yipee! (Ed, UK)
Hey everybody! Pictures and reality don't look the same...we should wait before criticizing this car. On TV, the Stilo looks more pretty and beautiful (and this is also avalaible for the 5 doors)(Thomas, Belgium)
These are two beautiful cars! They do look like some VW models, but the front of both cars is very nice, although the back of the car is not something special. The 3 door should by all means be sporty! (Robert, Croatia)
The rear of the car looks good.The rest of it looks skoda/astra. Not so good!
I think the 5 door looks more like the Tipo, practical,spaceious and economical and the 3 door more sporty. And thats what FIAT`s are about. This is not a Alfa. The Bravo/Brava was too much style, and not enough space. I agree it looks more "German", but neverever could a VW make a car look like the 3 door Stilo. (Stig, Norway)
Awful, I`ll keep my 97 1.8 ELX Brava...(Merly)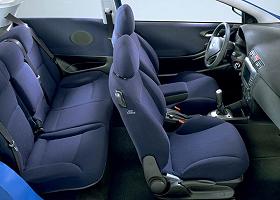 The 3 doors is very nice esthetically and I hope that the mecanique is also two, the front side looks a bit like the Passat, but the 5 doors is very ugly and looks like a Japanese - car. (Pierre,Lebanon)
I hope Fiat will return to the rally events with this 192.A WRC would be great.
Hello! Very nice Design (Like all Italian Cars!), perhaps my next Car. Greetings, (Chili, Germany)
The design is great, tecnology is at the top, I've heard quality is also improved from previous models! Fiat, we love U! (Hernan, Argentina)
The 3 door version is very nice indeed! The 5 door is a big dissapointment,it looks like a mazda 323 f! I hope the 3 door version comes in a WRC version :4wd -250 bhb-wider fender flares-17" wheels-recaro sports interior!!!!!! That be awesome! (Hermanzini,Norway)
Nice car guys!!! I am impressed, looks much better that Bravo or Brava looked. This one looks more powerful, and more serious...Just keep that way...(D.D, Yugoslavia)
The three door look simply irresistible, but also the 5 door looks very similar to a Mazda 323F with a litle bit more style, I hope they do someting about it to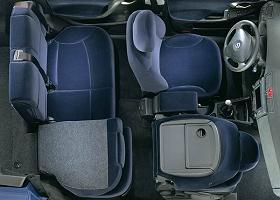 make the 5 door version more attractive!!!!!! And it looks a litle German but something still more stylish. (Rafael, El Salvador)
Looks too much like the VW it is a lovely car though keep up the good work! (Giuseppe, UK)
The look of the Stilo makes it not even worth one tenth of that of the Brava (or even Bravo) it intends to replace. It's such a shame Fiat drops the Brava and replaces it with such an ugly car. The Brava was one of Fiat's best achievements - by far -.
I prefer the 3 door one, but they are both nice. The back light of the 5 door model could've been better though. (Something like Punto or Marea Weekend has.) Anyway, the most important is to have the 'Italian feeling' driving it. By the way it is hard to be attractive, original and handsome at the same time. I think Stilo did it. Well done guys, way to go!!! (Beci, Hungary)
Very, very nice car. I have fiat brava 1.4 SX 12 V, and I am very satisfied. Congratulation for design and new very good engine. Thank you very much. (Radoje L, Croatia)
The 3 door looks very nice. It 'll be very hard competition for the Alfa Romeo 147, that 's for sure! The 5 door on the other hand looks a bit Japanes (at the back) which is a bit of a dissapointment. It reminds me of Honda's New Civic and the New Nissan Almera. Italian designers should know better, but the 3 door hatchback makes you forgive them! :-) (Filip, Belgium)
With new excellent name and very beautiful lines of 3-door version,I`ll give my vote! and I can say that it is going to to be in good reputation!... 5-door version is funcional, but not with good design...guys You should make much more attractive design I think......(Eric L. Croatia)
Both versions are a hotchpotch of different styles. I cannot believe that Fiat who produced the stunningly beautiful Coupe can now put this in their showrooms. (Ivan, UK)
Hi guys! Recently I could saw the Stilo live in the "Fira de l'Automòbil" motorshow in Barcelona, and I had a nice surprise. Not only for the 3 door, but for the 5 one! It is not so ugly. Also I think that VW influences are not bad. Stilo looks strong, sportive and nice. Hey! And what about the Mp3's player? Wow! I want to give an applause to Fiat. (Miquel, Spain)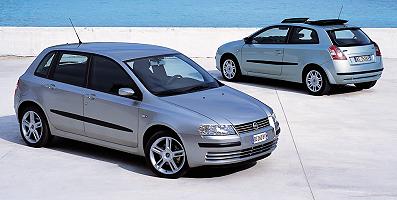 Looks like a fantastic car !! I would love to see it sold in Australia.As I have owned many Fiats I think this car would definately be on the list to be purchased. (Anthony, Australia)
The design of the 5 door version is still a desaster inside and outside. The 3 door version looks like a mix of mazda 323, skoda fabia, vw passat. I think I must change the brand till the next generation. (Richard, Vienna)
I think that the new three door Stilo looks stunning and I can't wait to get one ! (Simon, UK)
Hey guys,what are you talking about? This new Fiat's look into Bravo/Brava line is real good. It is good idea to more separate Brava/Bravo characters. Brava was too similar to Bravo,has not so sporty look, but in the same time not so spacies for car with family character. Look at the new 307. The same 1.5 meter height van-o-look car for the driving pleasure and family trips... I don't think it's a good idea :) And in case with Fiat, the new 3-door Stilo looks realy sporty and great car for driving pleasure. And in the same time 5-door version would be a good choice for people who wants more space and family car's features. And no damn compromise! (Vaidas, Lithuania)
The Stilo looks very nice indeed ,on my third Brava at the moment and can't wait until it lands on British shore's for a test drive.....(Paul, UK)
If I could, I would buy one. It is a great car. (Tiago, Portugal)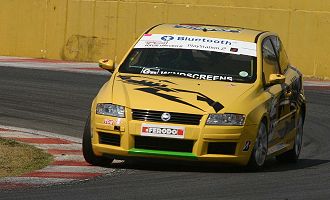 Hello, I am driving a Fiat Stilo Abarth. It's a fantastic car to ride in and it goes like lightning. What they all say that he looks like another car, so what they all do. But it will still keep his own identity. I rode a VW Golf (for work) but that is more for an older person. NO, I'll keep it by my STILO. (Peter, Netherlands)
Comments: WOW! I have a 2.4 Abarth and it rocks. People say that it looks like a VW, what rubbish, then again the only thing they will see is the rear of my Stilo 3 Door! It has an extras list as long as your arm, the best thing is that they are not extra, you get them!! Sat Nav, dual climate control, semi auto box, drool... The doubters should take a test drive, it's the closest you will get to being shot of the end of an aircraft carrier, with your clothes on and for the money. Just superb. Gimme that torque! i would agree that the 4 door is pedestrian in looks, but if you are looking for a family car that can do the school run with mum and 170bhp tire smokin fun for Dad, look no further. I do not work for Fiat and I have never owned one until now, but boy does this car make you smile. (Vincent, UK).
What's all this about the Stilo looking to Japanese/German. These pictures really don't do it justice. On the road it's a beautiful car, the 3 door especially is striking. The 5 door is a bit more conservative, but so are 5 door buyers. Fiat hit the mark spot on with the Stilo. Lovely car. But most importantly, it's a Fiat! (Steve, Belfast)
Fiat Stilo 3 Doors, an outstanding example of design, sorry for the 5 door version who looks not very well at all. I had the opportunity to drive Stilo one month ago and i was very impressed by his features, especially the diesel engine of 115 HP JTD. (Victor, Romania)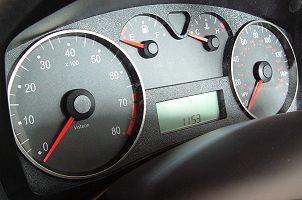 So you think that the Fiat Stilo looks like a German or Japanese car huh?!? Well if you are a REAL Italian car enthusiast then you should be pleasantly surprised when you see the big proud Fiat badge on the front grille and say to yourselves - "Oh thank goodness, it's a Fiat!!!" After all is said and done, it is the drivability and what is under the bonnet that counts and the Stilo sure excels on both of these! (Krys and Nick, UK)(owners of a Strada Abarth, Punto HGT, Fiat Coupe and now a brand new Stilo Abarth 5 door - a truly AMAZING car!)
The 3 door looks really great, especially in yellow. So much so I have ordered one and are counting down the days till it arrives. (Dave, New Zealand)
I've just imported a FIAT STILO to Australia, and I think its the greatest car in the world. The drive and build quality is so much better than the 4 GOLFS I've being driving for the past 15 yrs. great work FIAT p.s. excellent design (Randy, Australia)
The car looks great, it is the best looking hatchback I have seen for a long time. I think recently people have forgotten the meaning of a hatchback car. To be small and fun, where as the new Pug 307 and the Focus feel rather like driving small tanks! The looks are spot on, something else that has been going downhill over the last few years. They have really made a good job of this one and I imagine sales with go through the roof, putting Fiat back on track. It looks like you get quite a lot for the money too. I can't wait till I get the 3 door version, only thing is I don't know what the insurance will be like, as I am only 17!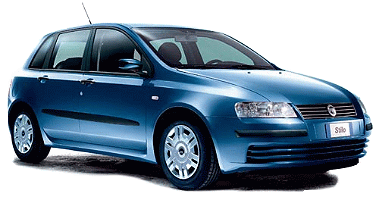 I have the 3 door stilo and this car is the best car i have ever owned, it has all the gadgets and looks. well worth the money, but prefer the 1.6, faaaaassssssttttttt
Very modern design. Style and concepts are extremely creative. Congratulations to FIAT. (Alexandre S, Brazil)
I have a 3-door 2004 1.6 Actual. After almost three years the styling still impresses me! There have been some downs with many irritating minor issues and a poor after sales service here in Finland, but the bottom line is: a reliable car, drives more than well enough for me. Somehow a homey vehicle to spend time in, if sometimes a bit quirky technically ! (Ilkka, Finland)
---
This site has no connection with Fiat Auto SpA, see the official Fiat website for details of prices, availability etc.
---
Use the buttons at the top to navigate further, or
---
---
Copyright © 2000 to 2008 CarsfromItaly