Fiat Uno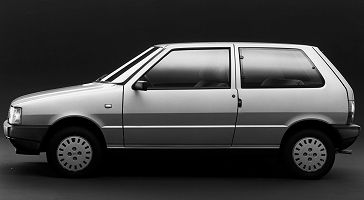 Designed by Giorgio Giugiaro to replace the Fiat 127, the Uno was released in January 1983, and in the same year was awarded 'Car of the Year' by the usual panel of European journalists. It was also awarded car of the year in Ireland, Norway and Yugoslavia.
Initial models were powered by 903cc pushrod (45), 1116cc sohc (55) and 1301cc sohc (70) engines coupled to four or five speed gearboxes. Three and five doors bodystyles were produced and it came in two trim levels, normal and super. Fifteen exterior colours were available, including five metallics. It received much praise for it's interior space and low fuel consumption (due to a low weight and low drag factor of just 0.34). An 'energy saving' ES model had some detail changes, such as wheel covers, to reduce the drag further (down to 0.33) whilst mechanically it had different gearing to improve fuel consumption as well as a higher compression ratio and different engine management systems. A shift-light told the driver the optimum time to change gear whilst a consumption meter showed efficiency. Overall this version returned 12% better fuel consumption figures.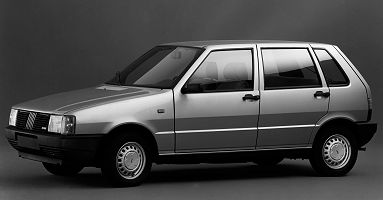 Launch literature boasted that over US $700 million were spent on design and development, and over 6 million km of testing was undertaken using 360 prototypes. Production began at Mirafiori and Rivalta, with an initial declared 450,000 per year output. This was done aided by 20 painting robots (images of paint line) and 200 welding robots (images of chassis welding line). To help reduce corrosion, 17% of the body weight was pre-coated steel whilst closed box sections were avoided and replaced by open channels.
In May of the same year (1983) the new Fiat Uno diesel ('45D') was released, fitted with the 1300 45bhp unit as found in the 127. It was available as a 3-door in 'normal' trim or a 5-door in 'super' trim. Apart from the extra weight of the diesel unit (the car was almost 100kg heavier than the petrol 45) extra engine-bay soundproofing was also applied. In October the 'Uno-matic 70' was shown. This was a prototype using a CVT gearbox developed by Fiat and Van Doorne (in which Fiat held a 24% stake). It entered production in 1987 as the 'Selecta' using the 58bhp 1116cc engine and the new transmission, with 3 or 5 doors and 'super' trim.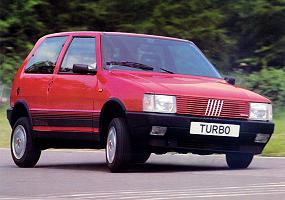 The range was enrichened in mid-1984 by the introduction of the range topping Uno SX. Using the 1300 '70' engine in both 3 and 5 door bodies, the SX added external visual details (bumpers, sideskirts, wheelarch extensions & chrome tailpipe) and internal improvements (new front and rear seats, front headrests, new cloth and trims and a new steering wheel). Various options became standard (eg revcounter, digital clock, foglights, heated rear window and rear wiper).
In April 1985 the Fiat Uno turbo ie was released with a 1299cc engine, 105bhp and priced to compete with the Peugeot 205 GTI. Numerous details differentiated this version from the rest of the range including alloy wheels, a unique trim, new bumpers, new instrumentation etc. Shortly afterwards it gained a 1301cc (still with 105bhp) engine. Later, in 1987, it became available with a catalyst, and later that year ABS was introduced on the 'Antiskid' model.
Returning to 1985 and a few months after the turbo launch, in June, the whole range was revised. The main change was the introduction of the new 999cc (45bhp) sohc FIRE engine. A completely new engine, it used less parts and weighed less than the old 903cc engine. At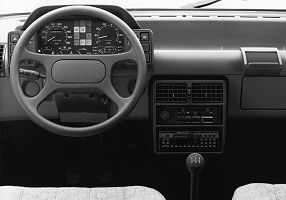 the same time 1116cc engine (in the '55') got a slight increase in power up to 58bhp, the model being renamed the '60'. The ES version was discontinued, a 5-door 45 version was added, and a new range topping trim, the SL, replaced the SX. This became available on all engine versions, the previous SX having been on the 1300 only, and included electric front windows and central locking. Across the range, four additional exterior colours were added, new interior fabrics were introduced and a brake servo became standard on all the cars.
The following year saw the introduction of the Uno Turbo D. Using a 1367cc 70bhp sohc turbocharged and intercooled engine (derived from the 1929cc Ritmo unit) it also featured external trim similar to the turbo ie model, with a deeper front bumper with extra air-intakes and foglights and plastic wheel-arch extensions. Around this time a 1697cc diesel engine (58bhp) was made available in certain markets. The next new model to appear was the 75ie cat which used the 1498cc sohc (75bhp). It was fitted with electronic fuel injection (Bosch L-Jetronic) and a three-way catalytic converter.
March 1985 saw the one million figure reached, October 1986 saw the two millionth Uno roll off the production line, March 1988 the three millionth.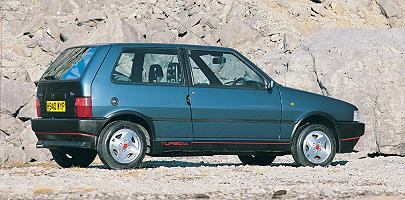 In Brazil the Uno was produced with various changes, the most obvious visual difference being the clamshell bonnet. Some models also had independent rear suspension derived from the Ritmo ('CS') with a single transverse leaf spring, whilst a 994cc engine was also available, derived from the 1049cc 127 unit. These cars were also exported to various markets.
A major facelift was completed for the second series, released in September 1989. This introduced a revised bodyshell (new bonnet and grille and rear hatch) with a lower drag coefficient of 0.30, a new dashboard and numerous smaller improvements both in design and in build quality.
Six petrol and three diesel engines were offered, a mix of old and new. The old 903cc unit soldiered on in the entry level 3-door 'Sting' only, whilst the established 999cc FIRE unit was joined by a new 1108cc FIRE unit with 56bhp. The 1116cc unit continued in the Selecta CVT version only.
A new 1372cc engine was introduced in aspirated form (70ie) with 72bhp and in turbocharged form with 118bhp. The 1301cc and 1367cc turbo diesel units continued and were joined by a new 1697cc aspirated diesel with 58bhp (already seen in some markets). For those markets requiring a catalytic converter, the 1301cc turbo engine continued until 1991 when the 1372cc turbo finally became available with that equipment. The two FIRE engines were available with a catalyst on some versions.
In 1990 another diesel joined the range, a 1929cc (60bhp) unit with EGR (Exhaust Gas Recirculation) in order to reduce the emissions. In 1991 the 1498cc unit was also cataysed, becoming the 1.5ie. 1993 saw the Brazilian 994cc engine used in some limited editions.
During its life numerous special edition cars were produced, including the Suite with full leather upholstery and air conditioner, the Hobby, Rap, Rap Up, Turbo ie Racing, Formula, Estivale, Cosy, Seaside, Targa and Brio.... Most featured extra equipment as standard, or revised colour schemes. The second series Uno was also built under licence by Nissan in South Africa.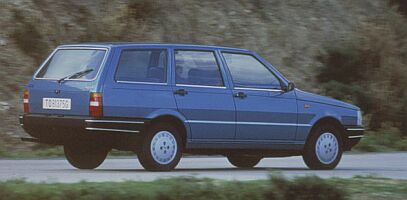 Production (in Italy) stopped in 1995 when the Punto was released. In total 6 032 911 examples of the Uno were produced.
Various other variants of the Uno were produced and sold in different markets. The Duna (built in Brazil from 1987) was a four door saloon or estate (Weekend) with Ritmo rear suspension (single transverse leaf spring) and 1116cc and 1301cc petrol and 1697cc diesel engines. Revised in 1990 to follow the front styling of the new Uno range, the saloon was dropped in 1991 and the estate became the Innocenti Elba, available in ove version with the 1301cc unit. This was immediately recognisable since it also had roof-bars. In April 1992 a 1498cc injected and cataysed unit (75bhp) was introduced and in October a 1700 diesel (57bhp) became available. Development continued, with a 3-door version being released in 1993 and later that year two new fuel-injected engines. The 1.3 was replaced with a 1372cc (67bhp) unit and the 1.5 by a 1581cc (75bhp) unit. Other small changes were also made.
In 1994 the Innocenti Mille was released, basically a Brazilian built series II Uno using the single transverse leaf spring rear suspension and clamshell bonnet. Later (in 1995) production moved to Poland when the clamshell bonnet was dropped, and Punto-style independent rear suspension was adopted. Engines included the 994cc, 1372cc and 1697cc diesel units. Production continued in Brasil, with various facelifts being carried out as other Fiat cars adopted new styling.
See a period promotional video of the Uno (3.7MB)
---
Technical Details

Driveline
transverse engine at front with front wheel drive (floorpan)
Engines
903cc (65x68mm) four cylinder ohv with 45bhp @ 5,600rpm
999cc (70x64.9mm) four cylinder sohc with 45bhp @ 5,000rpm
1116cc (80x55.5mm) four cylinder sohc with 58bhp @ 5,700rpm
1301cc (86.4x55.5mm) four cylinder sohc with 65bhp @ 5,600rpm
1301cc (80.5x63.9mm) turbocharged four cylinder with 105bhp @ 5,750rpm
1301cc (76.1x71.5cc) four cylinder diesel sohc with 45bhp @ 5,000rpm
1697cc (82.6x79.2mm) four cylinder diesel with 60bhp @ 4,500rpm
1372cc (80.5x67.4mm) four cylinder sohc with 72bhp @ 6,000rpm
1372cc (80.5x67.4mm) turbocharged four cylinder with 118bhp @ 6,000rpm
Suspension
front : MacPherson strut with telescopic dampers and coil springs (turbo plus anti-roll bar)
rear : dead beam axle with telescopic dampers and coil springs
wheelbase : 2362mm
track (front/rear) : series I : 1330mm(later 1339mm)/1300mm (turbo : 1346mm/1309mm)
series II : 1346mm/1300mm (turbo : 1353mm/1309mm)
Brakes
front : discs, diameter 227mm (turbo 240mm)
rear : drums, diameter 185mm (turbo discs, diameter 227mm)
handbrake operating the rear callipers via cable
dual hydraulic circuit with rear proportioning valve and servo assistance (on some versions)
ABS optional on some models
Gearbox
4 and 5 speed manual
CVT
cable operated clutch
disc diameter : 170mm (903 & 999cc), 181.5mm (1100 & 1300), 190mm (turbo)
Steering
Rack and pinion
Kerb weights
series I : '45' : 700kg; '55' : 730kg; '70' : 740kg; Turbo : 845kg
series II : '45' : 740kg; Turbo : 925kg
Dimensions
turbo ie, 60, 70SX, Duna 70 and Duna Weekend.
Click here for a cutaway drawing of the Fiat Uno
---
Performance

| | | | | | |
| --- | --- | --- | --- | --- | --- |
| model | max speed | 0-100kph/0-60mph | in gear acceleration | standing ¼ mile | standing km |
| 45, 45S & ES (series I) | 140 kph | 17.5 sec | | | 37.8 sec |
| 55 & 55S (series I) | 150 kph | 15 sec | | | 36.5 sec |
| 70S (series I) | 165 kph | 11.5 sec | | | 33.8 sec |
| 45D (series I) | 140 kph | | | | 44 sec |
| Turbo (series I) | 122mph (196kph) | 8.3 sec | 30-50 (3rd) : 4.5 sec | 16.5 sec | 30.4 sec |
| Turbo (series II) | 128mph (206kph) | 8.3 sec | 30-50 (3rd) : 4.5 sec | 16.4 sec | 30.1 sec |
---
---
Tuning
There are numerous possibilities of tuning the Uno, from the most modest 903cc engined car up to the excellent turbocharged models.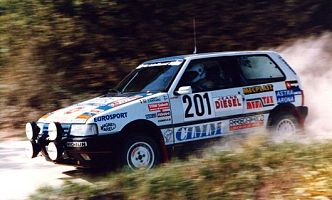 Firstly there are the more obvious 'bolt-on' modifications such as air filter, exhaust, brake pads, brake fluid, wheels and tyres. Suspension packages, containing four dampers and four springs, are also readily available.
For non-turbo cars there is then the possibility to fit turbo parts to improve those areas suitable. The brakes are a prime option, with the turbo having ventilated discs at the front and solid discs at the rear. All these can be fitted to any non-turbo car without major work. The 1116cc and 1301cc sohc engines also lend themselves to easy tuning. Either of these can be fitted with twin carburettors (usually 40 DCNFs or similar) and if this is combined with some mild cylinder head work they can produce impressive results. Another route for any Uno is simply to fit the larger 1500 engine from the Lancia Delta.
There follow some more details primarily designed for the turbo, but many are equally applicable to the normally aspirated versions.
a. Induction system
K&N air filter fitted directly to air flow meter. This is the best solution, which means the standard airbox and trunking can be removed - resulting in lower weight and a less cluttered engine bay.
There are various elements designed to fit in the standard airbox which will also improve the airflow (although not to the same extent) - and a clever one (OMP) which replaces the lid of the airbox with a foam element.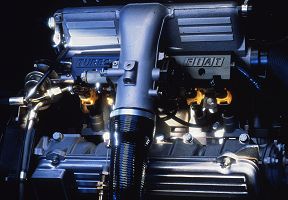 The addition of a cold air intake will also bring noticeable improvements. Recommended is a 4 inch diameter flex pipe through front bumper and front panel (under n/s headlight)), but some may baulk at having to cut away some of the front panel (the hole for the injector cooling fan intake can be simply enlagened) and it is also possible to use a smaller diameter duct from behind the front bumper (next to the oil cooler) and to route it up next to the gearbox.
Depending on the age and condition (and boost level) of your engine, it may be worthwhile venting the crankcase breather to atmosphere to reduce oil loss from seals. This again 'unclutters' the engine bay a bit more.
If running with a higher than standard boost pressure it is recommended to use silicon hoses from the turbo onwards.
To improve the cooling effect of the intercooler, it is relatively simple to fit a system which sprays water onto the matrix. This can be triggered in several ways. The simplest (assuming that the boost has been raised) is to use the sensor in the end of the inlet manifold which previously cut out the ignition over about 0.8 bar. The 'best' system is to use a thermal switch in the inlet manfold. Other options include a throttle position switch (full throttle spraying - not recommended) or a dedicated pressure switch.
The simplest system utilises the reservoir and motor of the rear wash/wipe system, alternatively a dedicated reservoir can be installed.
The last part of the induction system can be improved by increasing the size of the butterfly valve.
b.General Engine Modifications
FSE rising rate fuel pressure regulator.
New HT leads.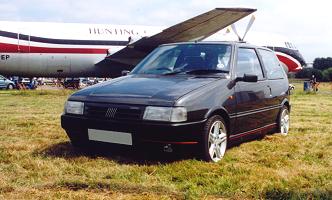 A rev limiter is a must and this can be combined with a shift light which helps greatly when most of your concentration is on the road.
A hybrid turbo with a larger compressor will improve the top end of the power band. Where the standard unit fails to produce full boost the larger compressor enables the hybrid turbo to supply full boost all the way to the rev limiter.
A bleed valve is the simplest way of raising the boost and is quite safe with the standard system up to about 0.95 bar. It is recommended to use an additive to increase the octane of the fuel.
Due to the turbine, exhaust noise is low and it is possible to fit an exhaust system with no silencing (unless you are competing!). A bore of at least 2.5" is recommended.
Fully synthetic oil is a must for all cars - however modified or not.
It is worth paying some attention to the underbonnet temperatures (which can easily reach around 90°C). With careful thermal lagging (aluminised asbestos/silica sheet for example) of the exhaust manifold, turbocharger (only the turbine side!) and downpipe the temperatures can be significantly reduced and the shields fitted as standard to the alternator and below the inlet manifold can be removed. It is also worth fitting some thermal insulation sleeve around the flexible fuel line from the filter to the fuel rail. The latter can also be lagged.
A larger opening in front bumper to aid airflow to the radiator will help the coolant system when under stress !
c. Modifying the standard braking system
Generally :
Stainless-steel braided flexible hoses (all five) will significantly improve the pedal feel.
Ferodo DOT5 brake fluid gives good feel and performs well at higher temperatures.
front :
drilled & grooved discs with Mintex M1144 pads
for better heat dissipation it is also worthwhile removing the dust guards and installing ducting from the front bumper
rear :
grooved discs with Fiat original spec pads (leave the dust guards in place)
To achieve a better balance (and for adjustability to cope with different weather conditions etc...)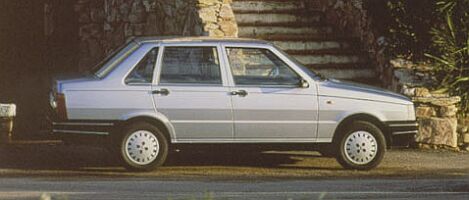 Pressure adjuster. This can be easily fitted to the inside of o/s sill and also routes the brake pipes through the cockpit for increases safety. The original rear bias valve is deleted, saving some weight. The valve pictured is a Wilwood unit which enables a reduction in pressure of up to 57%.
It is also possible to fit twin master cylinders, with no assistance, which allow a better bias adjustment to be made. The easiest (and most proven) way to follow this route is to copy the layout used by the works rally cars.
d. More serious braking modifications
Stage 1: Bigger discs : Bigger discs can be fitted (depending onwheel size) utilising the standard callipers and a new spacer bracket. These provide more braking power and better heat dissipation, but do significantly increase the unsprung weight.
Stage 2: New Callipers : Alloy 4 and 6 pot callipers are available from a variety of sources which can be fitted to the standard discs, or to the larger discs as described above.
Stage 3: The ultimate solution consists of four pot alloy callipers with larger discs on an alumnium bell housing. This provides more than adequate braking and also results in a lower unsprung weight.

e. Suspension modifications
front :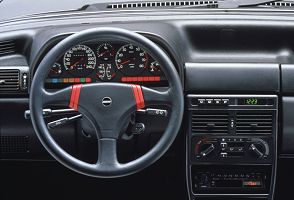 New dampers and springs can be purchased in packs, which are generally well suited to fast road use. For competition use coil-over units are recommended for their increased adjustability. Adjustable-rate units are compromised (compared to fixed rate units) but offer flexibility for both road and competition use. Top adjustables are obviously easier to use than the 'adjust-before-you-fit' type. Spring rates depend on the useage and weight of the car.
The standard top mounts can be modified by cutting off the rubber cone and replacing it with an aluminium cone. This reduces the flexibility of the mount. Alternatively spherical bearing aluminium top mounts can be purchased, both concentric and eccentric (which allows increased adjustability). Normally these can only be used with coil over units. They are highly recommended.
A strut brace (aluminium is obviously preferable) will help increase the stiffness of the front end and thus improve the handling.
Nylon bushes can be purchased for the anti-roll bar and the 'lower wishbone' which again help reduce unwanted movement.
For additional fine-tuning the upper hole (in the strut bracket) where the strut bolts to the hub carrier can be elongated, which will allow the camber to be adjusted.
For more severe useage, the front wishbones should be reinforced as developed for the Fiat competition cars.
rear :
The same rules for the dampers and springs apply as for the front, although it is not possible to fit coil over units without reworking the inner wings, since there is not enough clearance. Adjustable dampers are restricted to those with adjusting screws located at the bottom of the casing.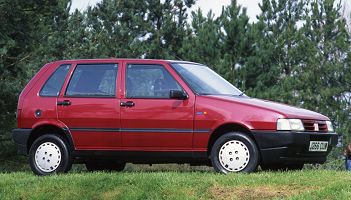 Again a strut brace will bring improvements, as will nylon bushes in the beam pivots.
If wider wheels are being used check the clearance with the auxiliiary fuel tank. If required, 5mm spacers can be found as OE equipment on X1/9s and will fit perfectly.
Stiffening the rear beam axle is a popular modification, however the common method of partially boxing the channel section is not to be recommended, since the weak points are at the ends and can easily become overstressed. The best way is to follow the homologated modification, which is to bolt a circular bar, with correctly fitted end plates, inside the channel section. This transfers the loads without overstressing the weak points of the production design. The ends of the beam around the hub should also be strengthened by additional welding and some small fillet plates (as Fiat used when competing).
f. other details
One advantage of having a Fiat is the endless possibilities of using Fiat, Alfa Romeo or Lancia wheels, although it can be difficult to find the larger sizes with a four stud fitting. The largest size which will fit without modifying the bodywork (and probably the largest necessary for the power output achievable whilst giving plenty of room for brake upgrades) is about 7x15 (35mm offset) with a 195/45-15 tyre. At the rear there is no need for such rubber - 6x14 wheels with 185/50 tyres are adequate. This size is much more easily 'findable' on other Italian cars
---
Maintenance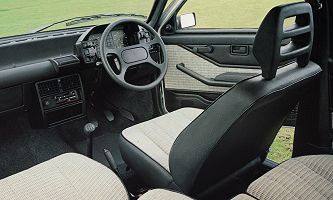 The basic models are just that - very basic cars, and as such are relatively uncomplicated with little to go wrong. Many of these cars are now reaching an age, however, where components which would not normally be thought about wear out.
If you have just purchased a second hand car there are several components which are worthwhile changing - especially if it is (as usual) a high mileage car with no known history.
As with any older second hand car the following should be changed for increased reliability, safety and general health :
Spark Plugs, oil, oil filter, air filter, brake fluid, windscreen wiper blade(s).
It is worth taking a bit of time after purchase to check the car well - it may save much annoyance later !
It is recommended to jack up each corner of the car in turn and check the wheel bearings, brake discs/drums, brake pads/shoes, flexible brake hoses, rubber suspension bushes and driveshaft CV joint gaiters.
Under the bonnet check the HT leads, distributor cap and rotor arm, engine earth lead, battery leads and the condition of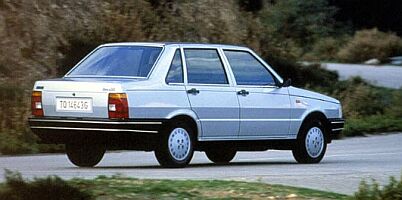 the fuel hoses. With older cars it is always worthwhile buying a can of fuel system cleaner and pouring it into the tank (or spraying it into the carburettor) - the internals of engines can easily clog up depending on prior useage. Slick 50 or a similar substance is also recommended for both increasing the (remaining) engine life and also reducing the noise, especially at tickover. Whilst there, the cooling system should be drained, generously flushed (chemicals can be purchased to assist this) and refilled with the required anti-freeze added.
Unless a history is provided, it is recommended to replace the timing belt and alternator/water pump belt since these items can fail and if they do the car will go nowhere ! Always use manufacturers belts, NOT aftermarket ones !
Other things to check (to prevent any unpleasant surprises when going somewhere) are exhaust mounting rubbers, the operation of all lights (don't forget to try the indicators with the sidelights on - they sometimes all blink together!) and the correct operation of the radiator cooling fan.
---
Buying / Selling
Early Uno's are now quite(!) cheap, and even the later turbo's are not expensive, so it is an easy way to buy either a good runaround, or a very quick hot hatch.
Some tips to do before selling : (they may seem obvious, but most people don't do them and thus are in a weaker bargaining position)
Tidy inside the car thoroughly : hoover the floor, empty all pockets, ashtrays (wash), glove compartment etc..., wipe the trim with a damp cloth, give the cockpit a good airing to get rid of any odours ! Reset the trip meter to 00000 - it is a pleasant (subconcious) surprise.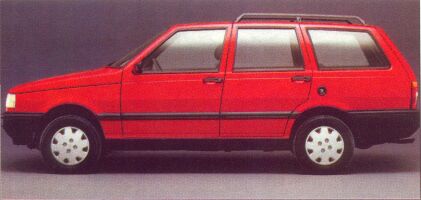 If the car has been standing give it a good run - this will clear out the engine (reduce exhaust smoke), put a shine on the brake discs and loosen up any joints that may otherwise make some noises.
'Back to black' products are very effective at temporarily restoring bumpers and trim. This makes a big difference to any car. Do it a week before you expect people to view the car, otherwise it may be a bit too obvious !
Jetwash under the car, especially under the engine and in the wheelarches. The prospective buyer may be an enthusiast, and this makes it easier for them to see what they want to check.
Obviously wash the car and clean the windows !
If you are going to buy a car always check the following :
Series I Uno's (before the 1990 facelift) still suffer from the 'rust issue', so firstly check the bodywork. Pay special attention to the wheelarches (inside if there is no plastic splash guard), suspension and engine mounts, sill, door pillars (check for sagging doors), scuttle panel and the floor (doors, bonnet and boot/hatch are also susceptible, but are more easily replaced). If a sunroof is fitted check around the edge for signs of rust. The series II cars should not have such problems, but check anyway, especially on early cars.
Check that there are no mismatching panels, large areas of discolouration or signs of fresh paint (compare inside the engine bay with the external body colour), all of which probably indicate accident damage.
Check for a damp carpet or the presence of mould - if the carpet is damp then the floor is almost certainly corroded.
Check the main electrical functions - wipers, lights, etc... try putting the main beam and wipers on at the same time. Check the headlight reflectors for rust.
Check the brake pedal does not go to the floor if pressed hard for a long time and check the gearchange for clean engagement.
The engine should be run up to temperature, check the exhaust for smoke (especially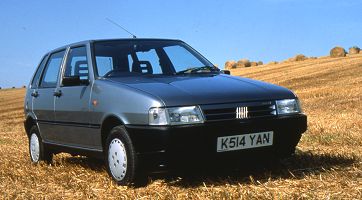 on turbo models), the condition of the breather (look for mayonaise), the condition of the oil filler cap (again white deposits can indicate head gasket or other serious problems or the use of the car only on short journeys, another bad state of affairs) and the colour of the coolant (preferably not thick or dark brown!). Listen to the noise of the engine, then depress the clutch and engage first gear. Whatever noise has disappeared was coming form the gearbox, what remains is from the engine. Also check the condition of the engine oil on the dipstick.The lighter brown the better, if it is thick black then leave quickly.
Check tyre wear, uneven patterns could imply a bent chassis.
Always take it for a test drive. Check that the car tracks in a straight line with no steering input and also remains straight under braking. Find a large open area and complete several lock to lock turns (also in reverse), listening for any noises. Try the handbrake when moving - seized rear callipers will mean uneven braking or no braking.
---
Links

The Dutch Fiat Uno Owners Club website
A private Fiat Uno turbo website

---
For books on the Fiat Uno (including the Haynes workshop manual) see our Online Bookstore
There is also a list of all our picture galleries (including museums, motorshows and various events).
Wallpapers/Desktop Backgrounds of numerous Fiats also available to download.
---
Uno comment form
---
Your Comments
Uno : The best small car in the history of Italian cars (Kostas P, Uno turbo MkII, Greece)
I bought a 13 year old Uno 45S as my first car, and quite simply, it is fantastic. One of the all time best small cars ever made. (Paul R, Uno 45S (FIRE), UK)
I own a 3dr mkII Uno it's simply great, relaiable and offers impressive power for such a small engine (R.B, Malta)
Good car, I bought UNO 1.0. Base Cat last month and I am veryyy happyyyyyyyy... (Kreso, Uno 1.0. Base Cat, Croatia)
There was a Venezuelan built 1987 Uno in my household for several years. It was the Brazilian version, with the 127-derived suspension system and the Brazilian built 1.297cc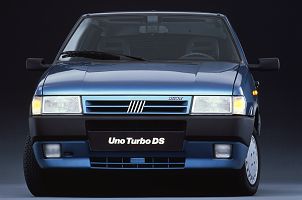 OHC engine. This engine was not very powerful, but it loved to rev. This Uno had good handling, until it was fitted (against my advise) with wide tires on negative offset wheels (they would stick out of the fenders). This disturbed the handling and generated an unexpected problem. Since the front wheels also stuck out, they would generate severe toe-in under acceleration, made worse by the 127-derived front suspension not being very rigid laterally. This situation not only wore out the front tires at an alarming rate, but the toe-in created such friction that acceleration was greatly reduced. If you own a Brazilian built Uno/Premio/Duna, or any Fiat with a 127-style suspension, please be careful with conserving the wheel offset when going for wider wheels/tires.
This is the car of my dream..finally I own it !!!an uno turbo ie 1372cc. Small, compact car...very useful to cruising down the crowded road of Jakarta...and fast enough to compete with other bigger sports car. only one word to describe it, AMAZING!! (Indra, Indonesia)
I have a white Fiat Uno 70S made in Turkey by TOFAS. It is a very good car to use in city traffic. It is always easy find a place to park. You can beat most of the cars on a start even without tuning. Only handicap is to start the engine in cold weather (Mine has an engine without injection) (Serkan, Turkey)
I have use a 903 cc Uno for a destruction derby race (sorry about that)on a mood track.The car was not tuned, it just had snow tyre for better grip. I was in the class of 0 to 1600 cc , the uno was the smalest engine. I finished 2nd in the 'normal races' before the 'destruction race' were all categories of car were present. In that race, the Uno dies by a frontal crash with a Ford Granada ! But in the normal races, the agility of the car was incredible, I was overtaking in virages (on the outside), jumping on stones, and no mecanical pieces broke!, the engine was 95 % of the time in the red zone with no problems. Even the public, at the beginning was laughing seeing that little Uno, but at the end, everybody was applausing at me, and I received the congratulation of the other drivers. I can tell you, that Uno was realy great, reliable in those extreme conditions and so funny to drive...
I have 12 years old 5dr Uno 1,0 FIRE. It is very economic to run and maintain. The 1,0 44 hp engine seems to be stronger than it actually is.It was good value for the money. (Mirek K., Czech Rep)
My gran swopped her 1983 Strada in for a 1988 Uno 45 Fire years ago. It was white with eye catching thick blue coachlines on the door bottoms (could this have been a special edition??) it also had sporty wheels trims which looked quite convincing enough to be alloys. I liked it, liked the interior- with that large wierd ash tray and stripey blue and white nseats, but didn't have many features- bo cigar lighter or rev counter. Because it was so light and tin-like it went suprisingly well and managed 60mph in quite a respectable time from that incredibly noisy engine!! It had great character and i'll always remember her. It had covered just 25k miles when she sold it and never broke down once- breezed through MoTs and only need a new exhaust.
My parents have now their third UNO. In 1989 wu bought an UNO D, then an UNO 45 and one year ago an UNO 60 Mark 2 with FIRE Engine.It's a fantastic car! (Matteo, Italy)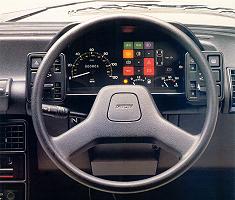 Our Fiat Uno 45S, have been a couple of times round the earth, 310000 kilometres, before we sold it... :o And I have seen other Unos going that far. Uno Turbo: 375000. (Henrik, Denmark)
We have a 1988 Black Fiat UNO 45, my Dad has had it since new and its also my first car!. It has never required any major maintenance, and has done 114,000 miles (Is that a record??) It can still get a respectable speed, I can even get 90mph.. There a great little car, and have lots of character. (MJW, UK)
I have a Uno SX (1301 c.c.) since 1989 which is equiped with sunroof and digital dashboard! It is a great small car! And it still can reach 170 kph today! Ha! Ha! Ha! I am living in Taiwan, and my Uno was made in Italy.
Our family owns 3 Uno's. 2x1100 Fire's and a Turbo. My husbaand used to be a big Ford Fan but now will only recomend an Uno to any one who asks. They are deceiving little cars, have a lot of space interior and are also very nippy on the road. We have opened a workshop here in East London, South Africa specilizing only in the Uno. IT IS THE BEST CAR ON THE MARKET
I own Fiat Uno 70 SL. Since november 1990 this (second-hand) car made 160000 km. No greate maintance needed. Now take a breath: the origine cooling system was changed in 2001 (150000 km)... (Michael, Israel)
I have owned a few different Uno models over the years (even a Tipo 2.0 16V,awsome car!!!!!) and think that they are a great little car, ranging from the 1.0ltr 45s fire to the 1372cc 70SXie my favourate being the 70SXie.I have had many a great time driving and thrashing these cool little cars but regret not having owned a mk1/mk11 uno turbo but i am hopefull i will soon. EXELLENT CARS.(PR, Scotland)
I have Uno 70S and have been driving it since 1994. The condition still good and still can win from Toyota Starlet,Suzuki Swift and Daihatsu Charade. Bravo,Fiat Uno numero uno.(Bobby, Indonesia)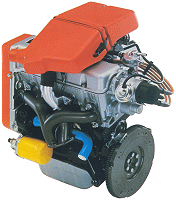 I had a 1989 Fiat Uno 45 Formula 3 door for 2 years and it was a delightful little car, that never went wrong and was a joy to drive and own. I've also owned 2 127s and a Punto. I currently own a Mazda 2 but may change it next year for a new Panda/Gingo. (Tracy C, UK).
I still have an Uno 60D dated 1992 (one of the first sold in Italy) and it has 292000 km (181500 miles). I had to change engine when it was 9000 km (5600 miles, yes nearly new) because of a crash; then I did a little LESS then ordinary maintenance. This is not a record for my family: we had also an Uno 45DS from 1985 to 1993. We thrown away when it had more than 360000 km (224000 miles)!!!! (Guido, Italy)
I had a Uno Turbo i.e. MkII once and it was with no doubt one of the best cars i've ever had. Cheap, very fast and fun to drive. So easy to tune. but best of all... here in Sweden they are really cheap to buy ;) I can highly recomend a Uno Turbo. (Tomas, Sweden).
Hi I am the owner of a fiat uno 1.3 mpi brazilian 2000 model and just like to say that uno is the best choice for anyone who likes a very fast and inexpensive car with not much expenses in repairs. mine had been with me for 2 and a half years and I drive about 100 km a day with no visit to the repair center. I just go to check it every 10000 kms and I put mobil 1 synthetic oil with very good results. (Wilton, Dominican Republic)
I have an 1993 Uno 60S. Economic ,fantastic and handling even at high speeds is incredible. It has some rust and gear problems but I still love this little surprising car!!!! (SBS,Turkey)
I have Uno45S (1993); after 125000km it is still like new.I think it is one of the best cars in car history. It is my best friend and i will never sell him.(Mot, Poland).
---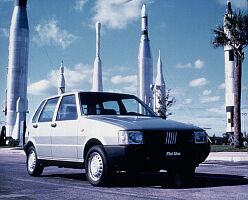 p>Use the buttons at the top to navigate further, or
---
Copyright © 2000 to 2008 CarsfromItaly