Lancia Aprilia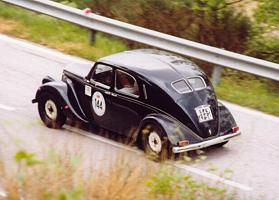 First seen in 1936, with production beginning the following year, the Aprilia broke new ground in several ways. Designed partially in the Turin Polytechnic wind tunnel, giving a drag coefficient of 0.47, it was one of the first mass produced cars to 'recognise' aerodynamics. Independent rear suspension was unusual for the time, and many features were utilised to keep the overall car compact, and the weight low. The body was a pillarless monocoque with four doors, powered by a narrow angle V4 engine of 1352cc capacity and generating 47bhp.
In 1939 the second series Aprilia was introduced, with a larger 1486cc engine producing 48bhp. A number of very small detail changes were also made, and the 'Lusso' specification of the first series became strandard on the second series cars including such items as the instrument panel.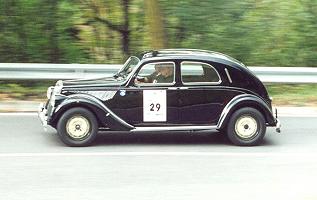 Production continued until 1949, by which time 20,082 cars (and 7,554 chassis) had been built in Turin. A smaller number, around 700 (including both cars and chassis) were built in Lancia's factory in France.
Apart from the standard cars, Lancia built a 'chassis' for the many Italian (and other) coachbuilders to use. This featured a lengthened wheelbase, up by 100mm to 2850mm. Pininfarina built both saloons and cabriolets on this longer chassis for Lancia, as well as the 'Aerodinamica' two seat coupes. Other coachbuilders which produced Aprilia based cars included Ghia, Stabilimenti Farina, Zagato, Viotti, Bertone, Vignale, Touring, Castagna and a variety of overseas companies. Click here to see a few of these variants.
---
Technical Details

Driveline
longitudinal engine at front with rear wheel drive
Engines
1352cc (72x82mm) V4 with 47bhp @ 4,300rpm
1486cc (74.61x85mm) V4 with 48bhp @ 4,300rpm
Click here for section 1 and section 2
Suspension
front : Sliding pillar
rear : independent with single transverse leaf spring
wheelbase : 2750mm
track (front/rear) :
1st series : 1236mm/1266mm
2nd series : 1262mm/1292mm
Brakes
hydraulic on all four wheels (rear inboard)
handbrake operating on the rear
Gearbox
4 speed manual
Steering
Worm and sector
Kerb weight
series I :880kg; series II : 950kg
---

For books on Lancia see our Online Bookstore
There is also a list of all our picture galleries (including museums, motorshows and various events).
Wallpapers/Desktop Backgrounds of numerous Lancia's, including the Aprilia, are available to download.
---
Aprilia comment form
---
Your Comments
The Lancia Aprilia is the best car I have ever driven. I received it from my father who bought it in Torino,Italy, in 1939. I drove it almost daily from 1962 to 1975. Now I am fully restoring it and plan to use it again...at least on weekends... (Ricardo V, Chile)
I drove one when I was in the US Army in Asmara Ethiopia (Eritrea). I loved it. It did fine climbing the steep mountain roads between Asmara and Massawa. The doors would open when rounding corners, giving me a beautiful view of the countryside. I never lost a passenger on any of our trips. They knew to hold on tight when I was driving. (Al Marzian)
---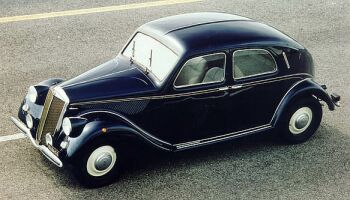 Use the buttons at the top to navigate further, or
---
Copyright © 2000 to 2008 CarsfromItaly