Lancia Flaminia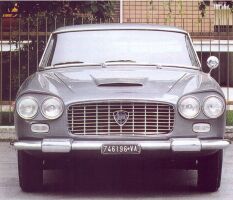 To replace the Aurelia, Lancia developed the Flaminia, first shown as a prototype at the 1956 Turin Motorshow. The production car emerged the following year at the Geneva Show. The basic chassis was an evolution of the Aurelia unit, shortened by some 80mm, coupled with an all new engine, still a 60º V6 but now displacing 2458cc and producing 102bhp. Pininfarina were contracted for the styling, which was to follow their earlier concept cars, the Floride series, also based on an Aurelia chassis. Significant differences from the previous model included the front suspension which adopted unequal length wishbones with coil springs whilst a de Dion setup was used at the rear. As on the Aurelia, the clutch and gearbox were situated at the rear whilst the former car's drum brakes were substituted by discs after the first 500 Flaminias had left the production line.
In 1961 the engine gained 8bhp thanks to a different carburettor, but sales were poor, a situation which continued to deteriorate, despite the arrival of an increased capacity engine in 1962. This was a 2775cc unit which produced 125bhp, a figure still relatively modest given the weight of the car, a generous 1490kg. Production continued until 1970, but only 599 of the bigger engined cars were sold by then. A total of around 3349 smaller engined saloons were built, production ceasing in 1963.
Four principle variants were built, coupés by Pininfarina, Touring and Zagato and an open-topped version by Touring.
Pininfarina produced the Coupe with a wheelbase shortened by 120mm and an engine producing 119bhp. This was a two-door four-seater with styling heavily based on that of the Floride II.
Carrozzeria Touring produced the GT with a wheelbase shortened by 350mm (from that of the berlina) and the same 119bhp engine as the Coupé. This was strictly a two seater and utilised much aluminium in the bodywork to reduce the weight.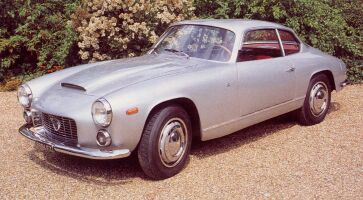 Zagato produced the Sport, released in 1958, another two seater with an all aluminium body and the 119bhp engine.
Pininfarina also produced four Presidenziale cars in 1960 for use by the Italian government during state visits. These has a wheelbase stretched by 480mm.
Carrozzeria Touring also produced the Convertibile which was a GT without the roof, a hard top being optional.
When the 110bhp engine was released in 1961, a version for the Police was developed using triple carburettors which generated 140bhp. This engine then became available in the GT, Convertible and Sport models.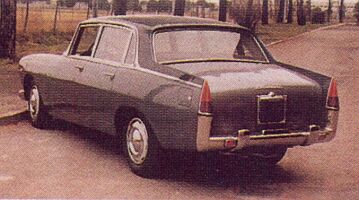 The Coupe also received a boost in 1962 when it gained a single triple-barrel carburettor which gave it 128bhp. That year also saw the addition to the Touring products of the GTL, a 2+2 version of the GT with a 80mm longer wheelbase.
The revised 2.8-litre engine was also tuned for use in the various variants, giving 136bhp in the Coupé and 150bhp in the Sport, Convertibile, GT and GTL.
1964 saw the cessation of production of the Convertible and Sport, the latter being replaced by the Super Sport 2.8 3C which, with its 152bhp engine, continued in production until 1967, as did the Coupe. In the meantime the GT and GTL ceased being built in 1965.
Approximate production figures are :
Berlina : 2,5-litre : 3349 ; 2.8-litre : 599
Coupé : 5284
GT & GTL : 2016
Sport & Super Sport : 599
Convertibile : 847
---
Technical Details

Driveline
longitudinal engine at front with rear wheel drive
transmission mounted at rear
Engines
2458cc (80x81.5mm) 60° V6 ohv with 102-140bhp depending on variant (see above)
2775cc (85x81.5mm) 60° V6 ohv with 129-152bhp depending on variant (see above)
Suspension
front : double wishbone with coil springs and telescopic dampers plus anti-roll bar
rear : independent with semi-trailing links, coil springs and telescopic dampers (early cars)
rear : de Dion with leaf springs and telescopic dampers
wheelbase : 2870mm (Berlina); 2750mm (Coupe); 2520mm (GT, Sport & Convertible); 2600mm (GTL)
front track : 1368mm
rear track : 1370mm
Brakes
discs on all four wheels (drums on all four wheels on first 500 cars)
handbrake operating on the rear
Gearbox
4 speed manual
Semiautomatic 'Saxomat' unit available in some models
Steering
Worm and sector
Kerb weight
1430kg (early 2.5 berlina); 1560kg (2.8 berlina)
1490kg (early 2.5 coupe); 1320kg (early GT); 1370kg (early convertible); 1260kg (early sport)
---
---
Identification

| | |
| --- | --- |
| Model No. | Details |
| Berlina | |
| 813.00, 813.03 & 813.36 | 102bhp 2.5-litre berlina |
| 813.10 & 813.11 | 110bhp 2.5-litre berlina |
| 826.000 | 2.8-litre berlina |
| Coupé | |
| 823.00 & 823.01 | 119bhp 2.5-litre Coupé |
| 823.02 & 823.03 | 128bhp 2.5-litre Coupé |
| 826.030 & 826.031 | 2.8-litre Coupé |
| Others | |
| 824.00, 824.01, 824.02 & 824.03 | 119bhp 2.5-litre GT & Sport |
| 824.04 | 119bhp 2.5-litre Convertibile |
| 824.10, 824.11 & 824.13 | 140bhp 2.5-litre GT & Sport |
| 824.14 & 824.15 | 140bhp 2.5-litre Convertibile |
| 824.16 | 140bhp 2.5-litre GTL |
| 826.132 | 2.8-litre Sport |
| 826.138 & 826.139 | 2.8-litre GT |
| 826.134 & 826.135 | 2.8-litre Convertibile |
| 826.140 & 826.141 | 2.8-litre GTL |
| 826.232 & 826.233 | 2.8-litre Super Sport |
---
Lancia Flaminia Books :
buy them online here (in association with Amazon)
For more books Lancia's, see our Online Bookstore
---
Flaminia comment form
---
Your Comments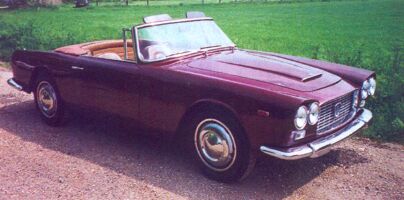 I am the lucky owner of four Flaminias, an early drum brake sedan, a Pininfarina coupe, a convertible and a GT coupe. These are all beautiful cars and each has a different personality. The Flaminia was unfairly regarded as an overweight Aurelia when in fact it was a much more mature and modern car. Compared to cars today, the weights (from a low of 2,700 lbs to 3,500 lbs) are not at all excessive. The cars are built to a standard seldom seen since the 1930s. They drive like modern cars except perhaps for the manual steering. (Randy A, USA)
I just drop a few lines about the Flaminia I own. It's a 2800 sedan of which 599 were built. It really drives very well and it's a pleasure to take her on the highway or small country roads. The Flaminia sure must have been a supercar in the 60's, as few cars could match its refined behaviour and build quality. Even today, when compared to English classics, its supremacy is still unequalled. The sound of the V6, the quality of the materials used and the way it's built, make it a joy to own!
I have the pleasure to own a Lancia Flaminia Sedan which gives me a lot of satisfaction from different points of view. Esthetically it's a milestone in three box car design with a lot of interesting details. It's very well made and has such details like grease nipples on the door hinges. Mechanically it's very interesting too with a beautifull full alloy V6 engine, a superb gearbox including mounted on a de dion axle with inboard disc brakes and everything works so fine you can tell immediately it was made by a bunch of top engineers who had not the slightest restriction to keep in mind. From a collectors' point of view, the pleasure of owning a very rare car (only 6000 Flaminia's all models included were made) makes it very exclusive and greatly appreciated on classic car events and rallies.
Oh my, the 1967 2.8 super sport was such fun. In today's standards, 152 hp. is mini-esque, but the supersport moved! I bought mine out from under hay in a barn in Ohio for $3000. It was silver with red leather with only 13,000 miles. It had been sitting for some time, but started right up, so I drove it to Pittsburgh without a wimper. Over time I also had a II series which had covered headlights and look Ferrari-like, but the tail was not as nice. I always thought Zagato should combine series II front and SS rear. The only thing that bothered me about the car was the ugly rims. Also, all the over-aluminum body filler had a tendency to crack which was not fun to redo. A real classic. (John M)
---
There is also a list of all our picture galleries (including museums, motorshows and various events).
Wallpapers/Desktop Backgrounds of numerous Lancia's are available to download.
See also our Lancia advertisements gallery, where several adverts can be seen.
---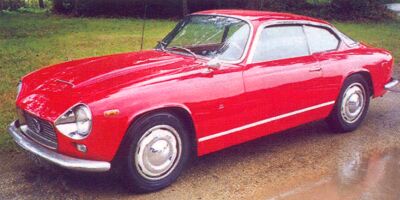 Use the buttons at the top to navigate further, or
---
Copyright © 2000 to 2008 CarsfromItaly