Lancia Ypsilon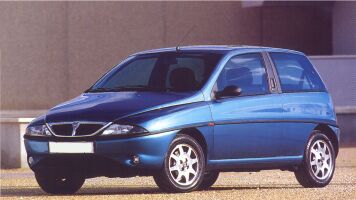 The replacement for the Y10, the Ypsilon (or Y) was introduced late in 1995. Based on a shortened Punto platform and powered by similar engines from the FIRE range (1242cc with 60bhp and 1371cc with 80bhp) the Lancia was however, not a particularly similar car. A completely different design, from the Lancia Styling Centre, and Lancia's policy of marketing the Y as a luxurious supermini, with a corresponding level of equipment, maintained it's individuality.
In 1997 the 1242cc engine gained 16 valves (86bhp) although the 8V version continued to be sold in parallel and a basic model, the Elefantino Blu using a 8V 1108cc (55bhp) engine, was introduced. This was joined in 1998 by the Elefantino Rosso, a more sporting version with a close-ratio gearbox, lowered suspension and the 16V 1242cc engine.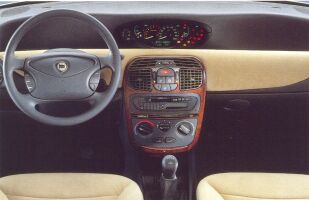 At the Paris Motorshow in 2000 Lancia revealed a slightly facelifted and revised Ypsilon range. Externally the front bumper showed the biggest change, whilst detail changes were made both outside and inside, the latter including the instruments and materials used. Satellite navigation also became an option. The engines remained the same basic units with revised control units to enable them to meet the stricter Euro 3 emissions laws.
---
Technical Details

Driveline
transverse engine at front with front wheel drive
Suspension
front : MacPherson strut with telescopic dampers and coil springs plus anti-roll bar
rear : independent with telescopic dampers and coil springs plus anti-roll bar
wheelbase : 2380mm
front track : 1405mm
rear track : 1390mm
Brakes
front : discs, diameter 257mm (240mm on base models)
rear : drums, diameter 180mm
handbrake operating on the rear via cable
dual hydraulic circuit with servo assistance
ABS optional
Gearbox
5 or 6 speed manual
CVT
Steering
Rack and pinion with power assist (except base models)
---
---
Tuning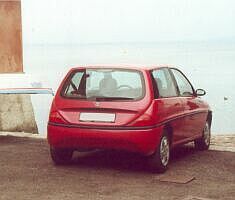 Easily carried out modifications include installation of a free-flow air filter (a cold air duct is also a worthy mod) and fitment of a less restrictive exhaust system to improve the driveability, 'Chips' are also available which (claim to) increase the power, driveability and torque all at the same time.
The brakes can be improved by fitting drilled and grooved discs, using a superior pad compound and fitting stainless steel braided flexible hoses.
Dampers and springs can be bought which will improve the handling, and a strut brace can be fitted at the front and rear to increase the stiffness of the bodyshell.
Since the Ypsilon is based on the Punto, it is possible to utilise many of the performance parts offered for the latter car (which tend to be more commonly available) on the former.
---
Links
One owners Lancia Ypsilon website

---
Ypsilon comment form
---
Your Comments
My mom drives one! Very nice city car!! Easy to park and very smooth driving, only a bit a lack of power! but generally nice Italian! (Mille, Belgium)
I have a Lancia Y. In fact, it is my second Y. It is a very good car, beautiful and original. Many thanks to Lancia !!!! (Christophe, France)
I must have one of the most exclusive cars in the UK, an Ypsilon. Drove it back all the way from Milan full of stuff and it still makes 140 kph on the motorways. Fantastic
Lupo, Polo, Twingo, Clio, Saxo, 106, Fiesta, Yaris, Etc,... If you could only be half as nice as the Y...(David, Cantabria)
I am the owner of a Lancia Y 16V. I really like its design, in and out, but most of all its engine. There is no other 1200 c.c. engine with so much power and nerve. The Y can easily pass many other more expensive cars. Great handling too (with the PUNTO GT shock absorbers that i've recently placed even better!) I love my Y and i wouldnt change it for any of the other cars in its class. (Alkis, Greece)
---
For books on Lancia see our Online Bookstore
There is also a list of all our picture galleries (including museums, motorshows and various events).
Wallpapers/Desktop Backgrounds of numerous Lancia's are available to download.
See also our Lancia advertisements gallery, where several old adverts can be seen.
---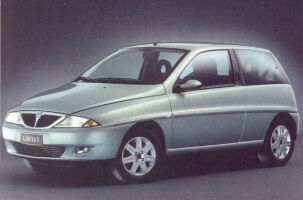 Use the buttons at the top to navigate further, or
---
Copyright © 2000 to 2011 CarsfromItaly