Maserati Khamsin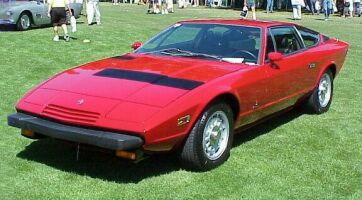 Designed to replace the Indy, and also partially the Ghibli, the Khamsin (Tipo 120) was first shown at the Turin Motorshow in prototype form in 1972. Mechanically the new car borrowed heavily from the Indy, using a conventional front mounted V8 driving the rear wheels layout, with the relatively new-to-Maserati independent double wishbone suspension all round. The body, a 2+2 coupe, was designed by Gandini, then working at Bertone. Citroens influence included the use of high pressure (2,500psi from an engine driven pump) hydraulics for seat adjustment, pop-up headlight raising, power steering, clutch and feel-free brakes.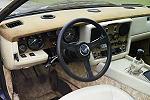 Unfortunately, a neat design and good performance were not enough to make the Khamsin the success Maserati needed. The Citroen influenced steering and brakes, combined with an oil crisis and resulting high fuel prices, on top of an extremely high price meant few new cars found homes. Production was delayed and first began in 1974, and by the time production stopped in 1982 only 430 examples had been built.
---
Technical Details

Engine
4930cc (93.9x89mm) quad-cam V8 with 320bhp @ 5,500rpm
fuelled by four Weber 42 DCNF 6 carburettors
Suspension
front : independent with double wishbones and coil springs plus anti-roll bar
rear : independent with double wishbones and coil springs plus anti-roll bar
wheelbase : 2550mm
track (front/rear) : 1440mm/1470mm
Brakes
discs all round
Citroen hydraulic no-pedal-travel system
Transmission
5 speed manual (3 speed Borg Warner automatic available as option from 1975)
Limited slip differential optional
Tyres : 215/70 VR15 front & rear
Steering
Rack and pinion
With Citroen hydraulic power assist (and self-centering), 2 turns lock to lock
Kerb weight
1680kg
---
There is also a list of all our picture galleries (including museums, motorshows and various events).
---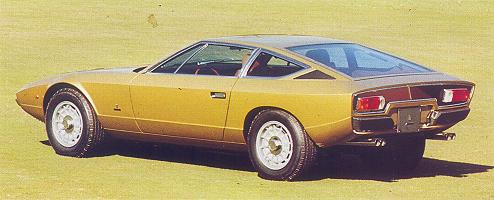 Use the buttons at the top to navigate further, or
---
Copyright © 2000 to 2008 CarsfromItaly