Maserati Merak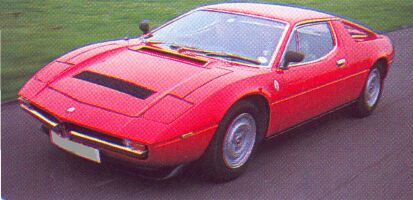 Basically a re-engined and slightly restyled Bora, the Merak (Tipo 122) long outlasted the latter and was built in considerably greater numbers. The quad cam 3-litre V6 engine and 5 speed manual transmission were units designed by Maserati for the Citroen SM. Other Citroen influences were the dashboard and the no-travel braking system (and hydraulically assisted clutch actuation).
The design differed from the Bora in having open flying butresses at the rear and a slightly different front end. There was also more room internally due to the reduced length of the engine. The similar weight, however, meant that the Merak lost some of the outstanding performance of the Bora.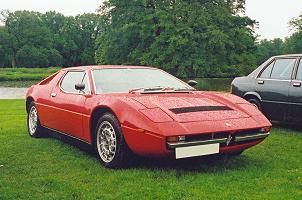 A 2-litre variant, the Merak 2000GT, was also produced for the Italian market (for tax break reasons) and in 1975 the Merak SS was introduced. This used a more powerful engine, now with 220bhp and disposed of the Citroen dashboard (replacing it with the Bora unit) and braking system.
Production finally ended in 1983 after 626 Merak, 993 Merak SS and 190 Merak 2000GT examples had been built.

---
Technical Details

Engine
1999cc (80x66.3mm) quad-cam V6 with 159bhp @ 7,100rpm
2970cc (91.6x75mm) quad-cam V6 with 190bhp @ 6,000rpm (later 220bhp @ 5,800rpm)
Suspension
front : independent with double wishbones and coil springs plus anti-roll bar
rear : independent with double wishbones and coil springs plus anti-roll bar
wheelbase : 2600mm
track (front/rear) : 1474mm/1470mm
Brakes
discs all round
Citroen hydraulic no-pedal-travel system
Transmission
5 speed manual
single, dry-plate clutch
Steering
Rack and pinion
Kerb weight
Merak SS : 1,400kg (41% front, 59% rear)
---
There is also a list of all our picture galleries (including museums, motorshows and various events).
---
Buying
Things to check if inspecting a potential purchase :
1. Check the front windscreen for delamination (upper corners)
2. Check for corrosion on the front inner wings/wheelarches (inside the front luggage space), rear edge of front wing (contains boxed section), door bottoms (are drain holes plugged ?), sills (especially at rear end and fuel tanks within).
3. Check for correct engine, SS has six nuts for the cam-cover, normal engine only five.
4. Check oil pressure, about 7 bar cold and 1-2 warm. 4-5 bar on revving hot engine.
5. Check for exhaust smoke on over-run, vave guides wear.
6. Check for not excessively rattly timing chains.
7. Check gearbox for excessive whine, clutch for slip and second gear synchro for smooth shift.
8. Check the hydropneumatic system by running the engine until the dashboard warning lights goes out. Then raise and lower the headlights (which use the same system) until they no longer move. They should raise and lower at least six times, otherwise the accumulators need reconditioning.
9. All trim items are difficult/impossible to obtain, so check for completeness.
10. Check that the handbrake is not seized and that the car brakes in a straight line.
---

Use the buttons at the top to navigate further, or
---
---
Copyright © 2000 to 2008 CarsfromItaly