Maserati Quattroporte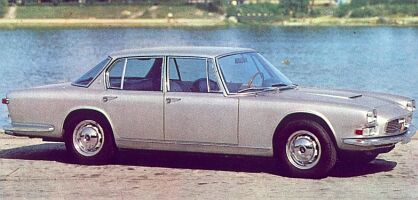 The Quattroporte (Tipo 107), when it was introduced at the Turin Motorshow in 1963, was unique in being a four door saloon 'supercar', as well as being the first four door Maserati. Having seen the success of the 5000GT, effectively a built-to-order super saloon, Maserati realised the customers for such a car were out there.
Another redesign of the V8 race engine to improve its reliability and practicality saw Maserati come up with a 4.2-litre version, with chain drive for the four camshafts, one spark plug per cylinder and fuelling by four Weber 38DCNL carburettors. A front subframe, rubber mounted to the body, carried the engine and double wishbone front suspension (by Alford & Alder) whilst a de Dion rear susension layout was used. Girling discs were installed all round, inboard at the rear. For the first time, a Maserati used unitary construction, the welded steel bodyshell replacing the traditional tubular chassis. The relatively restrained design was by Pietro Frua.
As befits such a car, a full leather interior was standard, and electric windows, air conditioning and other luxuries were also available.
In 1966 (Tipo 107A) the de Dion rear suspension was replaced by a more conventional Salisbury live axle installation and the 4.7-litre engine from the Mexico was offered as an option. The headlights adopted twin round lenses on each side (rather than the earlier rectangular units), the cockpit was revised, the wheels updated and a variety of other changes were made at the same time.
The production cars were built by Vignale, who made 259 of the early cars and 529 of the later, the 4.7-litre engine only being used in a small number (about 110) of the latter part.
Click here for a period advertisement.
---
Technical Details

Engine
4136cc (88x85mm) quad-cam V8 with 260bhp @ 5,000rpm
4719cc (94x85mm) quad-cam V8 with 290bhp
Suspension
front : independent with double wishbones and coil springs
rear : de Dion with coil springs (later live axle with leaf springs)
Brakes
Girling discs all round, inboard at rear
Transmission
5 speed ZF manual (3 speed automatic available as option)
Kerb weight
1700kg
---
---
There is also a list of all our picture galleries (including museums, motorshows and various events).
Free to download desktop wallpapers of various Maserati are available, including the Quattroporte.
---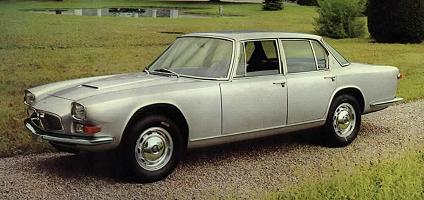 Use the buttons at the top to navigate further, or
---
Copyright © 2000 to 2008 CarsfromItaly