AAC Tipo 815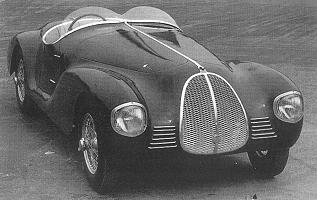 The first car to be designed and built by Enzo Ferrari, the 815 was never badged a such, the company being called Auto Avio Costruzione. Two examples were built in 1938/9 using various Fiat parts and with design input by Nardi and Massimino. The cars were entered in the 1940 1° Gran Premio Brescia delle Mille Miglia (9 laps of a much reduced circuit).
Technically the chassis was a much modified Fiat 508C unit with a Fiat 1100 differential unit. The engine was a straight-eight 1496cc (63x60mm) item, some articles stating that it was two Fiat 1100 blocks welded together, others stating that it was a single casting. Whatever the case, two Fiat 1100 cylinder heads were fitted with two exhaust manifolds and four twin carburettors. The 815 stood for 8 cylinders and a capacity of 15(00cc). This unit produced 72bhp @ 5,500rpm.
The aluminium body was constructed by Touring using their famous 'Superleggera' structure and was known as a 'Torpedo Tipo Brescia'. The wheelbase was 2420mm. front and rear tracks were 1240mm and the dry weight was 450kg.
---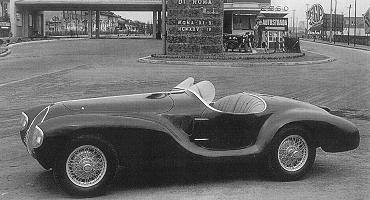 Use the buttons at the top to navigate further, or
---
Copyright © 2000 to 2008 CarsfromItaly