Ansaldo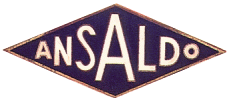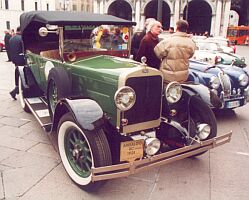 Following the First World War, the 'Societa Gio.Ansaldo &C' (established in Genova in 1853 by the engineer Giovanni Ansaldo) was looking for ways to utilise its excess manufacturing capacity (built up to support the military need). It was decided to use one plant in Turin, then part of the aircraft manufacturing section of the company, to produce automobiles, the conversion taking place in 1918, with the first production car leaving the plant in the following year.
The first models were known as the 4A and 4B, followed in 1922 by the 'Ansaldo 4C'. Sales went quite well, with around 287 selling in 1920 and 443 in 1921. All used an 1846cc in-line four-cylinder engine (with 35bhp in the 4C). The 4C was built on a chassis available in two lengths, for torpedo, spider (only short chassis) and six-seat coupe (only long chassis) bodies. A sport version, the 4CS, powered by a 2-litre four with overhead valves, included a young Nuvolari amongst its drivers. A new model, the 6B, now with a six-cylinder in-line 1991cc engine with 50bhp, followed.
Following banking problems the company changed hands in 1923 (leaving the Ansaldo 'empire'), but car production continued unbroken. At this time there were approximately 200 staff and 2000 hourly paid and production was between 1000 and 2000 cars per year. The Tipo 10, with a smaller 1.5-litre engine was built from 1926 to 1929. From 1927 (in which year the controlling interest again chnged hands) there were introduced a range of new cars from the four cylinder (37 or 60bhp) Tipo 14, 15 and 15GS, through the six cylinder (2780cc, 67bhp) Tipo 18 to the eight cylinder (3536cc, 86bhp) Tipo 22, the latter two for export (a total of around 400 of the Tipo 18 and 22 were made). Commercial vehicles were also produced at this time, using two six cylinder petrol engines, one of 2-litre (Tipo 300) and the other of 5.5-litre (Tipo 500) capacity. Both truck and bus bodies were fitted.
Unfortunately for Ansaldo, like many other companies at that time, the economic recession spelt the end for the company. From 1930 the company merged, changed hands and concluded various other deals to keep production going until the last cars were produced in 1936. The name continued to feature on some commercial vehicles until about 1945, although these were produced by other companies; Viberti had finally obtained the bus side of the business, and Fiat making some military armoured cars with the Ansaldo brand.
| | |
| --- | --- |
| | |
---
If you know of any links relevant to Ansaldo please send them in. Thanks.
---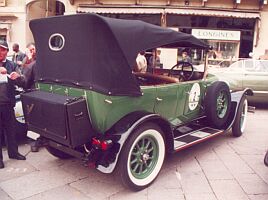 Comment form
---
See our picture gallery index for images from museums, motorshows and events.
---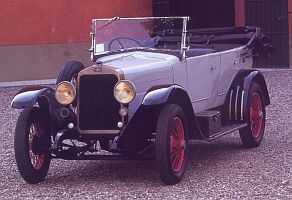 Use the buttons at the top to navigate further, or
---
Copyright © 2000 to 2008 CarsfromItaly