ASA

The Turin Motorshow of 1961 saw the unveiling of a prototype car (labelled simply 'Mille') on the Bertone stand, designed by Giugiaro (working for Bertone) with the blessing of Enzo Ferrari (both the engine and chassis were designed at Maranello). Despite attracting positive comments, Ferrari made it known that they would not be producing it, and so on April 1962 was born ASA or Autocostruzione Societa per Azione (in Milano) to produce it. With financial backing by the Oronzo de Nora petroleum company the car entered volume production in 1964, built at the rate of around one per week. Unfortunately a lack of success meant that after only a few years production stopped and ASA disappeared.
---
1000GT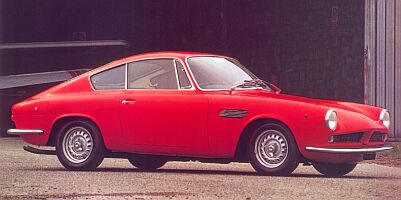 At the Turin Motorshow of 1962 the ASA 1000 GT was finally revealed in its final form (the lack of the fairings for the headlights being the main difference from the prototype shown one year earlier) and with its true name. The only production variant to appear was a Spider version with a fibreglass body, again designed by Bertone, and first seen in 1963.
Known to some as the 'Ferrarina', the 1000GT was a conventional front engine rear-wheel drive two door coupe with a tubular spaceframe chassis. The body was designed by Bertone, whilst the mechanicals were designed by Giotto Bizzarrini (working for Ferrari). It was powered by a 1032cc dohc engine producing 91bhp and fitted with two twin sidedraught carburettors. Disc brakes were fitted on all four wheels, together with a double wishbone and coil spring front suspension and a live rear axle, also fitted with coil springs. A four speed manual transmission (with overdrive on third and fourth) was fitted.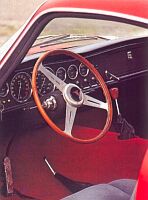 Production began slowly, with about seven cars built by 1964. At this point Bertone ceased producing the bodies and production went to Ellena (in Torino) until 1967 when Marazzi (in Milano) took over. The chassis' were all produced by Marchesi (who also produced most Ferrari chassis'). A total of 104 chassis' were constructed (allowing the homologation, which required 100 examples, to be completed), but less cars were built, somewhere around 95, before production stopped in 1967. Six Spiders were also built.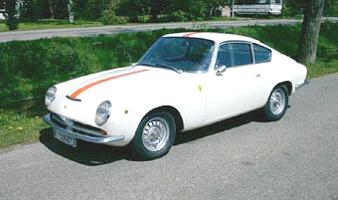 In 1963 a single example of a lightweight competition version, the 1000 GTC appeared. This was developed by Bizzarrini (after having left Ferrari) and had the engine (reduced to 995cc to enter the sub-1-litre class) moved back and used a new all aluminium body (constructed by Drogo). Rumoured to be destined for the 24H Le Mans in that year, it vanished from the scene well before that event.
Official competition began in 1965 with two cars entered in the Targa Florio, with 1070cc engines and one car with a fibreglass body. Other competitions that year saw the GTC reappear alongside more 1000GT coupes. At the Paris Motorshow of 1965 the ASA 411 Berlinetta was revealed, being a 1000GT with an aluminium body, a 1092cc engine (104bhp @ 7,500rpm) and new headlights. Four examples were built. In the following year at the Geneva show the ASA 613RB was shown, see below.
Technical Details

Engine
1032cc (69x69mm) 4 cylinder ohc
compression ratio 9,1:1
2 x Weber 40DCOE twin carburettors
91bhp @ 7,000 rpm
Suspension
front : double wishbones with coil springs plus anti-roll bar
rear : rigid axle with coil springs
wheelbase : 2200mm
track (front/rear) : 1242mm/1252mm
Brakes
discs all round
Transmission
4 speed manual (with overdrive on 3rd and 4th)
Steering
rack and pinion
Kerb weight
910kg
---
613 RB
At the 1966 Geneva Motorshow ASA showed the 'Roll-Bar' or 613 RB. This had a tubular chassis and plastic/composite bodyshell. It was convertible between Spider and Coupe by the removal/addition of a roof panel in the same plastic material. The enine was a 1290cc six-cylinder in-line engine with 124bhp @ 7,000rpm fed by three twin carburettors. A 1755cc (90x69mm) sohc four-cylinder engine (150bhp @ 7,000rpm) was also available, for the US market. A five-speed tansmission was fitted, as were disc brakes on all four wheels. Although only 3 613RB's were built, one competed at Le Mans in 1966

Back to the top
---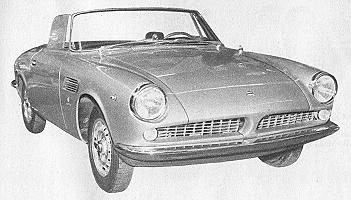 Links
If you know of any relevant websites please send us the details.
---
ASA comment form
---
Your Comments
If you have an ASA car, please contact us. We are trying, in co-operation with an owner, to trace as many cars as possible.
---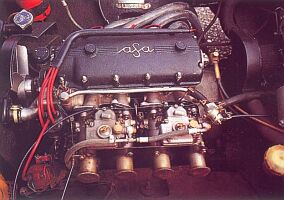 Use the buttons at the top to navigate further, or
---
Copyright © 2000 to 2008 CarsfromItaly