Autobianchi
Autobianchi was founded in January 1955 with the signing of an agreement between Fiat, Pirelli and Bianchi to produce a small, Fiat 500 based, car. The result was the Bianchina, first shown in 1957. The next model, the Primula, emerged in 1964. Also using Fiat mechanicals it was used to test market reaction to front-wheel-drive. The Stellina cabriolet was also released in 1964 but fared poorly.
1967 saw Autobianchi pass into the Fiat Group 100%, two years later the final two 'true' Autobianchi's, the A111 and A112 were introduced. Although using Fiat mechanicals they were different cars to anything else in the group. Later (1969) the company passed into the structure of Lancia who badged some models as Autobianchi until the early 1990's.
---
click on the name for more details
---
Stellina
First seen at the Turin Motorshow in 1963, the Stellina was a plastic bodied two-seat spider using the floorpan and mechanicals of the Fiat 600D.

---
Primula (Biancona)
Built from 1964 to 1970 and powered by a 1221cc engine with 59bhp at 5300rpm, the Primula was the Fiat Groups first serious attempt at a small car with a transverse engine driving the front wheels. Unwilling to risk a Fiat for the experiment, the decision was made to use the Autobianchi name to test the theory. The car was designed by Giacosa, Fiats technical director. All went well, 74,858 cars were built, and soon afterwards the first Fiat with this layout (the 128) appeared.
The Primula was available with two, three, four and five door bodystyles, and in 1965 a coupe was added to the range. Designed by Touring, this had 65bhp and a maximum speed of 150km/h. The Primula was also noteworthy as the first Fiat group car with rack and pinion steering.
Other details are :
kerb weight 830kg
max speed 135km/h
4 speed gearbox
disc brakes all round
standing km : 41.7 seconds !
---
click on the name for more details
---
A112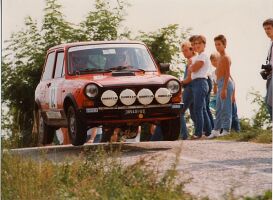 Launched in 1969, the new A112 had the now standard for Autobanchi front wheel drive and transverse engine, this time a 903cc (derived from the engine in the 850) with 42bhp at 6000rpm coupled to a four speed gearbox. The mechanical parts were mainly from the Fiat 127, but the body was an all new three-door design. A kerb weight of 655kg meant that despite the small engine the performance was more than adequate. From 1978 a 965cc unit (the 903cc with an increased bore) with 48bhp was also fitted, initially also with a four speed and later with a five speed gearbox.
In the Abarth versions, first with 58bhp at 6600rpm and a maximum speed 155km/h, and later with 70bhp at 6600rpm and a maximum speed of 157 km/h, the performance became more than just adequate !
Pininfarina also built a concept car based on the A112.
Total production of the A112 reached 1,254,178, before it was replaced by the Y10.
Technical Details

Engine
903cc (65x68mm) 4 cylinder ohv with 42bhp
965cc (67.2x68mm) 4 cylinder ohv with 48bhp
1050cc (67.2x74mm) 4 cylinder ohv with 70bhp
Suspension
front : McPherson strut with coil springs
rear : Independent with coil springs
wheelbase : 2038mm
track (front/rear) : 1250mm/1220mm
Brakes
discs front, drums rear
Transmission
4 or 5 speed manual
Kerb Weight
903cc : 655kg
965cc : 675kg
Abarth : 700kg
---
---
Y10
This was sold both as an Autobianchi and as a Lancia and is covered under the Lancia section.
---
Links
A German A112 Abarth website
A UK A112 website
The A112 Abarth Club International (in Italy) website

---
Autobianchi comment form
---
Your Comments
I've got my second A 112 at present, having enjoyed the fist one that much that after parting with it due to uncurable rust I got myself the current one. It is a 1982 model Abarth, and - yes - the performance is more than adequate. But it's more than just that. When you get into the little thing it's more like putting on a jacket than climbing into a proper car, really. And it drives like it: very light, crisp and with a lovely sound from the double carburator front engine to it. So much so that a radio is not just unnecessary - it would be no use. That's why I never put one in. (M.v.E, Germany)
---
See our picture gallery index for images from museums, motorshows and events.
---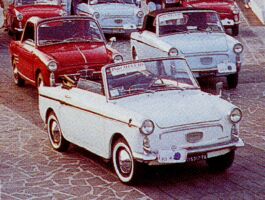 Use the buttons at the top to navigate further, or
---
Copyright © 2000 to 2008 CarsfromItaly