Bizzarrini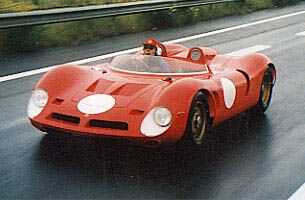 With a background at Ferrari, Alfa Romeo and Iso (plus his first car which was a sport coupe based on a second-hand Fiat 500B in 1949), Giotto Bizzarrini was a talented and experienced engineer. In the early 1960's he decided to design and build his own car, at Livorno. The A3C GT Strada emerged in 1963, entering production in 1965. Later cars were badged Bizzarrini Grifo and later (most of them) 5300 GT. A smaller version was presented in 1966, powered by a 1481cc Fiat four cylinder engine (around 5 built) followed by the 'Europa', the same car powered by a 1897cc Opel unit (around 15 built). By 1969 Bizzarrini has succumbed to that Italian Motor Industry devil, financial problems.
Occasionally the name has been revived for a concept car or prototype, but as yet no production has resulted.
---
P538
This was a rear-engined competition car which first appeared in the 1966. The powerplant was a 4000cc Lamborghini V12 (450bhp @ 10,000rpm) coupled to a ZF 5-speed 'box. The glass-fibre body was bonded to the steel chassis whilst independent suspension was used all round as were disc brakes (those at the rear inboard). The fuel tanks were located in the sills.
The wheelbase was 2500mm, the tracks (front/rear) were 1481mm/1486mm, the overall height was a mere 970mm and the weight 700kg.
---
A3C / 5300 GT Strada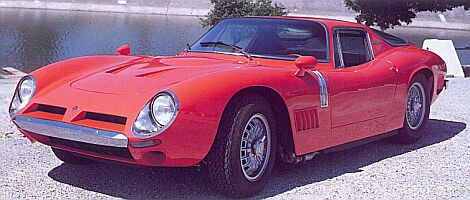 The Grifo A3, later known as the 5300 GT Strada, was released at the 1963 Turin Motorshow and borrowed heavily from Bizzarini's then most recent creation, the Iso Grifo. A similar suspension layout, including de Dion rear setup, was accompanied by a similar (albeit more highly tuned) 5358cc Chevrolet V8 pushrod engine, now producing 365bhp. This drove through a strengthened four speed manual gearbox and a limited-slip differential, whilst four disc brakes provided the retardation. The steel platform chassis was clothed in an alloy body, designed by Bertone. Accomodation for two was provided in the cockpit, as was a small luggage compartment. Production ran from 1964 to 1968, with a total of 133 examples being produced.
In 1966 a spider variant was seen.
Technical Details

Engine
5358cc (101.6x82.5mm) V8 with 365bhp @ 5,800rpm
Suspension
front : independent with anti-roll bar
rear : de Dion with anti-roll bar
wheelbase : 2450mm
track (front/rear) : 1420mm/1430mm
Brakes
discs all round with servo assistance
Transmission
4 speed manual
Steering
recirculating ball
Kerb weight
1200kg
Performance
0-100km/h : 6.7sec
100-0km/h : 57m
max speed : 260km/h
standing km : 25.9sec
---
Click here for the Bizzarrini Manta prototype from 1968
---
Click here for the Iso Rivolta / Bizzarrini GT Varedo prototype from 1972
---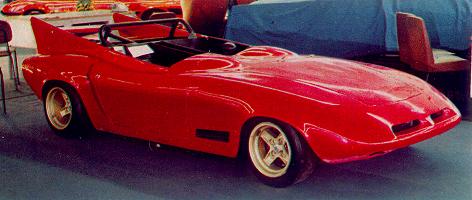 1300 Barchetta
This was a two-seat racecar designed by the son of the famous engineer Bizzarrini. Shown at the Turin Motorshow in 1972 it was fitted with a 1300 engine derived from the Fiat 128 unit (with 135bhp @ 8,000rpm). A five-speed Colotti gearbox and glassfibre bodywork were also featured. The chassis was modified from that of the 1900GT Europa. A top speed of 220km/h was claimed.


---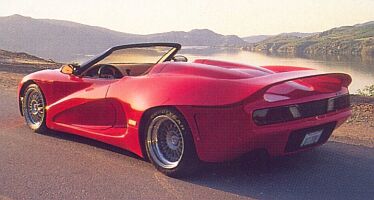 2001
This was a concept car which appeared in the 1990's. It was based on the Ferrari Testarossa, including the latters flat-12 engine. Only one example was built and nothing more came of the project.





---
Bebi
At the 2000 Turin Motorshow the Bizzarrini stand was showing a prototype of a new model. The Bebi is an ultalightweight (390kg) motorbike powered (175bhp) two seater. The chassis is a tubular frame whilst the engine is positioned at the rear, as can be seen in the photo below.

---
---
Links
An excellent Bizzarrini website.
---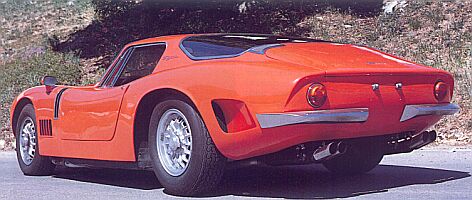 Bizzarrini comment form
---
Your Comments
If you have one of these rare cars, please send us your comments....
---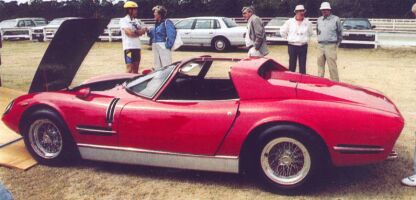 Use the buttons at the top to navigate further, or
---
See our picture gallery index for images from museums, motorshows and events.
---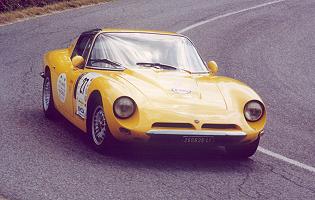 ---
Copyright © 2000 to 2008 CarsfromItaly