Chiribiri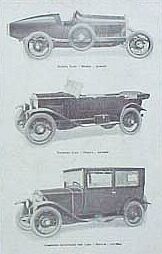 The company 'Chiribiri & C' was founded around 1910 by Antinio 'Papa' Chiribiri, initially making spare parts for the aircraft industry. This continued for some time, and included the construction of at least one complete aeroplane and later the licence production of aero engines.
Originally requested to design and build a hundred cars for a wealthy businessman, this car, the 'Siva' (a two-seater with a 980cc four-cylinder engine) never reached production due to the businessman's suqsequent financial problems. Following the first world war, Chiribiri saw the growing market for automobiles and revisited his design for a car. With various modifications (including a 1.5-litre sidevalve engine) the car entered production as the Chiribiri Milano in 1921 and continued to be built until around 1928.
Derived from the Milano was the Monza, mainly a touring car with a four-seater torpedo body, but also produced as the Monza Corsa and used for competition. Their successes (mainly in their 1500 class, but also occasionally against much more potent opposition) were numerous, and drivers included a then unheard of Tazio Nuvolari. The engine was a 1486cc unit with the valves in the cylinder head, driven by two camshafts, also in the head. The ultimate development included a supercharged variant (with over 90bhp) in around 1925, with which the car could exceed 200km/h.
The company ceased to construct cars in 1928 due to the worsening market and severe financial conditions.
---
Here there are a series of highres images of the Monza.
If you know of any links relevant to Chiribiri please send them in. Thanks.
---
---
---
Comment form
---
Use the buttons at the top to navigate further, or
---
Copyright © 2000 to 2008 CarsfromItaly