B Engineering Edonis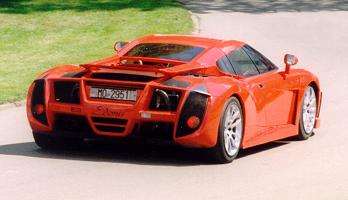 The Edonis is designed to showcase the skills of B Engineering, a consultancy company run by Jean Marc Borel (hence the B). It is a feat which is accomplishes amazingly well. That is helped by the team which have developed it, headed up by Nicola Materazzi (ex Lancia, Ferrari, Maserati & Bugatti) and Marc de Champs. They operate in part of the old Bugatti factory at Campogalliano near Modena.
The car has its roots in the Bugatti EB110. When the latter company expired, 21 carbon-fibre chassis tubs (developed expensively in collaboration with Aerospatiale) remained unused. Lightly modified, these tubs form the basis of the Edonis, complete with double-wishbone suspension all round. The body is all new. Hand crafted aluminium, it has an outstanding drag-coefficient of just 0.32 and a small amount of downforce at speed. It is certainly eye-catching !
The powertrain is a more significantly modified version of the EB110s unit too. The four turbos of the latters V12 engine are replaced by two variable geometry IHI units (providing 2.5 bar of boost), the change requiring a complete revision of the inlet, exhaust and cooling systems. Both bore and stroke are slightly increased, to give a final capacity of 3760cc. The development car had 680bhp, but 720 is claimed for the final customer vehicles. The engine retains its four camshafts (two per bank), aluminium cylinder heads and five valves per cylinder. Another significant change from the EB110 is the use of rear-wheel drive (as opposed to the 4WD used on the Bugatti) although a six-speed gearbox still transmits the power.
The combination of power and relatively light weight (1500kg) provide scintillating (claimed, not tested) performance, with 0-100kph in 4.0 seconds and a top speed of 227mph.
---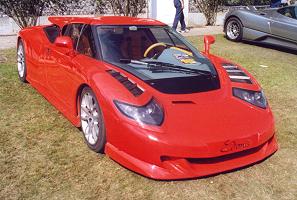 Use the buttons at the top to navigate further, or
---
Copyright © 2000 to 2008 CarsfromItaly