F.A.T.A.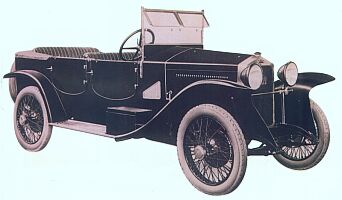 1920 saw the release of the 'Aurea 400', designed by Orasi and Magrini and produced by the 'Societa Ferrotaie di Torino'. Built until 1925, and also exported widely (as far as Australia), it used a 1460cc four-cylinder sidevalve engine with 22bhp. 1922 saw a 'Sport' version (with 30bhp) and a 'Corsa' version (with 35bhp and a four-speed, rather than a three-speed, gearbox) released, and also witnessed the transformation of the company into 'Fabbrica Anonima Torinese Automobile', or F.A.T.A. These cars had a wheelbase of 2600mm (Torpedo and Spider), 2700mm and 2720mm (saloon) and 2350mm (Sport and Corsa).
The Aurea 400 was replaced by two new models in 1925. The '500' was an evolution of the '400' with overhead valves and 26bhp plus a longer chassis, a four-speed gearbox throughout the range and more luxurious trim. The second model, the '4000', used a new 1497cc ohv engine with 40bhp (still in the same chassis) and also gained brakes on the front wheels. Various bodystyles were produced for both the '500' and the '4000', including four and six seater torpedoes and a four-seat spider. At this time there were about 125 hourly paid in the FATA factory.
Significant problems in the export markets led to financial problems from 1926. The 'Aurea 600' (with a 1497cc sidevalve engine) was released in 1928 to attempt resolve this, but despite this the company failed. An unsuccessful attempt was made to revive the company in 1932, followed in 1934 by the effective takeover of the company by Giovanni Ceirano. Under the command of the latter, F.A.T.A. continued to produce parts (mainly for Alfa Romeo commercial vehicles) until 1945.
---
If you know of any links relevant to FATA please send them in. Thanks.
---
Comment form
---
Use the buttons at the top to navigate further, or
---
Copyright © 2000 to 2008 CarsfromItaly