Francis Lombardi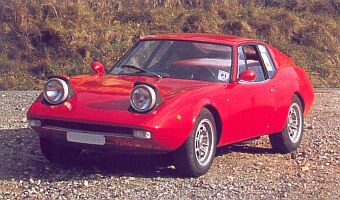 Created by the pilot and engineer of that name following the Second world war, it was a carrozzeria which began by building coupes and cabriolets based on the Fiat 500C and 1100E (with American influenced style). These were followed by wooden panelled estate cars (using his previous experience of aircraft construction with that same material) also fitted to Fiat 1100 chassis', including the 1100 Saloncino. They continued building estate bodies to be fitted to various Fiats (1400, 1800, 2300), including sometimes stretching the wheelbase. A four-door saloon based on the 600, the 'Lucciola' followed, a successful style carried on to cars based on the 850 and 127.
They also designed and built some coupes, also on Fiat bases, including the 1400, 1900, 1300 and 1500. Then there was the 850 based 'Grand Prix', a small two-seat coupe and various other 500 (including a 2+2 convertible) and 128 based cars.
---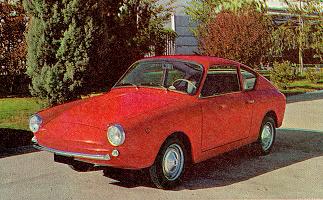 Francis Lombardi Coccinella
At the 1964 Turin Motorshow Lombardi showed a two-seat coupé based on the Fiat 500, called the Coccinella.






---
Francis Lombardi 600 Lucciola
This was a four-door, pillarless saloon using the 600 floorpan and mechanicals. Click here for a period advertisement.
---
Francis Lombardi 850
A four door saloon using the 850 floorpan and mechanicals was built (below left). In 1964 they also presented a spider based on the 850, known as the 'Libellula' (below right).
---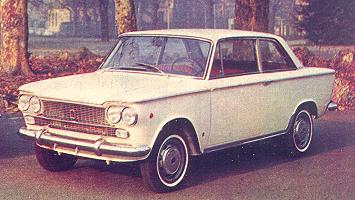 Francis Lombardi 1300/1500 (& 124) Smart
A neat 2-door coupe conversion of the 1300/1500, this retained its four seat capacity. It was later replaced by a similar concept (if different design) based on the Fiat 124 chassis and mechanicals. Click here for an image.





---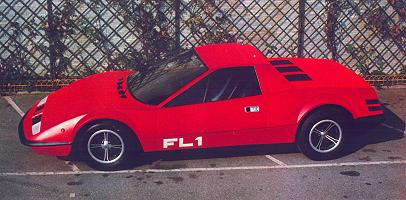 Francis Lombardi FL1

Shown at the Turin Motorshow of 1972, the FL1 was a mid-engined two seat coupe using the Lancia 2000ie engine and a chassis constructed specially. It weighed around 800kg and had dimensions length 4210mm, width 1700mm and height 1130mm.


---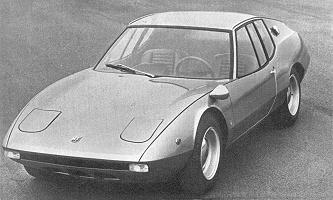 Francis Lombardi Grand Prix & Scorpion

Another Fiat 850 based car, the Grand Prix was introduced in 1968. The weight had been reduced from that of the berlina to a mere 630kg by using plastic doors and an aluminium bonnet. Electric pop-up headlights and alloy wheels were standard. It was available with six engine options, the standard 850 Special unit, three Giannini units (843cc, 994cc and 994cc dohc) and finally a 1280cc Abarth unit in which guise it was known as the Scorpion. The latter version was also available with disc brakes all round and a modified suspension.
---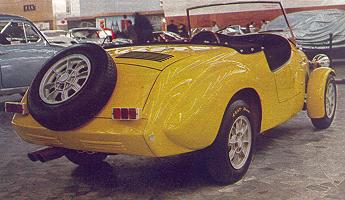 Francis Lombardi Monza

The Turin Motorshow of 1967 saw Lombardi display a new Fiat 850 based Spider called the Monza. A two-seater equipped with a fabric roof and a foldable front windscreen it came as standard with alloy wheels, wooden steering wheel and revcounter ! A Giannini modified engine was available as an option which had about an extra 6bhp.

---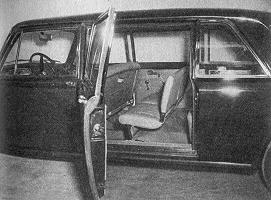 Francis Lombardi Limousines

Francis Lombardi made stretched Limousine versions of several cars, including the Fiat 1500, 1800 and 2300 and also the Lancia Flavia. These cars were generally fitted with an extra row of foldable seats which took the seating up to 7-8. The wheelbases were usually extended by around 550mm.




---
Links
A rare Francis-Lombardi website

---
Francis Lombardi comment form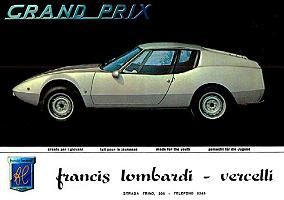 ---
Your Comments
If you have one of these rare cars, please send us your comments....
---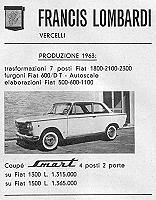 Use the buttons at the top to navigate further, or
---
Copyright © 2000 to 2008 CarsfromItaly