Isotta-Fraschini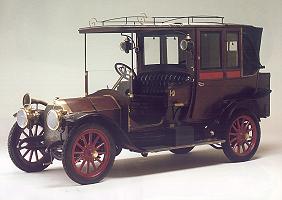 In 1899 two Italians, Cesare Isotta and Vincenzo Fraschini, got together in Milan to start importing French built cars. In the following year they began assembling the same cars, some using different engines. They then began importing Aster engines which they fitted to a chassis developed in-house, still with a French 'bodyshell'.
It was 1903 before they introduced their first completely new car, the 12HP, followed closely by the 16HP and 24HP, all three models using four-cylinder, sidevalve, water-cooled engines.
They grew rapidly and increased the range of models, in 1905 one of their cars, a Tipo D with a 100bhp 17203cc engine, entered the Coppa Florio. By 1906 they were the second largest car producer in Italy (after Fiat) and had 465 workers, but in 1907 they were taken over by Lorraine-Dietrich. This only lasted until the end of 1908 when they regained their independence. 1908 also saw an Isotta-Fraschini win the Targa Florio.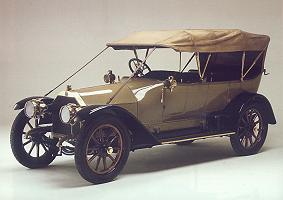 Bigger engines were developed during 1911 with a 100/102HP unit being fitted to a range of three models, the Tipo KM, TM and IM. That year also saw the initiation of aircraft engine development, a factor which stood the company in good stead during the 1914-18 conflict. During the first world war development of a new car went on, specially aimed at the US market, and in 1919 they introduced their new Tipo 8 (see below).
In 1921 Fraschini passed away, and shortly afterwards Isotta departed from the company. The Tipo 8 continued to provide the mainstay of production well into the 1930's, but after the company was purchased by Gruppo Caproni in 1932 they tended to emphasise aircraft and nautical engines and commercial vehicles. A six-cylinder 3-litre car was designed by Merosi in the late 1930's, but nothing came of the project.
After the Second World War an attempt was made to restart the marque with the 8C Monterosa (with such famous names as Lampredi and Rapi), but this rear engined V8 four door saloon was cancelled and the company closed.
The name remained the property of the state until the early 1990's when it was sold to a private individual who tried to resurrect the name with an Audi based car, but that venture was doomed to failure.
---
Tipo 8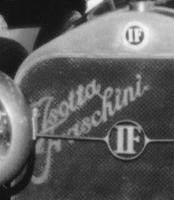 Introduced in 1919, the Tipo 8 was powered by a 5902cc in-line eight cylinder ohv engine (the first series produced in-line 8 cylinder engine in the world) and fitted with a three-speed transmission. In 1924 the 8A, with a 7372cc engine (110bhp) replaced the original car and was later joined by the 8ASS which was a more sporting model with 135bhp and a shorter wheelbase. The third series was introduced in 1931 as the 8B which continued to use the 7372cc engine (now with 150bhp) in a much developed chassis and with a 4-speed transmission.
Around 1,350 cars were built of this range, the largest percentage being the 8A.
Technical Details

Engine
5902cc (85x130mm) straight-eight, ohv with 80bhp
7372cc (95x130mm) straight-eight
Suspension
front : beam axle with leaf springs
rear : live axle with leaf springs
Brakes
drums all round
Transmission
3 speed manual (later 4 speed)
---
8C Monterosa
An attempt by Isotta-Fraschini to re-enter the automotive market after the war, the 8C Monterosa, launched in 1947, used an unconventional approach. It was a large, six-seat car, powered by a 3400cc V8 positioned at the rear and driving the rear wheels through a five-speed transmission. The body was designed by Zagato. Four cars were built before the company ceased trading in 1949, closed by its owners, the Italian government. These were a four door berlina by Rapi (built by Zagato), another four door berlina by Touring, a two door berlina also by Touring and a cabriolet by Boneschi.

---
T8
Revealed at the Geneva Motorshow in 1996, the new Isotta-Fraschini T8 was a 2+2 Spider, also available with a hard-top. It used Audi A8 mechanicals, including four-wheel-drive and the same 4172cc 32-valve V8 engine whilst the body was all new and made of aluminium. Production was due to be undertaken at an-ex military weapons factory in Southern Italy but nothing appeared and in late 2000 the remaining hardware was sold.

---
Links
If you know of any relevant websites please send us the details.
---
Isotta-Fraschini comment form
---
Your Comments
If you have one of these rare cars, please send us your comments....
---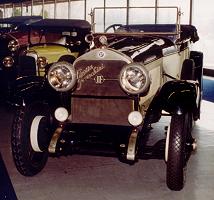 Use the buttons at the top to navigate further, or
---
Copyright © 2000 to 2008 CarsfromItaly