Here are very brief comments on some of the companies not yet covered by our site. We aim to gradually add individual pages for each of the following (plus the others which are not listed here) :

Founded in 1925 by Arturo Maggiora in Turin, the company began by producing car bodies for other manufacturers, a practice which it continues to this day. It's products have included the Fiat Viotti 1500, Cisitalia's, Abarth's, the Pantera, the last Delta Integrales, various versions of the Panda and Uno, and more recently the Barchetta and Kappa Coupe.
---
In 1906 Giovanni Farina established Stabilimenti Farina at Turin. Learning from his experience gained in his earlier career, Farina combined his aesthetic design ideas with an industrialised approach. From 1919 they added the capacity to mass produce bodies, starting with the Temperino, at a rate of around 1500 per year. Research into mechanical devices such as brakes and sunroof mechanisms was also followed.
Famous designers, apart from the Farina brothers, who worked there included Boano, Frua and Michelotti. They closed in the early 1950's.
---
Originally constructing horse-drawn carriages in the Lombardy region, once the motor car began to become more popular the Castagna concern, under the leadership of Ercole Castagna (from 1915), started to also produce bodies. Having a number of very experienced and skilled workers they were able to produce many bodies at a high quality. Ercole's younger brother, Emilio, having studied art, proved to be a talented stylist and produced many of their most inspired designs for Isotta-Fraschini, Alfa Romeo and other cars.
From the 1930's the company seemed to gradually fade from the mainstream, although they continued to build cars (including US-style 'woodies', coupes and cabriolets based on the Fiat 1100) in the late 1940's and early 50's. At this time they extensively used a construction system called 'Vistotal' which eliminated the A-pillars. They closed in 1954.
---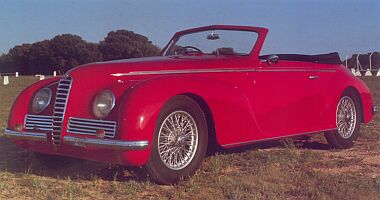 Founded in March 1926 by Anderloni and Ponzoni, Touring used 'Falco', a company founded and run by the brother of Antonio Ascari, as a basis. Initially making cars using the principles developed by Weymann, they used the chassis' from Alfa Romeo, Itala and Lancia cars. Fame came in 1932 when an Alfa Romeo 8C 2300 spider with a body by Touring won the Mille Miglia. In 1937 the name 'Superleggera' was added, reflecting their now famous method of constructing the body using a latticework of small diameter steel tubes clothed in Aluminium panels.
During the Fascist regime, the name was changed to 'Turinga' (to deanglicize it), but reverted to Touring after the war. During the war they produced a number of less well known cars based on the Fiat 1100, including the 1100 Spyder Superleggero Sport Nazionale for Ercole Boratto, the personal driver of Mussolini.
Following the onset of peace the production continued at a relatively high volume and included some of their most famous products including those based on the Alfa Romeo 6C2500 (such as the Villa d'Este) and later 1900 (Sprint), Ferrari 166 and others. Noteable cars produced also include the Disco Volante, Maserati 3500GT, Lamborghini 350GTV and Lancia Flaminia convertible. They also built a Fiat 124 convertible.
Unfortunately financial problems led to the company being placed in receivership in 1964 with production ceasing in January 1967.
---
Founded in 1932 in Turin by Rocco Motto, they initially produced unfinished bodyshells for various coachbuilders also (like Motto) in the Turin area, as well as low volume models for major constructors such as Fiat (they built the body for the 1100S MM). In 1946 they moved to a new premesis and began specialising in aluminium, producing complete bodies for cars, with an emphasis on sporting models, designed by other companies. Famous examples include the 1960 Flaminia designed by Raymond Loewy and the Cisitalia competition prototypes, other models being built for Maserati, Osca, Ferrari, Giannini, Ermini, Abarth to name but a few.
They also made a small number of mainly one-off competition cars for specific customers, including some for Siata, as well as small production runs, such as the very pretty 1100 Sestrière coupe, the latter being built from 1951 using a Fiat 1100E chassis. In 1965 control of the company passed to the son, Francesco, and they changed their emphasis to special purpose and recreational vehicles.
| | |
| --- | --- |
| | |
---
Another small company founded in Turin which boomed in the 1950's, Frua produced one-off's, some very limited production runs and a variety of specials. The founder, Pietro Frua, was an engineer and designer and when he sold his company to Ghia in 1958 he set up a studio where he continued to work with automotive design.
---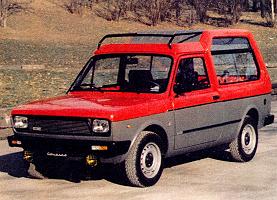 Despite building bodies on Fiat, Itala, Ceirano, Chiribiri and Diatto cars in the 1920's they are best remembered for their 127 interpretations of the 1970's, having left the automobile arena in the intervening years.
The Farm was a Fiorino based hybrid van-estate car using the 1050cc engine and uprated suspension. A 127 estate and Ritmo pickup can be seen here.
---
Founded in 1919 at Milan, by Giovanni Boneschi, they began to develop a relationship with Lancia in the early 1920's which led to many cars based on classics such as the Lambda, Dilambda, Artena and Astura. After moving to a new premesis in 1933 the volumes grew with cars based on the Augusta, Artena and later the Aprilia. During the war the factory was almost completely destroyed and soon after rebuilding the company, in 1946, Giovanni passed away.
The company continued to construct cars based on Alfa Romeo, Fiat (including coupes, berlinas and estates based on the ubiquitous 1100) and Lancia mechanicals into the 1960's, although gradually more of the business concentrated on specialist vehicles such as publicity vehicles, buses and later armoured cars and high-value-goods tranpsorts.
The business continues to produce the latter, plus other specialist vehicles such as ambulances, to this day, and occasionally have been known to show modified cars at shows. One such was the 'Gazzella', basically a three door version of the Lancia Thema.
---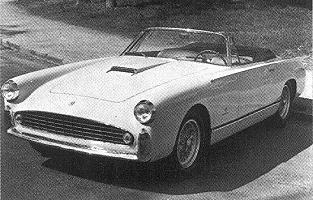 Mario Boano left Ghia in 1953 and in the following year founded his own company together with his son, Gianpaolo, and Luciano Pollo. Starting with an Alfa Romeo they used a variety of chassis' for their cars, including Ferrari and American models. Building cars for famous names, including Henry Ford Jnr and President Peron of Argentina gained them fame rapidly.
In 1957 both father and son moved to Fiat to establish an internal style centre for that company. The Carrozzeria Boano was refounded as Carrozzeria Ellena by Ezio Ellena (son-in-law of Boano) and Pollo and continued to make Ferrari's, Fiat's (including a 600 Multipla pick-up and a 1500 Coupe) and others until 1966 when they ceased business.
---
Eusebio Garavini had previously worked for a few different carrozzeria before founding his own company, Carrozzeria Piemonte in 1908. That company did not last long however, since a joint venture, born in the same year with Diatto led to the founding of Diatto & Garavini. In 1914 it became Garavini SA, followed by Stabilimenti Garavini Carrozzeria in 1933.
Their most famous years were the late 1920's and early 1930's when they made bodies for Itala, Fiat, Alfa Romeo, Isotta Fraschini, OM and other Italian and foreign cars. They also made bodies for commercial vehicles and buses, an occupation which came to dominate the business after the war. They closed in 1957.
---

There is an index of all our picture galleries (including museums, motorshows and various events).
For comprehensive classic car values see our ClassicCarsfromItaly pages.
---
We have information on many more Italian carrozzeria which will be added to this website in the future. Some such companies include :
Alessio, Allemano, Balbo, Barbi, Belloni, Borsani, Brianza, Bulli, Canta, Coggiola, Dux, Falco, Ital Design, Lombarda, Mantelli, Marazzi, Montescani, Monviso, Ostuni, Riva, Rotschild, Sala, Sport and more.
---
If you have any information or know of any links relevant to these companies (or other Italian etceterini) please send it/them in. Your help is always appreciated. Thanks.
---
Comment form
---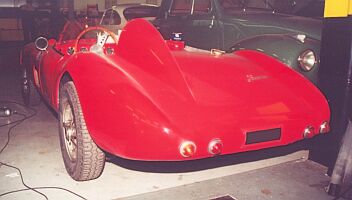 Use the buttons at the top to navigate further, or
---
Copyright © 2000 to 2008 CarsfromItaly