Here are very brief comments on some of the companies not yet covered by our site. We aim to gradually add individual pages for each of the following (plus the others which are not listed here) :

In 1972 Gian Paolo Dallara set up his own company, having gained experience working for companies such as Ferrari, Maserati and Lamborghini. Their work is mainly on single seat racing cars but has also included cars such as the Lancia Beta Montecarlo Turbo and significant work on the Stratos.
---
Effectively a part of Alfa Romeo, Autodelta was fomed in 1965 when the 'Delta' company of Udine was transformed into 'Autodelta' and moved location to near Milan. The man behind the company was Carlo Chiti, ex-Alfa Romeo, Ferrari and ATS. The brief of Autodelta was to prepare the competition cars for Alfa Romeo, the initial contract for 100 examples of the Giulia TZ for homologation. It went on to be followed by the TZ2, the Giulia GTA (and then the GTA Junior and 1750GTAm), the 33 in its various forms and later models such as the Alfasud and GTV based competition cars. It closed at the end of 1984.
---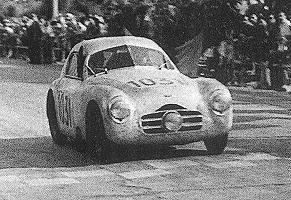 Another small car manufacturer during the 1950's, Giaur was formed in 1950 by Bernard Taraschi (previously of Urania) and the Giannini brothers, the name coming from GIAnnini and URania. The engines were generally Giannini units, although Fiat and Crosley items were also employed, the latter mainly for the US market. Numerous successes were achieved in their class in motorsport, including the Mille Miglia.
As well as a record breaking car in 1956 Giaur built a 987cc engine which they used with great success in a Lotus 23 chassis. Later, in 1966, a 1600 V8 was built, but did not prove successful.

---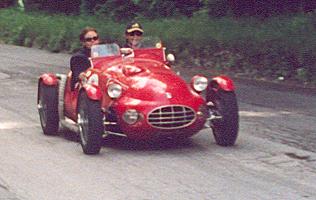 Looking for possibilities to expand his fathers tube-manufacturing business (used extensively in the bicycle industry) Gilberto Colombo moved into the automotive chassis business, becoming famous for the light weight and strength of his products which used circular or elliptic section tubes welded together. One of his first customers was Ferrari, who used chassis' from Gilco in many of their cars (including the 125, 166, 212S, 340 Mexico, 250MM, 500S, 250GT and some F1 cars). Other car companies followed, including Cisitalia, Fiat, Stanguellini, Osca, Giannini, Alfa Romeo, Zagato, Maserati (various A6, 150S, 200S and others) and Nardi.
Gilco also construced a very small number of their own cars, and also built chassis' for private customers, mainly in the 750 and 1100 Sport categories, who used mechanicals and engines from various sources, often the ubiquitous Fiat 1100.....
For pictures of a Gilco car in action, see our Mille Miglia picture gallery.
---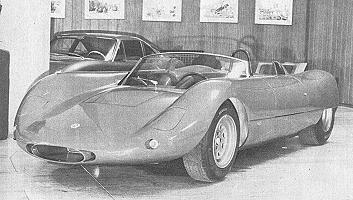 Although better known for their single seaters, including Formula 3, De Sanctis also produced some 'road' cars, really meant for sportscar racing. One such car was presented at the Turin Motorshow in 1966 and had a mid-mounted engine with a choice of capacities, from 1000, 1600 or 2000cc. The Colotti transmission could be fitted with five or six ratios.
De Sanctis himself won his first Italian Championship titles in 1952 and continued to take many until 1957 when he decided to suspend his career as a driver in order to concentrate on his growing tuning and preparation business. Formula Junior, F2 and F3 cars followed, before in 1964 he turned more to sportscars. Engines included Alfa Romeo, OSCA, ATS and Ford units in bodies similar to the one pictured. From the late 1960's his attention again turned primarily to single-seaters, continuing until he ceased to do business at the end of the 1970's.
---
Like many other small workshops, Mandarini produced small numbers of competition cars using mainly Fiat (500 and 1100) mechanicals and engines during the 1950's.
---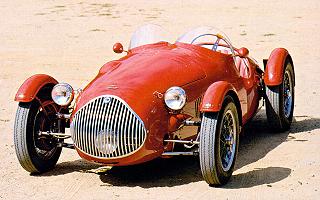 Founded at Naples in 1946 (by Sabatino Paganelli, also a driver), Paganelli was another small workshop starting off preparing production cars and later producing two-seat sportscars for competition. Despite starting with Fiat 500s and 1100s they branched out and used both Alfa Romeo (2300) mechanicals as well as less commonly found Lancia mechanicals. One of their most successful cars in 1948 used a Gilco chassis with mechanicals from the Lancia Aprilia. The majority of their cars were the normal 'siluro' style with bicycle style mudguards, but they did produce a couple of very pretty berlinettas, the bodies being the work of Stabilimenti Farina. They achieved a variety of successes in the late 1940's and early 1950's but by 1955 they were forced to close (although their cars continued to be used).
---
Virgilio Conrero worked for Fiat, in the aeronautical department, where, after returning from military service in the war, he met Savonuzzi. He worked with the latter first at Cisitalia then at other companies before in 1951 he established his own workshop where he started by preparing Cisitalia's.
His first car followed shortly afterwards in 1953 with an Alfa Romeo 1900 engine, a tubular chassis designed by Savonuzzi and a mix of Fiat and Lancia suspension. A few years later a much modified OSCA was built, again using an Alfa Romeo engine (this time a 1900 unit taken out to 2-litres). Much work was also done with Giulietta's, both SZ and SVZ versions, as well as at least one car which was completely rebodied. Further projects included in 1959 a Formula Junior car and in 1961 a 1500 engine for F1 (used in Cooper and a De Tomaso chassis').
With the birth of Autodelta the relationship with Alfa Romeo worsened and Conrero gradually moved to other manufacturers products..
---

There is an index of all our picture galleries (including museums, motorshows and various events).
For comprehensive classic car values see our ClassicCarsfromItaly pages.
---
We have information on many more small workshops and other such tuners which will be added to this website in the future. Some such companies include :
Aguzzoli, Ala d'Oro, Avalle, Basso, Benedetti, Brandoli, Buoncristiani, Camen, Carnevalli, CDMP, Comirato, Dagrada, Faccioli, Facetti, Faranda, Leone, Meteor, Pagani, Pasqualin, Patriarca, Pezzoli, Taraschi, Testadoro, Trinacria & Volpini.
---
If you have any information or know of any links relevant to these companies (or other Italian etceterini) please send it/them in. Your help is always appreciated. Thanks.
---
Comment form
---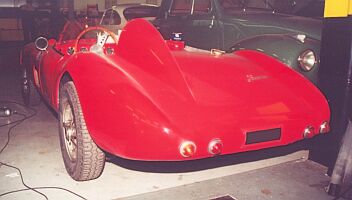 Use the buttons at the top to navigate further, or
---
Copyright © 2000 to 2008 CarsfromItaly