Alfa Romeo 166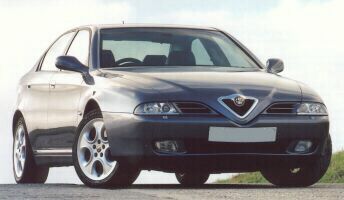 The Alfa 166 was launched as the replacement for the 164, as a top-of-the-range luxury sporting limousine. With a style similar to it's smaller brother, the 156, the Alfa 166 uses a similar mechanical set-up. Front wheel drive with double wishbone front and multilink rear suspension and a range of engines comprising the 1970cc twin spark dohc (155bhp), 1996cc dohc turbo (205bhp), 2492cc V6 24V (190bhp) and 2959cc V6 24V (226bhp) petrol and the 2387cc five cylinder turbo diesel (136bhp).
The 2.0 and 2.5 litre cars have a 5 speed manual transmission, whilst the 3.0 V6 has a six speed unit. A four speed automatic, known as 'Sportronic' is available on the 2.5 and 3.0 V6 cars, which also features a sequential change option. As befits a top-of-the-range saloon, air-conditioning is standard whilst a comprehensive array of both passive (airbags, seatbelts, structure, etc) and active (ABS, traction control, etc) safety devices are fitted. The interior seats four in comfort and is luxuriously trimmed.
2003 saw a substantially revised Alfa 166 emerge. The main visual difference was a completely new front end, adopting the corporate face already seen on the facelifted 156. Generally accepted as a significant improvement, other modifications were made to the chassis, interior, powerplants etc. See a video of the New Alfa 166 here (3.9MB).
---
| | |
| --- | --- |
| | |
---
Technical Details


Driveline
transverse engine at front with front wheel drive
Suspension
front : Double wishbone with telescopic dampers and coil springs plus anti-roll bar
rear : independent multilink with telescopic dampers and coil springs plus anti-roll bar
wheelbase : 2700mm
track (front/rear) : 1545mm/1532mm
Brakes
front : discs, ventilated, diameter 308mm (281mm on 2.0TS & JTD)
rear : discs, diameter 276mm
handbrake operating on the rear via cable
dual hydraulic circuit with servo assistance
Gearbox
5 or 6 speed manual
4 speed automatic
Steering
Rack and pinion with hydraulic power assist
Kerb weight
2.0 TS : 1420kg
2.5 V6 manual : 1490kg; (Sportronic : 1520kg)
3.0 V6 manual : 1510kg; (Sportronic : 1550kg)
Click here for a cutaway of the 166
---
Performance

| | | | |
| --- | --- | --- | --- |
| model | max speed | 0-60mph | in gear acceleration |
| 2.0 TS | 131 mph | 9.3 sec | 10.6 sec (50-70 in 5th) |
| 3.0 V6 24v Super | 144 mph | 7.4 sec | 11.4 sec (50-70 in 5th) |
---
---

For books on Alfa Romeo see our Online Bookstore
There is also a list of all our picture galleries (including museums, motorshows and various events).
Wallpapers/Desktop Backgrounds of numerous Alfa Romeo's also available to download.
---
Links
The official Alfa Romeo 166 website
---
166 comment form
---
Your Comments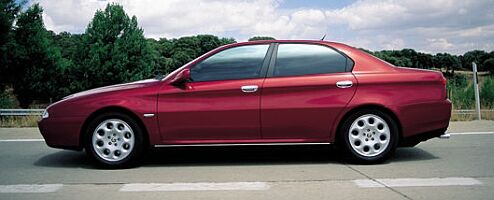 Quite beautiful, but large alfas will always be ultimately disappointing until rear wheel drive is restored in the larger cars. The styling is now unquestionably stunning, unlike the 'acquired' 33 styling taste, but big cars need to be rear wheel drive. (Thomas, UK)
I have just taken delivery of my 166 2.0TS with Lusso pack. Its absolutely brilliant. First trip was to Monaco & Provence form London and it proved to be a worthy continental cruiser. I was sceptical, as I have been a Saab driver, but this car is positively aristocratic. It turns heads wheverer we go and is an utter pleasure to run.
I've test once a 166 with the 2.4JTD 5-cylinder diesel engine. Incredible! It has a very good confort, good grip on the road, less noise and I was very please to drive this car. It keeps the Alfa spirit. (Marc, France)
A luxurious sports car for those who have got sick of German "institution" is this class. Now the big Alfa is not only sporty , fast ,and road-hugging but qualitative and luxurious too!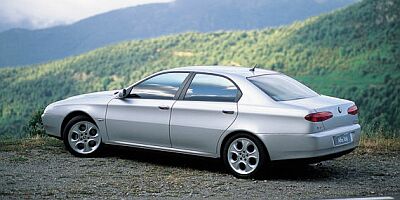 The 166 V6 has phenomenal roadholding, breathtaking brakes and very direct steering. A fantastic car, so I've bought myself a 166 3.0V6. Go for passion : buy Italian ! (Octavio, Netherlands)
It's been 6 months since my 166V6 3.0 was delivered. Performance wise, it carries all the good tradition of the 164, and has more. Whether you want to go easy or when you want to swing it around, the Sportronic "senses" your wish and gives you the best shift pattern. A superb car. (MJ, Japan)
Earlier this year took receipt of my first Alfa Romeo,after having driven Lancia Thema and Kappa enthousiastically ( all of them 2.4 Diesels )for many years. There is a difference in style and character, but boy, what a car this is. Smooth, fast, comfy, luxurious, terrible fun to drive. I love it. Draws much more praise and attention than my Lancias too. You should get one soon ! (Bert, Belgium)
I've been a happy user of Alfa 166 for two years now. Whether it be in Poland, Germany, Britain or Ukraine I felt like "the driver" among the others: just exceptional. Hopefully, I will soon drive a new version of my present favourite Alfa Romeo 166. When and what? Alfa Romeo ... ? (Darek, Poland)
Very beautiful car, both the interior and the exterior. It has ultra sharp road handling (for it's class) and sounds just right. I have 99' 2.0 TS and I am very pleased with it. (Fredrik, Sweden)
My 166 is a 2.0TS - Lusso - Black - last car which I had for 4 years was a Saab 9000 Turbo which I thought was very good. The Alfa is different, superb to drive, responsive, eager and quiet. Has now 12000 miles on the clock and NO FAULTS. I keep the car well washed and polished and it causes comment wherever I go. It is not unusual to return to the car when parked at the Supermarket, Golf Club etc., and find someone admiring it. A stylish masterpiece from a manufacturer with pedigree. (Silver Fox, UK)
Bought my 99 2.5 v6 sportronic 3 wks ago I had a lancia s2 turbo for five years. The drive is fantastic and the interior a delight.sportronic is quick and for relaxed driving a smooth normal option is a pleasure.Open the bonnet and say wow! (Paul, Manchester)
I've only had my 166 3,0 V6 for a couple of days. It´s absolutely fantastic in every way! (C.Ö, Sweden)
I am an owner of a 166 Alfa. I bought the car over two years ago. I have the car to be aweome! more than what I had hoped for the type of car were you always drive the long way home. (George)
Fantastic car, my 166 3.0 Sportronic is a great car to drive, fast, agile, comfortable and a true blooded italian. I have driven many differet cars of all makes, this is probably the best. (Tiziano, Ireland)
I have owned a 3.0 V6 for the last 3 years and it has been wonderful. A beautiful, fast and reliable exec saloon. It has had a couple of minor electrical faults, but has been far more reliable than my previous BMW and VW saloons, both of which were unreliable, boring nightmares. Alas, it must go soon and I will probably buy another; nearly new of course to avoid the dramatic depretiation. Alfa dealers are awful, but the car is the best. (Rob, UK)
I plan on getting a facelift model in the near future and cant wait, I love Alfas and very nearly purchased a 166 a few years back but ended up with a 2.5 V6 156 instead which although a little problematic just felt special somehow !! I have a Mercedes at the moment and although well built and really rather good it lacks personality which for a lover of cars is a must!! God bless Alfa Romeo! (Peter G, England)
---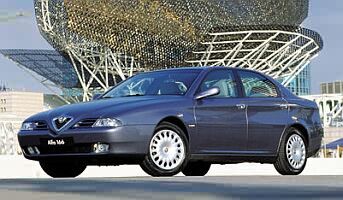 Use the buttons at the top to navigate further, or
---
Copyright © 2000 to 2008 CarsfromItaly