Alfa Romeo 156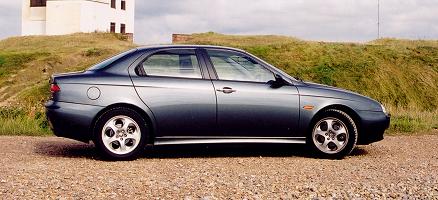 The Alfa Romeo 156 was introduced in 1997 and won the Car of the Year award in the following year. Based on the previous Alfa 155 (and hence originally on the Tipo floorpan) most of the car was new. Designed in house by Walter da Silva, it is a conventional three box saloon, but with concealed rear door handles which keep the lines surprisingly clean, demonstrated also by a drag coefficient of 0.31. Internally the design followed a sporting theme, with a driver concentrated dashboard wrapping around the main occupant.
A variety of petrol (1598cc with 121bhp, 1797cc with 144bhp & 1970cc with 155bhp four cylinder twin spark, 2492cc V6 with 190bhp) and diesel (1910cc four cylinder turbo with 106bhp & 2387cc five cylinder turbo with 137bhp, both with common rail) engines are available with either a five or six speed (2.5 V6) gearbox or a four speed automatic.
The suspension features double wishbones at the front, and a development of the Alfa 164 suspension with McPherson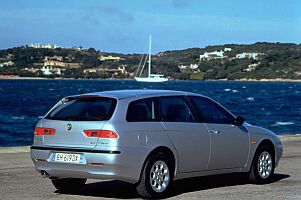 struts at the rear. Aluminium alloys have been employed for several components in both the front and rear suspension in order to reduce the weight. This theme of weight reduction has been continued in various other areas of the vehicle, for example in the front seats which have magnesium frames, saving about 4kg per seat. The structure was also designed to be light whilst also offering excellent crash protection. The latter trend continues with front and side airbags for both the occupants in the front.
The 'Selespeed' version, available only with the 2.0 litre twin spark engine, uses a five speed manual gearbox operated electro-hydraulically and controlled by buttons on the steering wheel - technology directly transfered from Ferrari in Formula One. The shift speed depends on driving parameters, with over 5000rpm and 60% throttle the shift takes 0.4 seconds, below these parameters and it slows to 1.5 seconds. A 'city' mode can also be selected, giving a fully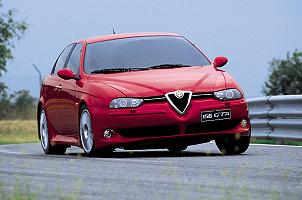 automatic shift. The automatic also has a conventional H-pattern shift for manually selecting the four ratios, rather than the now more popular sequential type.
Interestingly for the UK market, the Alfa 156 JTD is the first diesel powered Alfa Romeo to be sold there!
In March 2000 the Sportwagon was introduced, a 'lifestyle' estate version with identical mechanicals and engines as the saloon, but with an extended roofline and a hatchback. 2001 saw the launch of the sporty GTA, available as both saloon and Sportwagon. This uses the classic V6 in a 3.2-litre 250bhp version with manual or selespeed transmissions, revised suspension, brakes and steering and a variety of aesthetic modifications.
The beginning of 2002 saw a facelift across the range. External changes were insignificant, a revised dashboard featuring a mutli-function display being the most visible change. More significantly a new direct injection 2.0-litre engine replaced the old TS unit, with an improved power outpt of 165bhp. The 2.4JTD also had its power increased to 150bhp. Various electronic systems (VDC, MSR, etc) were added, as were window-bags, an air quality sensor and a dual-zone climate control system.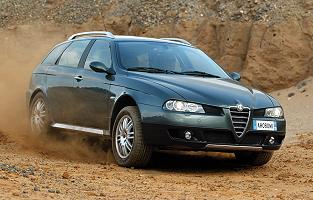 CarsfromItaly was at the Frankfurt Motorshow, see our Alfa Romeo page for pictures of the GTA launch.
June 2003 saw a facelifted and revised Alfa 156 and Sportwagon range brought out. This was principally a cosmetic makeover, and saw the new, vertical grille grafted onto the nose, together with new headlights and slightly revised tailights. Interiors, equipments, etc also changed. For more high resolution images of the car click here.
The long awaited Alfa 156 based coupé also finally emerged later in 2003, called simply the GT.
The next addition to the range saw the addition of four-wheel-drive in mid-2004 with the introduction of the Crosswagon and Sportwagon Q4. Both these used a 4x4 drivetrain under the Sportwagon body, powered by the 1.9 MutliJet JTD engine. The Crosswagon was designed to appear more off-road, with various plastic embellishments and a raised ride height. The Sportwagon Q4 remained visually the same as the normal 2WD Sportwagon, apart from the badge. See a video of the Crosswagon here (2.8MB).
The replacement for the 156, the Alfa 159 was launched at the Geneva Motorshow in March 2005.
---
| | |
| --- | --- |
| | |
---
---
Technical Details


Driveline
transverse engine at front with front wheel drive
Suspension
front : double wishbone with telescopic dampers and coil springs plus anti-roll bar
rear : McPherson strut with telescopic dampers and coil springs plus anti-roll bar
wheelbase : 2595mm
Brakes
front : discs, diameters :
1.6/1.8/1.9JTD : 281mm (solid)
2.0/2.5/2.4JTD : 284mm (ventilated)
GTA : 305mm (ventilated)
rear : discs, diameter 251mm (GTA : 276mm)
handbrake operating on the rear via cable
dual hydraulic circuit with servo assistance
ABS
Electronic brake distributor (controls front to rear balance)
Gearbox
5 speed manual (also available with electronic button control (Selespeed))
6 speed manual
4 speed automatic
Steering
Rack and pinion with hydraulic assistance
2.1 turns lock to lock
Kerb weight
2.0 TS : 1260kg
2.5 V6 24v : 1377kg
2.4 JTD : 1374kg
2.0 Sportwagon : 1300kg
---
Performance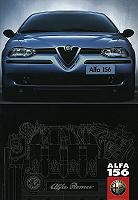 | | | | |
| --- | --- | --- | --- |
| model | max speed | 0-60mph | in gear acceleration |
| 2.0 TS | 129 mph | 8.1 sec | 12.4 sec (50-70 in 5th) |
| 2.5 V6 24V | 138 mph | 7.2 sec | 11.3 sec (50-70 in 5th) |
| 2.4 JTD | 123 mph | 10.3 sec | 10.4 sec (50-70 in 5th) |
| 2.0 JTS | 220 km/h | 8.2 sec (to 100km/h) | |
| GTA | 250 km/h | 6.3 sec (to 100km/h) | |
---
Tuning
Easily carried out modifications include installation of a free-flow air filter (a cold air duct is also a worthy mod) and fitment of a less restrictive exhaust system to improve the driveability, 'Chips' are also available which (claim to) increase the power, driveability and torque all at the same time, both for the petrol and the diesel engines.
The brakes can be improved by using a higher specification brake fluid, fitting drilled and grooved discs, using a superior pad compound and fitting stainless steel braided flexible hoses. Kits with larger discs and callipers are also available.
Dampers and springs are readily available for the 156 which will improve the handling, and a strut brace can be fitted at the front to increase the stiffness of the bodyshell. Stiffer bushes which will reduce flex are also available, for those willing to compromise the ride quality.
Click here for a video clip of the 156 in the 1998 Italian Superturismo. (3.7MB)
Here you can see images of the 2002 European Touring Car Championship winning GTA.
Here you can see images of the 2004 European Touring Car Championship GTA.
---
Links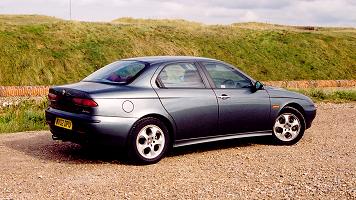 A general 156 site
Another general 156 site
The Dutch 156 Owners Club site
A German 156 site
---

For books on Alfa Romeo see our Online Bookstore
There is also a list of all our picture galleries (including museums, motorshows and various events).
Wallpapers/Desktop Backgrounds of numerous Alfa Romeo's, including the 156, are available to download.
---
Desktop wallpapers
Click on the correct screen resolution for you computer and the picture will open in the window. You can then right click and set as desktop.

For many more 156 wallpapers see also our Alfa Romeo wallpapers and our ETCC wallpapers pages.
---
156 comment form
---
Your Comments
Bought a new 2.5 V6, sport pack 3 etc. last year to replace the ageing 3.0 V6 164. Excellent car, understeers a bit much for me - might fit a traction control device and see what happens before I have it chipped. Other than that, servicing costs are reasonable, and no problems in 9 months - other than rapid front tyre wear. (Dave W, UK)
After six months waiting, I finally drive a Proteo Red Alfa 156 ... it drives great ... much better then a Opel, Nissan, Toyota, VW ... the car is tuned by alfa romeo itself ... small spoiler, sportpack III ... my heart belongs to Alfa Romeo ... (Frank L., Belgium)
Hello all Alfa enthusiasts! I've had a 156 2,5 V6 since September 99. I love the car. It drives great and I haven't had any problems. Have a really good local Alfa garage in Zagreb which takes really good care of my car. Thinking of doing Novitech tuning.
I've had a 156 2 litre Monza (that's the Australian model with the sports pack 3). It drvies Great,a true Alfa. Free revving engine, responsive handling and steering, roadhugging suspension and low profile 16" allows and a beautiful little five speed gearbox with the ratios in the right place.
I have had my 156 2.0Ltr TwinSpark Selespeed Monza for just on 2 days and love it. Was looking at a VW Passat but no comparison. The Alfa just wants to get up and go! Love the leather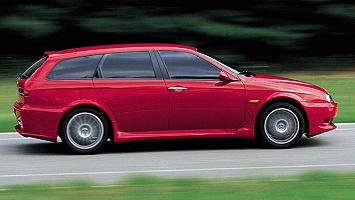 interior and the red dials give it a real sporty look. The selespeed is the most fun you can have on the road without being arrested. (Paul H., Australia)
My 2.0 T-Spark has been running trouble free for the past year and 13,000 Km under Bangkok's heat and traffic, and it's a great drive.
GREAT ,nothing less,nothing more.A true ALFA ROMEO.(Bill A, GREECE)
This car really has a sport heart,it goes better than the other car,it have a better handeling,howewer the best car.(Hrvoje,Croatia)
Hi I have a Proteo red V6 sportpack. Love it to bits. 15months of delighted ownership. Most beautiful 4door vehicle I've ever seen. Drove all competition - nothing compares. (Gavin, South Africa)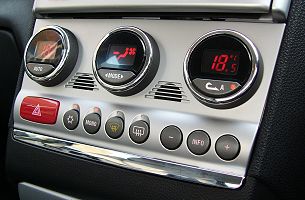 This is really the ultimate car!! I own a black 156 1.8 twinspark with sportspack 1. It drives superb and looks even better(i love the 16" alloywheels) (R.S, Netherlands)
We bought a silver T-Spark in Jan 2001. Absolute magic, no BMW compares!! (Rudolph, South Africa)
I've just bought a second hand ex demo car.I went for the 2.5 V6 24v with the 6 speed gearbox and Sport Pack 3. It's a wonderful car. Can't compare it with a BMW, but have owned a Mondeo 2.5 V6 24v, and the Alfa, looks better, handles better and goes better. (Tristan S., UK)
I bought my new Alfa 156 2 liter twin Spark in October 2001. I have been driving Mercedes for the last 10 years, and it is no comparison to my Alfa. What a pleasure to drive! (HP de V, South Africa)
Superb interior! Feels more like a formula one racer... a definite collector's car (Joe, Malaysia)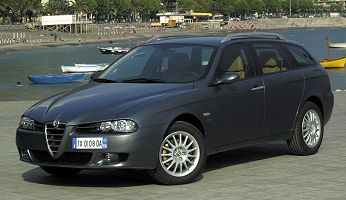 I've just imported a Silver 156 2.4 JTD (sportpack 3) - yes a diesel Alfa. I once had a Fiat with the 5 cylinder petrol engine and this sounds just the same but with more performance. Can't wait until it's run-in fully and I can fully explore the performance. (Dan, UK)
Bought my 156 Selespeed,black with tan leather trim, end August 2001 after testing the Merc C class,Audi and BMW 3-series. Nothing compares. The 156 is the most beautifull car there is and it's performance is way over spec. I will never buy another car. (C.E, South Africa)
Also bought a silver 156 TS in Jan 2001. Best car on the market. To own a car like this is to book a place in hell because if any one touches it...........(S.S, South Africa)
Got a silver 156 2L selespeed.Took out the primary airbox and added a dragon airfilter, removed the cat and added a straight-through muffler, got Mono 17" with 215/45/17. It may not go as fast as other cars out there but its definitely the only car which stirs ones soul..All Alfas sing and talk to you. Alfas are the only cars which brings you a smile everytime you drive it...this Italians..Try one to understand
I bought my 156 Selespeed in May 2007 with only 1800kms on the clock, it has now done close to 10000kms and it never miss's abeat. I love it, it drives so well especially when given a good rev. My wife bought a 2005 model the same day from the same dealer and she also loves it. (RS, Western Australia)
---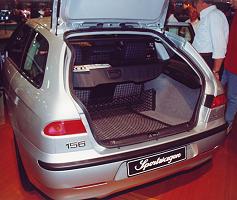 Use the buttons at the top to navigate further, or
---
Copyright © 2000 to 2011 CarsfromItaly