Alfa Romeo Mi.To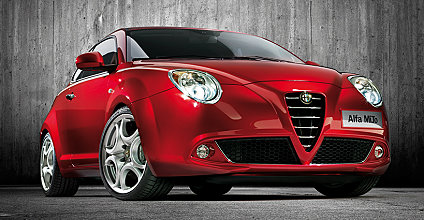 Early 2008 saw the first images of the long awaited spiritual successor to the Alfasud being revealed online. A compact, highly entertaining to drive, hatchback, the MiTo takes styling cues from the 8C Competizione whilst using a modified version of the Fiat Grande Punto chassis.
The first car to be designed after the 8C, the MiTo carries several of the characteristic features of that car, especially the side windows, the nose with its central grille and two lower side intakes, and the circular LED rear lights. A compact car, just over 4m in length, this has been used as an advantage in that it allows a very rigid chassis to be constructed, with an exceptional torsional stiffness of 101200daNm/rad. Aerodynamically, the significant amount of theoretical and wind-tunnel work has paid off, with an excellent Cd of just 0.29.
In terms of engines, the MiTo at launch (depending on market) offers a choice of five. Using petrol there is a naturally aspirated 78bhp 1.4 engine, a version of the same engine with 95bhp and a turbocharged 16v version of the same with 155bhp. The diesel options are a 1.3 16v MultiJet with 90bhp and the latest 1.6 JTDm common-rail turbodiesel with 120bhp and 320Nm of torque. All engines drive through manual six-speed transmissions. Shortly after the launch a 120bhp version of the 1.4 16v turbo engine became available.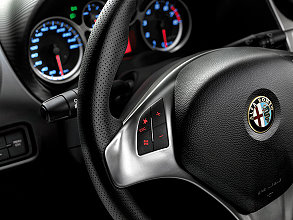 An interesting feature of MiTo is the so-called DNA system. This is an advanced, switchable form of dynamic control system with three selectable modes. The 'Normal' mode is intended for relaxed, urban driving; 'Dynamic' is optimised for sports driving, and 'All Weather' ensures full control of the car in low-grip conditions. When a mode is selected, the Alfa DNA System adapts all aspects of the car and indicates the choice that's been made with three different-coloured LEDs and a signal on the control panel. The DNA system acts on the steering wheel, on the VDC/braking system and on the engine management systm. It changes their response, sensitivity and performance, signaling each change on the instrument panel.
The Normal mode is ideal for getting around the city and for relaxed, everyday driving. In this set up the individual components in the Alfa DNA System are configured normally.
The Dynamic mode is optimised for sportier driving, and offers a very different driving experience due to the fact that the DNA makes the VDC and the ASR less intrusive, partially freeing up the MiTo from electronic control of the vehicle dynamics. At the same time it activates the Electronic Q2, the electronic LSD software ar the front. This mode also acts on the steering and the engine, the steering becomes less power-assisted to give a sportier feeling while the throttle becomes more responsive and the 155bhp petrol and 120bhp JTDM diesel engines can also draw on over-boost.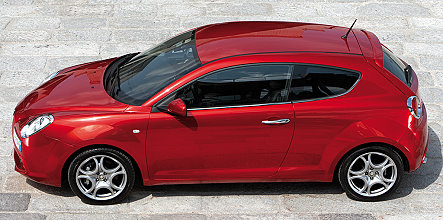 When All Weather is chosen on the DNA selector, the car is set up so that it guarantees the driver the maximum control over the vehicle, even in low-grip conditions, such as on the wet or snow. When this is activated, the Alfa DNA System makes the car more easily controlled even on low-grip surfaces by acting on the vehicle's dynamic control and lowering the VDC intervention threshold.
In terms of safety, the Mi.To has been designed to be one of the safest cars in Europe, and its safety features have also been 'future proofed'. At the end of 2008 the current Euro NCAP crash test ratings – which certify car safety - are changing, and the Mi.To has been designed to score as highly as possible under the new system. The Alfa MiTo comes with seven airbags as standard, a double pre-tensioner on the front seatbelts, an anti-whiplash device on the seats, a collapsible steering wheel in case of head-on collisions, and SBR (Seat Belt Reminder) technology. This last feature comprises five sensors on a small screen on the windscreen which detect whether all the passenger belts - both front and rear - are fastened. The system is extremely rigorous and sends out an acoustic signal should any of the passengers not have fastened their belt. The Alfa Mi.To promises maximum safety both for passengers and for pedestrians. This result has been achieved by designing the bumpers so they can pass rigorous tests and also by optimizing the exterior components in order to avoid any possible injury to pedestrians' legs.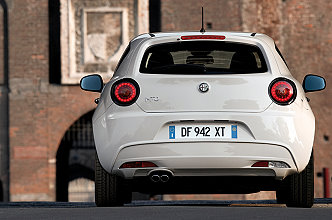 Internally, the MiTo was designed by Centro Stile and is heavily focussed around the driving position, with carefully positioned seat, steering wheel, pedals and instruments. The atmosphere is typically Alfa Romeo with a selection of styles available, mostly red or black (there is also on blue) and heavily featuring finishes which reflect the sporty aspirations of the brand, such as titanium, carbon-fibre and leather. The sporty instruments are illuminated in either red or white, depending on the version. The standard car is a four-seater (although the 5th seat is an option in some markets). To ensure interior comfort, a dual-zone automatic climate control system is available, as are heated seats and a BOSE sound system.
With regard to telematics, the Fiat Group has been pushing ahead, and the MiTo offers all its options - Blue&Me (hands-free phone and USB port for MP3 music players), Blue&Me Nav (which adds a pictogramme navigation system using the instrument panel display) and Blue&Me Map (which uses a dashtop mounted removable colour display). All come with voice control, whilst Blue&Me Nav also offers SOS and INFO services via roof mounted button which call a central callcentre.
The range depends upon each market, but the fundamental factory produced options at launch consisted of two trim levels each with its own dashboard and seat trims, plus two special packs which offer additional seat trims.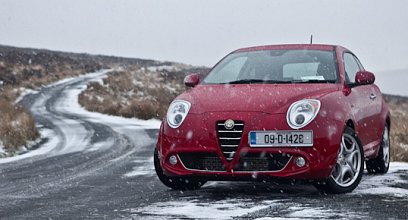 In 2009 the MiTo range was revised, with the introduction of the new MultiAir engines and a new trim level. Mechanically, three new engines arrived, all of a 1.4l capacity, at 105bhp aspirated version and two turbocharged units, with 135bhp and 170bhp. The latter was only available in the new sporty 'Green Cloverleaf' version. All three engines are fitted with Start&Stop as standard (a system which reduces emissions by switching the engine off automatically when the car is stopped). The 135bhp engine strangely uses a 5-speed transmission, whilst the other two have 6 speeds. The two turbocharged units again use the overboost facility to increase the torque when in sport mode. Slightly later in that same year a revised 1.3 JTDm2 engine was introduced, with 95bhp and Start&Stop technology as standard.
The introduction of the MultiAir engines saw other minor tweaks to the model such as new colours, a slightly shorter gearstick, revised braking system and some modifications to the steering and suspension. The 120bhp turbocharged engine was also discintinued at this point, whilst the 155bhp engine was modified to become Euro5 compatible.
See videos of the Mito, static & interior (11MB) and driving (4MB).
---
| | |
| --- | --- |
| | |
---
Technical Details


Driveline
transverse engine at front with front wheel drive
Engines
1368cc (72x84mm) 8v sohc 4 cylinder inline with 78bhp @ 6,000rpm and 120Nm @ 4,750rpm
1368cc (72x84mm) 16v dohc 4 cylinder inline with 95bhp
1368cc (72x84mm) 16v dohc 4 cylinder turbocharged inline with 120bhp
1368cc (72x84mm) 16v dohc 4 cylinder turbocharged inline with 155bhp @ 5,500rpm and 230Nm @ 3,000rpm
1368cc (72x84mm) 16v dohc MultiAir 4 cylinder inline with 105bhp @ 6,500rpm and 130Nm @ 4,000rpm
1368cc (72x84mm) 16v dohc MultiAir 4 cylinder turbocharged inline with 135bhp @ 5,250rpm and 206Nm @ 1,750rpm
1368cc (72x84mm) 16v dohc MultiAir 4 cylinder turbocharged inline with 170bhp @ 5,500rpm and 250Nm @ 2,500rpm
1248cc (69.6x82mm) 16v MultiJet 4 cylinder turbocharged diesel with 90bhp @ 4,000rpm
1248cc (69.6x82mm) 16v MultiJet 4 cylinder turbocharged diesel with 95bhp @ 4,000rpm and 200Nm @ 1,500rpm
1598cc (79.5x80.5mm) 16v dohc 4 cylinder turbocharged diesel with 120bhp @ 3,750rpm and 320Nm @ 1,750rpm
Suspension
front : MacPherson strut
rear : semi-independent torsion beam
wheelbase : 2511mm
track (front/rear) : 1483mm / 1475mm
Brakes
front : discs (diameters : 78bhp 257mm, 120bhp 281mm, 155bhp 305mm)
rear : discs (diameter 251mm)
Gearbox
6-speed plus reverse manual with dual-cable control
Steering
Rack and pinion with electric power assist
Weights
kerb weight (78bhp/120bhp/155bhp) : 1080kg / 1205kg / 1145kg
---
---
| | |
| --- | --- |
| | |
---
Performance

| | | | | |
| --- | --- | --- | --- | --- |
| model | max speed | 0-100km/h | combined fuel cons | CO2 |
| 1.4 8v 78bhp | 165 km/h | 12.3 sec | 5.9 l/100km | 138 g/km |
| 1.4 Turbo 155bhp | 215 km/h | 8.0 sec | 6.5 l/100km | 153 g/km |
| 1.6 JTDm 120bhp | 198 km/h | 9.9 sec | 4.8 l/100km | 126 g/km |
---

For books on Alfa Romeo see our Online Bookstore
There is also a list of all our picture galleries (including museums, motorshows and various events).
Wallpapers/Desktop Backgrounds of numerous Alfa Romeo's also available to download.
---
Mi.To comment form
---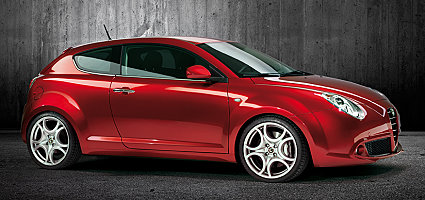 Use the buttons at the top to navigate further, or
---
Copyright © 2000 to 2011 CarsfromItaly