Ferrari California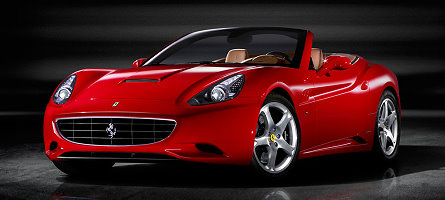 The first ever Ferrari with a front mounted V8, the California was also the first open-topped Ferrari to utilise a folding metal roof. Launched in 2008 and carrying a famous name last seen in the early 1960's, the California extended the range of cars offered by Ferrari into a new segment, combining a V8, usually only used in sportier models, with the Gran Turismo characteristics of the front-mounted engine, historically always a V12.
As usual, the styling was done by Pininfarina, and contains a variety of historical cues, whilst also being contemporary and utilising new technology like LED lighting units. As with all Ferrari cars, aerodynamics also plays a significant role in the design process, and the California was no exception, with a Cx value (with the roof raised) of just 0.32. Significant work went into drag reduction (front spoiler and rear diffusor) and cooling efficiency (bonnet air intake), also as a means of reducing fuel consumption.
The engine, an all-aluminium 4.3l 90 degree V8 generates an impressive 460bhp and pushes the California to 100kmh in less than 4 seconds. Featuring direct fuel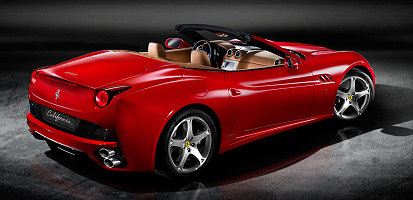 injection and variable timing on both inlet and exhaust cams, as well as spectacular performance it also respects Euro5 emissions requirements. Particular attention was paid to the exhaust note, since with the roof down it is especially audible.
The engine drives the rear wheels through a rear mounted 7-speed transmission. This is fitted with a dual dry clutch system and controlled through paddles mounted on the steering wheel.This is an innovative system that guarantees a superb combination of performance and ride comfort. With the dual clutch, one clutch is used for even-numbered gears and the other for odd-numbered ones, and allows the pre-selection of the next gear required. The gears are changed by overlapping the opening and closing stage of both clutches, resulting in gearshifting times that are close to zero and with no "torque interrupt".
With the engine mounted well back in the chassis, and the gearbox at the rear, a near perfect weight distribution of 47% front to 53% rear has been achieved. Overall weight is kept to a minimum by the use of a completely aluminium chassis, whilst torsional rigidity, despite the California being a spider, is exceptional. Suspension is by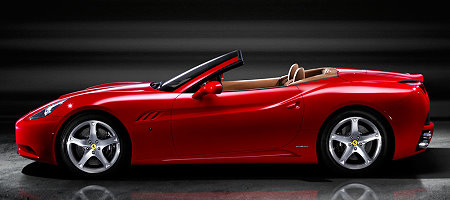 traditional double wishbones at the front, whilst at the rear a new multilink system is used, allowing for superior ride comfort and handling. The SCM Magnetorheological Suspension Control System, debuted on the Ferrari 599 GTB Fiorano, is also available on request.
The roof, a new technology for Ferrari, is also made from aluminium, both panels and structure, and takes just 14 seconds to open or close.
The manettino has now become one of the characteristic features of the modern Ferrari range and is in its usual position on the steering wheel . Derived from Formula 1 experience, the manettino integrates the gearbox, stability and traction control systems (CST and F1-Trac) and the SCM suspension system. On the California the possible settings are as follows:
COMFORT: maximum safety in all conditions, particularly ideal for low grip situations (wet or slippery road surface). Best everyday driving setting.
SPORT: maximum performance and stability in perfect grip situations. Recommended for sporty, high performance driving.
CST-OFF: this setting gives the driver complete freedom and control of the car. There is no electronic intervention whatsoever apart from ABS.
The Ferrari California is also, as one would expect, designed to protect its occupants in the event of an incident. Safety features include an ejectable anti-roll-bar contained

behind the backrests of the rear seats which ejects in just 190ms should the car overturn. Front and side airbags are also fitted. Bi-xenon headlights ensure perfect visibility and can, on request, be fitted with an adaptive function whereby the beam angle is automatically adjusted according to steering, angle, speed and lateral acceleration.
For the lucky person using this car, inside there is a well-equipped and luxuriously trimmed cockpit. It is available either as a pure 2-seater, with a luggage space behind the front seats, or as a 2+2, in the latter case the rear includes two small seats, ISOFIX attachments and 2 seatbelts. In both cases the rear seatback if foldable to increase bootsize. A new feature is the instrument panel with analogue instruments (tachometer and rev counter) and four-screen TFT Multidisplay. The Ferrari California also boasts a new infotainment system with 6.5'' touchscreen, Sat Nav, USB connection, Bluetooth, hard disc, voice commands and IPod connector.
Personalisation, in the form of the Carrozzeria Scaglietti Programme, allows customers to choose from a huge range of options in four main areas : 1 Racing and Track, 2 Exteriors and Colours, 3 Interior and Materials and 4 Equipment and Travel. Possibilities include 16 exterior colours, 14 different leather colours for the interior, a racing seat, 20" alloy wheels, rear parking camera, dedicated luggage set, etc.
---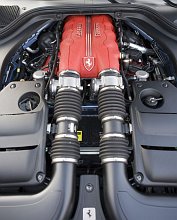 Technical Details

Engine
4297cc (94x77.37mm) 90deg V8 32v dohc (per bank) with 460bhp @ 7,750rpm and 485Nm @ 5,000rpm
Suspension
front : double wishbones and coil springs
rear : multilink
Adaptive damping with electronic control optional.
245/40-19 (front) and 285/40-19 (rear) tyres
wheelbase : 2670mm
track (front/rear) : 1630mm / 1605mm
Brakes
ventilated carbon-ceramic discs all round with Brembo callipers, servo assistance and ABS
disc diameter front / rear : 390x34mm / 360x32mm
Transmission
7 speed dual dry clutch F1 style
Steering
rack and pinion with power assistance.
Weight (kerb)
1735kg
distribution front / rear : 47% / 53%
Dimensions
Length / width / height (mm) : 4563 / 1902 / 1308
---
---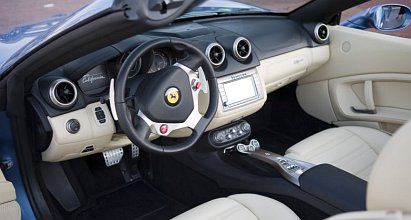 Performance

| | | | | | |
| --- | --- | --- | --- | --- | --- |
| model | max speed | 0-100 km/h | 0-1000m | ave fuel cons | CO2 emissions |
| California | 310 kmh | under 4.0 sec | 22.1 sec | 13.1 l/100km | 306 g/km |
---
See our picture gallery index for images from museums, motorshows and events.
There are also wallpapers/desktop backgrounds available to download.
---
Use the buttons at the top to navigate further, or
---
Copyright © 2000 to 2011 CarsfromItaly