Ferrari 512TR & 512M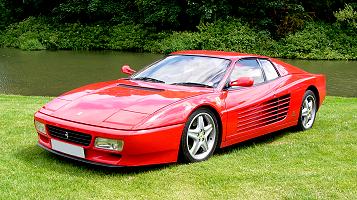 An evolution of the Testarossa, the 512TR was released in 1992. Both the design and the mechanicals were revised to keep the car ahead of the competition.
The design featured, most visibly, a new 348-style nose, whilst revisions were made to the rear lights and slatted grille, the engine cover and various other areas. New (still 5-spoke) 18 inch wheels were fitted with narrower tyres at the front (235/40) and wider at the rear (295/35). The intrior also received many small changes.
The engine retained its 4943cc capacity, 48 valves and red cam covers, but gained over 30bhp thanks to larger valves, a higher compression ratio (10:1) a new engine management system and new inlet and exhaust systems. It was also located lower in the chassis (still over the gearbox) due to the new exhaust system. The suspension remained effectively the same, with double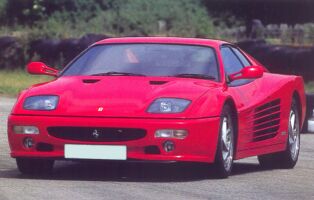 wishbones all round and twin coil/damper units at the rear, although the front track was increased whilst the rear decreased.
Performance, predictably, improved, with 0-100km/h in 4.8 seconds and a top speed of 314km/h (192mph).
In 1994 the 512M took over in production. This featured further significant external modifications including new, fixed headlights (replacing the pop-up lights in the Testarossa and 512TR) and new round rear lights, not covered by the black slats. The weight of the car was further reduced by around 18kg whilst the engine power went up by 12bhp.


---
Technical Details

Engine
TR : 4943cc (82x78mm) 48V flat-12 with 428bhp @ 6,750rpm
M : as above except : 440bhp
Suspension
front : independent with wishbones and coil springs
rear : independent with wishbones and (twin) coil springs
wheelbase : 2550mm
track (front/rear) : 1532mm/1644mm
Brakes
ventilated discs all round with servo assistance
Transmission
5 speed manual plus self-locking diff
Steering
rack and pinion
Empty weight
1,473kg
---
See our picture gallery index for images from museums, motorshows and events.
There are also wallpapers/desktop backgrounds available to download.
---
---

Use the buttons at the top to navigate further, or
---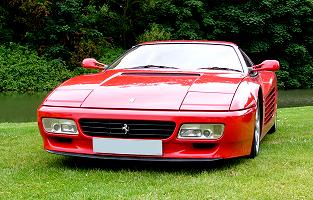 ---
Copyright © 2000 to 2011 CarsfromItaly