Ferrari Testarossa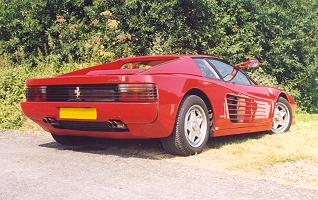 The replacement for the Berlinetta Boxer, the Testarossa was first shown at the Paris Motorshow in September 1984. The stunning design by Pininfarina was a departure from previous Ferraris, whilst the mechanicals were more evolutionary.
The chassis was a stretched and much modified development of the BB unit, still with the same basic double wishbone suspension but now featuring twin coil-over units at the rear to help cope with the increasing weight. The tracks were also increased and rather large 240/45 (front) and 280/45 (rear) tyres were fitted.
The engine was also a development of the BB512, now with four-valves per cylinder, Bosch K-Jetronic fuel injection, Marelli electronic ignition and numerous other modifications (including red cam covers!) generating 390bhp from the same 4943cc capacity.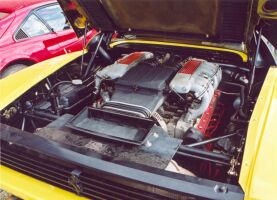 The body design was a major change from the BB cars. The radiators for the oil and coolant were moved to behind the doors, allowing a low, compact front, and necessitating (!?) large straked inlets to get the cold air in to where it was required. These air inlets, which dominate the side view of the car, are one of the most memorable features of the design. The rear lights were covered by a black slatted grille, whilst a black band covered the lower part of the sills and front air dam. A poor drag coefficient of 0.36 was due (supposedly) to designing for high downforce rather than aerodynamic efficiency.
Performance was 'sufficient' despite the rather heavy weight, with 0-100km/h in around 5.3 seconds and a top speed of somewhere around 300km/h (186mph). Production continued until it was replaced by the evolutionary 512TR in 1992.
See several high resolution detail images of the Testarossa here.
---
Technical Details

Engine
4943cc (82x78mm) 48V flat-12 with 390bhp @ 6,300rpm
Suspension
front : independent with wishbones and coil springs plus anti-roll bar
rear : independent with wishbones and (twin) coil springs plus anti-roll bar
wheelbase : 2550mm
track (front/rear) : 1518mm/1660mm
tyres (front/rear) : 225/50 VR16 / 255/50 VR16
Brakes
ventilated discs all round with servo assistance
Transmission
5 speed manual plus ZF self-locking diff
Steering
rack and pinion, 3.4 turns lock to lock
Empty weight
1,506kg
Dimensions
Length / Width / Height : 4485mm / 1980mm / 1130mm
Performance
acceleration : 0-100km/h in 5.7s ; standing km in 24.5s ; 70-100km/h in 5th in 6.6s
braking from 100km/h in 48m
---
---
See our picture gallery index for images from museums, motorshows and events.
There are also wallpapers/desktop backgrounds available to download.
---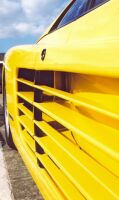 Use the buttons at the top to navigate further, or
---
Copyright © 2000 to 2011 CarsfromItaly