Ferrari Berlinetta Boxers
This page covers the following models :
---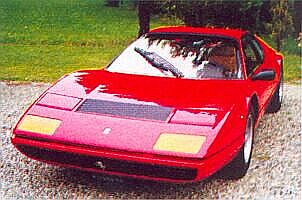 The replacement for the 365 GTB/4 Daytona, the 365 GT4 BB (generally known as the 'Boxer' due to its engine layout) was unveiled at the Turin Motorshow in 1971 in prototype form, and at the Paris show two years later in production form.
It had little in common with its predecessor, having a flat-12 engine mounted centrally, rather than a V12 at the front. That engine was an all new 4390cc flat-12 unit, fed by four triple choke Weber 40 IF3C carburettors and producing around 365bhp, although some sources quote up to 380 ! Mounted behind the two occupants and above the five speed manual transmission, it was notable not only as the first Ferrari road car engine not to be a vee, but also for its use of conventional toothed belts driving the camshafts, the first time a Ferrari adopted this method rather than their traditional chains.
The 'Boxer' continued the by then Ferrari standard of independent suspension (double wishbones), disc brakes and a tubular frame and like most Ferraris of that era had pop-up headlights. Otherwise (apart from the wheels!) the external styling, again by Pininfarina, was dissimilar to earlier models. Notable were the overly large orange indicators at the front, one of the styling characteristics of the model. In 1976, after 387 cars had been built, it was replaced by the BB 512, a further derivative.
The maximum speed of the BB was around 175mph, with the 0-60mph sprint taking about 6.5 seconds.
Technical Details

Engine
4390cc (81x71mm) flat-12 dohc (per bank) 365bhp @ 7,700rpm
Suspension
front : independent with double wishbones and coil springs
rear : independent with double wishbones and coil springs
wheelbase : 2500mm
track (front/rear) : 1500mm/1510mm
tyres (front/rear) : 215/70-VR15 / 225/70-VR15
Brakes
ventilated discs all round, diameter (front/rear) : 288mm/297mm
with servo assistance
Transmission
5 speed manual
Steering
rack and pinion
Empty weight
1,160kg (44% front / 56% rear)
---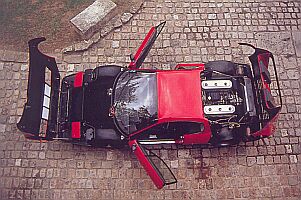 Introduced in 1976, the BB512s main feature was a larger 4942cc flat-12 engine, although this actually produced less power than the 4390cc unit in its predecessor. Featuring a dry sump and higher compression ratio, it did, however, produce more torque throughout the power band. Some other smaller changes were also made, but the next significant change came in 1981 when fuel injection replaced the four triple downdraught carburettors.
The BB512i as it was known mainained the 340bhp power output, whilst gaining a bit of weight due to such luxuries as a stereo with graphic equalizer ! Production continued until 1984 when the Testarossa took over. About 929 BB512's, and 1,007 BB512i's were built.
Technical Details as for the 365 GT4 BB except :

Engine
4942cc (82x78mm) flat-12 dohc (per bank) 340bhp @ 6,800rpm
Suspension
512BB : track (front/rear) : 1500mm/1563mm
512BBi : track (front/rear) : 1508mm/1572mm
Empty weight
1,580kg
---
---
See our picture gallery index for images from museums, motorshows and events.
There are also wallpapers/desktop backgrounds available to download.
---
---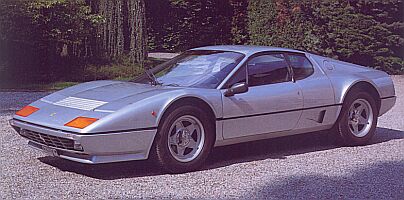 Use the buttons at the top to navigate further, or
---
Copyright © 2000 to 2011 CarsfromItaly