Enzo Ferrari
Unusually, the new flagship of the Ferrari range, the Enzo, was previewed in prototype form (the FX) a few months earlier at an exhibition in Japan (see our news page). Officially released in July 2002, with public debut scheduled for the Paris show, the Enzo claims to be virtually a Formula One car for the road, thus following in the footsteps of the F50 before it. A total of 349 cars will be built.
Powered by an all-new 4-valves per cylinder 5998cc 65º V12 unit which generates 660bhp @ 7,800rpm and 485 lb ft of torque. All four camshafts have variable valve timing and the inlet manifold also incorporates a hydraulically controlled variable geometry system. The power is transferred through a six-speed sequential gearbox with hydraulic actuation, gearchanges are made using the steering wheel mounted paddles. A variety of electronic controls are present, with two driving modes (Sport and Race), selectable traction control and also launch control.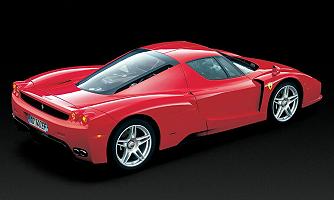 Construction uses a mix of aluminium honeycomb, carbon fibre and other exotic materials, all in the aim of reducing weight. Despite this the finished car weighs a substantial 1345kg. Aerodynamics have played a significant role in the cars design and it incorporates a variety of electronically controlled aerodynamic features, alimed at increasing the downforce at higher speeds.
Suspension is conventional, with pushrod operated spring/damper units and double wishbones all round. The brakes use carbon-ceramic discs (by Brembo) with six and four piston callipers at the front and rear respectively. The tyres (245/35ZR19 front and 345/35ZR19 rear) have been specially developed by their F1 tyre supplier, Bridgestone.
A selection of design models showing the development of the Enzo can be seen here.
For pictures of the Enzo at the Paris Motorshow see our Motorshow report
Also available to download, an Enzo screensaver and some Enzo wallpapers/desktop backgrounds.
---
Technical Details

Engine
5998cc (92x75,2mm) 65deg V12 48V dohc (per bank) with 660bhp @ 7,800rpm
Suspension
front : double wishbones and coil springs
rear : double wishbones and coil springs
wheelbase : 2650mm
tracks : front/rear : 1660mm/1650mm
Brakes
front : carbon ceramic discs (diameter 380mm) with 6-pot callipers
rear : carbon ceramic discs (diameter 380mm) with 4-pot callipers
servo assistance and ABS
Transmission
6 speed hydraulically actuated with steering-wheel control
Steering
rack and pinion with power assistance.
Weight
1,255kg (empty)
You can see the engine of the Enzo here and here.
---
---
Performance

| | | | |
| --- | --- | --- | --- |
| model | max speed | 0-100 km/h | Standing km |
| Enzo | 350+ km/h | 3,65 sec | 19,6 sec |
---
---

See our picture gallery index for images from museums, motorshows and events.
There are also wallpapers/desktop backgrounds available to download, including the Enzo.
---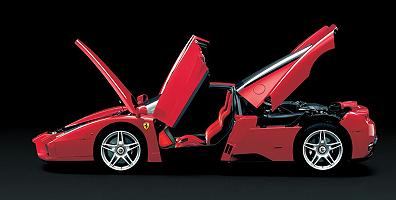 Use the buttons at the top to navigate further, or
---
Copyright © 2000 to 2008 CarsfromItaly