Fiat Barchetta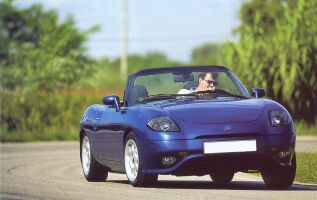 The Fiat Barchetta, based on the Punto platform, entered production in 1995. Designed in-house by Fiat Centro Stile, the Barchetta is produced by Maggiora at Chivasso. It is a pure two seater with a full, manually operated, canvas roof and an adequate boot. The design aims to hark back to the small open-topped roadsters of the 50s and 60s, both in overall shape and in some details like the exquisite chrome door handles. Inside too, it is relatively understated, aiming to involve the driver more rather than to place barriers between him and his enjoyment of driving.
The engine was an all new 1747cc, dohc 16V unit with 131bhp and 164Nm, which featured variable valve timing (hydraulic on the inlet valves) for the first time in a production Fiat car. Other noteworthy features include a stainless steel 4-2-1 exhaust manifold, piston crown oil cooling jets, forged steel conrods and self adjusting hydraulic tappets. It was made in the Pratola Serra factory.
The Barchetta has received much praise for both its handling and performance, helped by its relatively light weight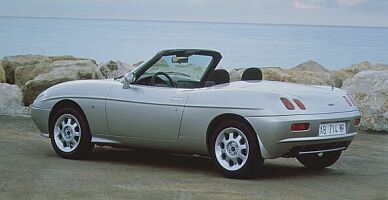 and excellent chassis rigidity for a convertible. The brakes are assisted by the fitment of discs all round and ABS as standard. Despite the lack of any limited slip diff, traction is also rarely a problem, even on tight corners.
No variants have been produced, all being two door convertible 1800s, although some 'limited editions' were produced in the various markets. Only left hand drive cars were built by Fiat, although these were also officially available in those markets where RHD is the norm. A hardtop in the body colour (originally only in black) was also available.
For 2000 the range was 'revised' with a variety of mostly unnoticeable detail changes. The most noticeable change was the addition of a third brake light in a blister on the bootlid (a picture of which can be seen in our Turin Motorshow 2000 pages)
Late 2002 saw a facelifted Barchetta shown to the public. Featuring new front and rear bumpers the car became visually much more agressive whilst under the skin little changed. Problems with Maggiora saw the commercial launch delayed, and in the end only small numbers were built in fits and starts.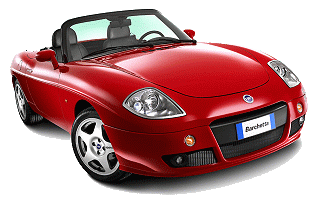 See our 'Concept Cars' page for images of concept cars based on the Barchetta (including the very pretty coupe).
See a video of the Barchetta here (9.5MB).
---
Technical Details

Driveline
transverse engine at front with front wheel drive
Engine
1747cc (82x82.7mm) dohc 16V (variable valve timing) in-line 4-cyl with 131bhp @ 6,300rpm (picture)
Suspension
front : MacPherson strut with telescopic dampers and coil springs plus anti-roll bar
rear : independent with coil springs and telescopic dampers
wheelbase : 2275mm
track (front/rear) : 1412mm/1407mm
Wheels/Tyres : 6.5x15 with 195/55 R15 tyres
Brakes
front : discs, ventilated, diameter 257mm
rear : discs, diameter 240mm
handbrake operating on the rear via a cable
ABS
Gearbox
5 speed manual
Single dry plate clutch (diameter 215mm)
Steering
Rack and pinion with power assist
Turning circle : 10.5m
Turns lock-to-lock : 2.5
Kerb Weight
1060kg
distribution (front / rear) : 66% / 34%
Dimensions
---
---
Performance

| | | | | |
| --- | --- | --- | --- | --- |
| model | max speed | 0-100kph | standing km | in gear acceleration |
| Barchetta | 118 mph | 8.9 sec | 29.9 sec | 50-70mph (5th gear) : 10.3 sec |
---
---
Tuning
Easily carried out modifications include installation of a free-flow air filter (a cold air duct is also a worthy mod) and fitment of a less restrictive exhaust system to improve the driveability, 'Chips' are also available which (claim to) increase the power, driveability and torque all at the same time.
The brakes can be improved by fitting drilled and grooved discs, using a superior pad compound and fitting stainless steel braided flexible hoses.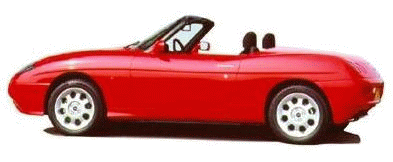 Dampers and springs are readily available for the Barchetta which will improve the handling, and a strut brace can be fitted at the front to increase the stiffness of the bodyshell.
There is also at least one commercially available turbo conversion, which gives 188bhp and an even more impressive 305Nm of torque.
More information coming soon.
---
Barchetta comment form
---
Your Comments
A very beatyful car with excellent road properties. Very lucky for me that it was cheaper than the Miata or the Z3, since I would definitely had bought the b. anyway... (Jonny, Sweden)
Have only had my 1996 Barchetta for 1 week and already I love it to bits. The ride is a bit firm, but thats the trade-off for pin-sharp handling. It took a couple of days to get used to the LHD...but other than that, it's likely we will become inseparable. It attracts huge amounts of attention, too....I suspect, largely because it's rare, not to mention, Broom Yellow. (Mick R, UK)
---
Wallpapers/Desktop Backgrounds of the Barchetta also available to download.
For books on Fiat see our Online Bookstore
There is also a list of all our picture galleries (including museums, motorshows and various events).
---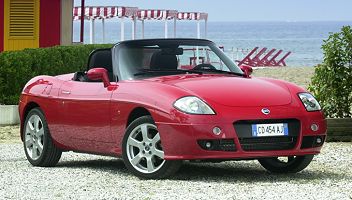 Use the buttons at the top to navigate further, or
---
Copyright © 2000 to 2008 CarsfromItaly