Fiat Cinquecento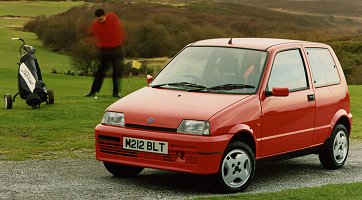 Fiat's small car for the 90's, the Cinquecento (or X1/79 as it was known internally during development) was introduced in late 1991, powered by either a 704cc ohv two cylinder (31bhp) mounted horizontally, or a 903cc ohv four cylinder (41bhp) engine. Both versions were available with catalysts, the 704cc unit using an electronically controlled carburettor, the 903cc unit using fuel injection. In 1993 the 903cc unit was reduced in capacity to 899cc (for tax reasons) with 39bhp.
Unlike Fiats earlier small cars, only the one bodystyle, a three door, was ever built, all at Tychy in Poland. Independent suspension all round, disc brakes at the front and unassisted rack and pinion steering were common to all models, as was the excellent fuel consumption, helped by a drag coefficient of 0.33, good for such a small car. The design centered around getting the maximum usable space out of the small external dimensions. The ability to seat four adults with sensible access to the rear seats was a key feature, as was the comfort of said passengers, much improved in such a small car. This was thanks to the seats, ventilation and special attention paid to soundproofing and wind-noise reduction.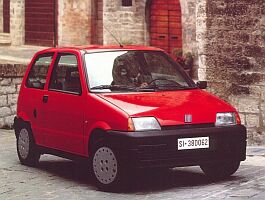 In terms of specification the new car also raised the bar. Central locking, electric front windows, glass sunroof, and even air conditioning were standard on some models, and optional on others. To avoid corrosion problems all the external panels of the Cinquecento were galvanised (see body protection), whilst the design incorporated crumple zones and side impact bars to improve the safety of the occupants in an accident. During development much time was also spent ensuring that it was easy to recycle the car through the use of specific plastics and clear labelling. This environmental theme, relatively new at that time, played a significant role in communications around the launch.
Later, in 1994, came the 'Sporting' with the 1108cc (54bhp) sohc FIRE unit and suspension modifications (lowered by 20mm plus anti-roll bar and stiffer dampers). Externally, colour coded bumpers and rear view mirrors distinguished it from its slower bretheren, whilst inside there appeared a rev-counter, drilled accelerator pedal, leather steering-wheel and new 'sporting' seats.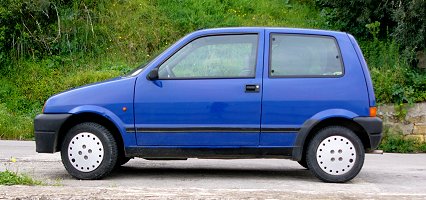 In 1995 the second series was launched. External changes were minor, mainly revised trim, options and colour coded plastic on some models. Production finished in 1998, when the new Seicento was introduced.
A rally version, the Cinquecento trofeo, was built for an single-make series, whilst later developments resulted in Group A and Kit Car versions. An electric version, the Elettra, powered by batteries, was also produced in small numbers from 1992 for some environmental projects. This was a two-seater due to the batteries occupying al the space behind the front seats. The motor was a 13hp DC series wound unit, whilst the total weight of the car went up to 1110kg. The limited edition Soleil was also built, which featured a full length opening canvas sunroof.
See our 'Concept Cars' page for an image of the Rush, a 4x4 concept based on the Cinquecento, the Grigua, a Cinquecento based MPV, the Miki, Z-Eco and other Cinquecento based concept cars.
---
Technical Details

Driveline
transverse engine at front with front wheel drive
Engine
704cc (80x70mm) ohv 2-cyl with 31bhp @ 5,000rpm (30bhp with cat)
903cc (65x68mm) ohv 4-cyl with 41bhp @ 5,500rpm
899cc (65x67.7mm) ohv 4-cyl with 39bhp @ 5,500rpm
1108cc (70x72mm) ohc 4-cyl with 54bhp @ 5,500rpm
Click here for details of the engine management system.
Suspension
front : MacPherson strut with telescopic dampers and coil springs plus anti-roll bar
rear : independent, lower wishbones anchored to cross beam with coil springs and telescopic dampers
wheelbase : 2200mm
front track : 1270mm
rear track : 1276mm
Brakes
front : discs, diameter 240mm
rear : drums, diameter 185mm
handbrake operating on the rear via a cable
dual hydraulic circuit
servo assistance on Sporting
Gearbox
4 or 5 speed manual
CVT
Steering
rack and pinion
4 turns lock to lock
Kerb weight
Sporting : 735kg
700 : 675kg
903i : 710kg
Dimensions
Cinquecento
Click here for a diagram showing the structure of the Cinquecento
---
---
Performance

| | | |
| --- | --- | --- |
| model | max speed | 0-100kph/0-60mph |
| 899cc | 87 mph | 17.7 sec |
| Sporting | 95 mph | 14 sec |
---
Tuning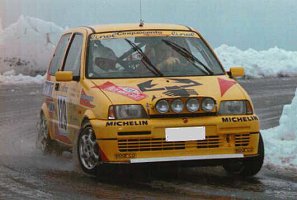 There are a limited number of easy to fit bolt-on parts for the Cinquecento which will improve the driveability, performance and handling. These are mostly aimed at the Sporting model, but many can be fitted to any version.
There are three main areas to concentrate on, the engine (and transmission), the brakes and the suspension and then various other details. These three should be done together since they complement each other, not all of one and none of another !
1. The engine.
Before modifying the engine it is worthwhile filling it with a good quality synthetic oil and fitting new spark plugs. An engine oil additive may also be used.
The first improvements are relatively simple. The air filter can be replaced for an aftermarket item which will help the engine breathe more freely, the 'induction kit' (as they are known) type are the best - these replace the standard airbox to further help the breathing, and the exhaust can be replaced for one which will restrict the exit of the gases less. It is best to replace the whole system, and not just the rear section, for improved performance. Stainless steel systems last longer, but if you paint a normal steel system with some heat resistant paint it will also last a good length of time. Removing the catalyst will give a large increase in power, but in most countries this is illegal - and pretty bad for our (already mostly destroyed) environment. It is also possible to buy 4-2-1 manifolds which will help liberate some power.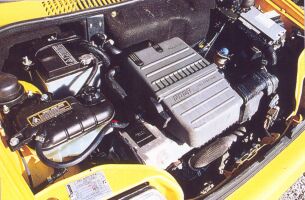 The most effective modification (short of engine rebuilds!) is probably to replace the electronic control unit (or 'chip'). A variety of these are available, but all should increase the power and improve the driveability. The downside is that these usually cancel the warranty and may affect the durability of the engine, the emissions and the fuel consumption. A larger injector can also be fitted and will, together with the new module and a reprofiled camshaft, significantly improve the power output.
Other things to do should include fitting a cold air intake, a large diameter pipe (minimum 5cm) to provide air from outside the engine bay to the air filter. The exhaust manifold can also be lagged with thermal cloth or tape to keep the exhaust gases hotter (and thus reduce back pressure) and also to keep the underbonnet (and hence intake and fuel) temperatures lower.
The high tension leads can also be replaced with performance ones.
Further modifications can include gas flowing the cylinder head and inlet manifold, but since these are not normally DIY jobs they will not be dealt with here. After completing all the above (!) it may be worth fitting an oil cooler. If overheating is a problem due to the increased power output then a small hole can also be drilled through the plate in the thermostat.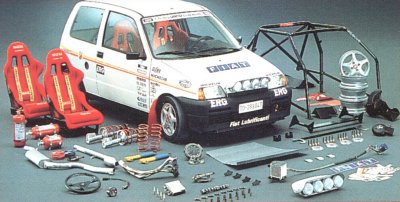 Regarding the transmission the main requirement is to uprate the clutch to handle the increase in power and torque achieved though the engine modifications. Friction plates can be purchased with improved materials and heavier duty pressure plates are also available. Whilst doing this it is worthwhile lightening the flywheel.
Another option is to install a turbocharger. If the compression ratio is dropped to around 8.5:1 (from the standard 9.6:1) ten a boost of 0.7 bar can be used, which, combined with an intercooler, thicker head gasket, conical air filter, fifth injector and aftermarket injection module, can produce around 110bhp.
2. The brakes.
Initially it is relatively easy to replace the brake discs with drilled and grooved items, and the pads for a harder compound. The latter should not be too hard (ie no race pads on the road) or they will not function effectively at the normal 'road' operating temperatures. Stainless steel braided flexible hoses will improve the pedal feel and reduce the chance of damage whilst DoT5 fluid (not silicon) will increase the temperature at which it can operate effectively. If the brakes are getting too hot the dustguards can be removed and/or ducts fitted, taking air from behind the front bumper.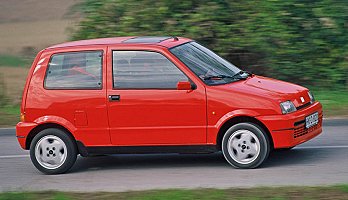 If more serious braking is required the next modification would be to increase the disc size. It is possible to use larger discs with a bracket allowing use of the production callipers, or alloy four pot callipers can be fitted.
In order to improve the balance of the car under braking it is desireable to be able to adjust the balance of braking from front to rear (and vice versa). This can be accomplished by fitting a bias valve in the line to the rear brakes, usually in a position so that it can be reached from the drivers seat.
3. The suspension.
The easiest improvement,and the one which will probably bring the single most noticeable change, is to replace the full set of dampers and springs. A variety of kits are available which include four matched dampers and springs. Top adjustable units are compromised, but are good for road and track day cars since it allows the suspension to be adjusted between these two, rather different, requirements. Coil over units add more adjustability and can be purchased outright, or can be made from standard dampers by welding a threaded sleeve to the standard tube.
There are then two other main suspension aims; to reduce the flexiblity in the suspension and to increase the stiffness of the car, both of which aim at more accurate control of the wheel movement. To reduce the flexibility it is possible to fit nylon bushes instead of the normal production rubber items, or if perfection is desired the suspension can be fitted with metallic bearings (rose joints / rod ends). Spherical bearing top mounts can also be used. To stiffen the car it is most popular to fit strut braces. These can be fitted to the front and rear. For more extreme cases a rollcage can be fitted.....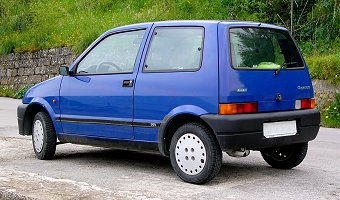 Into this category also fall the choice of wheels and tyres. With an increase in power it can be necessary to fit larger tyres (thus requiring larger wheels) but the temptation to fit the biggest possible should be resisted. Consideration should be given to fitting a wider tyre on the front (since they provide traction and steering) but keeping the standard, or a wider but not as wide as the front, tyre at the rear. This will improve the balance of the car.
4. other things.
It is possble to fit the six speed gearbox from the Punto into the Cnquecento, which gives closer ratios (sixth gear is almost the same as the standard Cinq fifth). Other modifications worth considering include fitment of a shift light (and rev limiter if there is not one as standard), higher power bulbs in the headlights (if you are going to go faster you need to see further) and installation of a quicker steering rack.
Some inspiration..... if you really want to go all out, then look at the Cinquecento Sporting rally cars. These have a variety of modifications, some of which can be seen in the picture.
---
Buying / Selling

Some tips to do before selling : (they may seem obvious, but most people don't do them and thus are in a weaker bargaining position)
Tidy inside the car thoroughly : hoover the floor, empty all pockets, ashtrays (wash), glove compartment etc..., wipe the trim with a damp cloth, give the cockpit a good airing to get rid of any odours ! Reset the trip meter to 00000 - it is a pleasant (subconcious) surprise.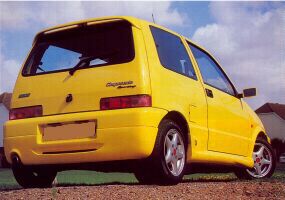 If the car has been standing give it a good run - this will clear out the engine (reduce exhaust smoke), put a shine on the brake discs and loosen up any joints that may otherwise make some noises.
'Back to black' products are very effective at temporarily restoring bumpers and trim. This makes a big difference to any car. Do it a week before you expect people to view the car, otherwise it may be a bit too obvious !
Jetwash under the car, especially under the engine and in the wheelarches. The prospective buyer may be an enthusiast, and this makes it easier for them to see what they want to check.
Obviously wash the car and clean the windows !
If you are going to buy a car always check the following :
Firstly check the bodywork. Check that there are no mismatching panels, large areas of discolouration or signs of fresh paint (compare inside the engine bay with the external body colour), all of which probably indicate accident damage.
Check the main electrical functions - wipers, windows, lights, etc... try putting the main beam and wipers on at the same time. Check the headlights for cracks.
Check the brake pedal does not go to the floor if pressed hard for a long time and check the gearchange for clean engagement.
The engine should be run up to temperature, check the exhaust for smoke, the condition of the breather (look for mayonaise), the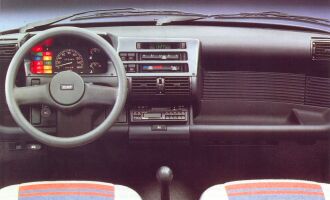 condition of the oil filler cap (again white deposits can indicate the use of the car only on short journeys which causes excessive engine wear) and the colour of the coolant (preferably not thick or dark brown!). Listen to the noise of the engine, then depress the clutch and engage first gear. Whatever noise has disappeared was coming form the gearbox, what remains is from the engine. Also check the condition of the engine oil on the dipstick.The lighter brown the better, if it is thick black then leave quickly.
Check tyre wear, uneven patterns could imply a bent chassis.
Always take it for a test drive. Check that the car tracks in a straight line with no steering input and also remains straight under braking. Find a large open area and complete several lock to lock turns (also in reverse), listening for any noises. Try the handbrake when moving - seized rear callipers will mean uneven braking or no braking.
---
Links
A Cinquecento website
The UK Clubcento website

---
Fiat Cinquecento Workshop Manual : buy it online here (in association with Amazon)

For more books on Fiats, see our Online Bookstore
---
Cinquecento comment form
---
Your Comments
What can I say about the Cinq.?
Well, its a (sort of) modern-day mini cooper (or should that be Fiat 500 Abarth?)
In standard trim, the Sporting is rapid, nimble and bags of fun. Especially entertaining is the lift-off oversteer on wet roundabouts - I used to have a very early morning drive to work which took in several roundabouts, and on rainy days I could drift gracefully sideways round all of them.
The best part of it is being able to dive down the inside of so-called performance cars on roundabouts - I will never forget the look of shock on my mate's face the first time I stuffed the Cinq. up the inside of his Astra GTE!
As far as improvements go - standard tyres are VERY expensive (around £80 each), so replace them with a set of 165/60HR13s - I use Cooper (A subsiduary of Avon) at a cost of £35 a corner. To combat the effect of the higher profile, you can lower the car - this will also cut down on roll in tight bends. I have also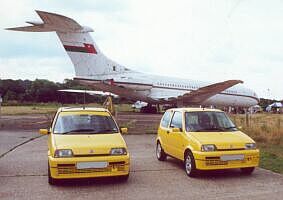 fitted a K&N 57i kit, which nicely smooths out the 3,000rpm flat spot, as well as making it rev more freely at the top end. After fitting the K&N, lowering and stiffening the front end with a strut brace (suspension will be sorted in the next couple of weeks) I should have a real little racer!
Also worth noting is that I crashed mine, denting every panel down one side, and leaving bare metal exposed to a British winter for a couple of months, and there was absolutely no corrosion, which boes well for the longevity of the little car.
Just one word of advise - if you want a tight, sporty car, avoid the softer, more mature Sei and buy a Cinq.
Most of all - join ClubCento, the Cinq. and Sei. owners clube and meet lot of like-minded people. (Only problem is it gets you into mods in a BIG way!) (Steve, UK)
Just backing up what Steve said.
For the money their great cars that give a unique driving experience when compared with most other small motors. Sure there are bad points like many other Italian cars but over time Ive begun to love and accept most of them just as much as the plus sides. Its got character which is not something I expected in a car this cheap.
I can only speak about the sporting, but dont expect a little gti as standard. Yes there nippy and fun and the handling is ok if a little nervous. (Understeer heaven which is fine when you promt it but not so good when its unexpected. Being carefull in the wet is something I learnt early on after a scary momment.)
A lot can be cured though with the right mods. Lowered springs and matched dampers seem a good place to start. As for tyres I run 185 50 14 Yokos which have cured the lack of grip in the wet. Brakes arent too bad as standard though I drove a Ford Ka recentley which seemed to be a fair bit better, so their next on the list of upgrades. Until all this is done I wouldnt even consider engine mods other than small bits ( exhaust, induction kit etc )
Much more I could write but Ill leave it up to you to go out and buy one now! Or if you already have and its standard, get modding it cause the potential is there to make a stunning car for very little.(Paul Y, UK)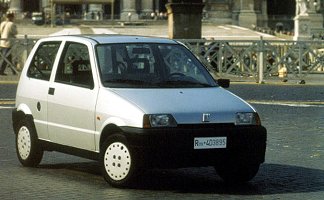 I bought my Cinq in March, 1999, in Chile, south america. I don't know why Cinqs are available here, considering that in Argentina they aren't. I was searching for a decent one for about 2 years, and finally I found a yellow one, with sunroof. I am very satisfied with my little car: fast, economic and pretty stylish. And of course, I like to see the faces of other drivers in bigger cars when my Cinq left them far behind!
Sadly, I heared that the Seicento and the new Punto will not be imported to Chile. Only the mediocre Palio and a strange Uno SX built in Argentina. (Claudio H, Chile)
Wicked first car, ace for raggin' around. You can make modifications easy best car ever made! (Dave)
I had a Cinq as a rental in the UK. assume it was the 903 pushrod motor, but still no shortage of performance. It ably pulled with 4 up at 80-90MPH on the motorway. Sadly I wrapped it round a lampost due to some over-exuberant country lane driving (Beware wet leaves in corners) But still managed to walk away. speaks of a quality not inherrant inearlier models. (KTM, UK)
I am a small FIAT enthusiast, having owned UNOs and PANDAs - I have to say that the little Cinq rocks! They are as cheap as chips these days and finding a cared for, low miles example for silly money (and I mean silly) is not impossible! Like any car, it does need to be looked after and it needs to be serviced and checked regularly. The Cinq SX I have just purchased would certainly benefit from a complete service and I plan to start this coming weekend. I was worried that changing from a FIRE engine in a Panda to the old non-FIRE 903 block would be a step backwards. However, it is not - the engine is very capable and very willing. It lapped up the 70 miles when I took it home and I thoroughly enjoyed myself. Recommended, they are cute and cheeky. I have also found that most people that have owned them still rave about them. (Martin S, Ipswich, UK)
---

Wallpapers/Desktop Backgrounds of the Cinquecento also available to download.
There is also a list of all our picture galleries (including museums, motorshows and various events).
---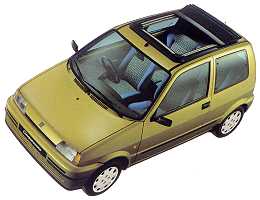 Use the buttons at the top to navigate further, or
---
Copyright © 2000 to 2008 CarsfromItaly