Fiat Dino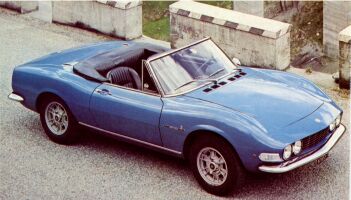 The Turin Motorshow of 1966 saw the introduction of the 'Fiat Dino Spider'. A body designed and built by Pininfarina was powered by an engine based on a Ferrari competition engine. The venture was born from the neccessity (for F2 competition) for Ferrari to use an engine derived from a homologated production car of which at least 500 had been built in the last 12 months.
That engine was a quad cam V6 of 1987cc producing 160bhp. The first quad cam engine in a production Fiat, it was all alloy with a four bearing crank and semi-wet cylinder liners. Each cylinder featured two valves and one spark plug, but used a narrower than normal valve angle (46deg). Drive to all four camshafts was by duplex chain. Fuelling was by three Weber twin 40DCNF carburettors.
Drive was through a five speed gearbox (actually a four speed box with reverse and fifth-gear in a separate casting added on), two-piece propshaft and a limited slip differential in the live rear axle. A relatively simple leaf spring and live axle rear suspension was used, whilst the front suspension used a conventional double wishbone layout. Braking was by ventilated discs on all wheels, using Girling callipers (made under licence by Fiat).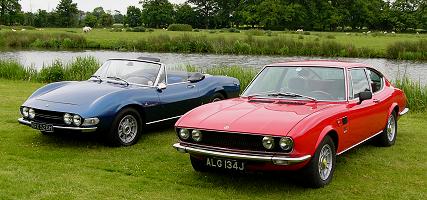 The body was an all steel unitary construction spider. As well as the identical wheelbase, there are several similarities with structural panels of the 124 Spider, also built by Pininfarina. Internally it was moderately well equipped, with a full set of instruments (speedo, revcounter plus coolant and oil temperature, oil pressure and fuel level), two front seats accompanied by an 'occasional use' rear seat and an easily operated manual fabric roof. The latter did not compromose the good size boot.
In the following year, this time at the Geneva Motorshow, the Dino Coupe was introduced, a two door coupe designed and produced by Bertone. This used the same drivetrain as the Spider, but with a longer wheelbase. The rear suspension was also slightly modified (twin-leaf springs and different dampers) which resulted in improved handling. Internally it got four full bucket seats and electric windows and a different dashboard to the Spider.
It is also worth noting that Pininfarina also built two prototypes based on the Spider, one with a conventional add-on hardtop and one with a fixed roof.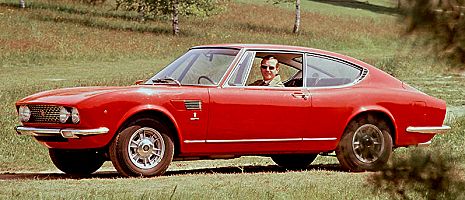 The second series Dinos were introduced at the Turin Motorshow in 1969. Minor styling changes, most obviously the front grille, were accompanied by more significant mechanical modifications.
Up front was an all new engine, now featuring a cast iron block (rather than the alloy block of the 1987cc version), displacing 2418cc and producing 180bhp. In order to make the car more usable, peak torque was significantly improved, and produced at 4,600rpm instead of the 2-litre's 6,000rpm. The rest of the engine layout (quad-cam, duplex chain drive, 65deg angle, three twin Weber carbs) remained essentially unchanged. A new ZF (still five speed) gearbox was also used. Significantly, following criticism of the earlier cars' handling, a completely new rear suspension was also installed. This was an independent layout, derived from the 130.
Production of the bodyshells was by the respective coachbuilders, whilst final assembly of all cars was at the Fiat Rivalta factory outside Turin. Production stopped in December 1972 by which time a total of 7,600 cars of all versions (2.0 Spider 1133, 2.0 coupe 3629, 2.4 spider 424, 2.4 coupe 2414) had been produced.
---
Technical Details

Driveline
longitudinal engine at front with rear wheel drive
Engines
1987cc (86x57mm) quad-cam 65deg V6 with 160bhp @ 7,500rpm
2418cc (92.5x60mm) quad-cam V6 with 180bhp @ 6,600rpm
Suspension
front : Independent double-wishbone with telescopic dampers and coil springs plus anti-roll bar
rear (to 1969) : live axle with twin telescopic dampers and leaf springs
rear (from 1969) : independent with telescopic dampers and coil springs plus anti-roll bar
wheelbase : spider : 2280mm, coupe : 2550mm
front track : 1385mm (series II : 1390mm)
rear track : 1350mm (series II : 1381mm)
Brakes
front : ventilated discs
rear : ventilated discs
handbrake operating on the rear via a cable
Gearbox
5 speed manual
hydraulic clutch
clutch plate diameter 230mm
Steering
Worm and roller
Kerb weight
Spider : 2000 : 1150kg; 2400 : 1270kg
Coupe : 2000 : 1280kg; 2400 : 1380kg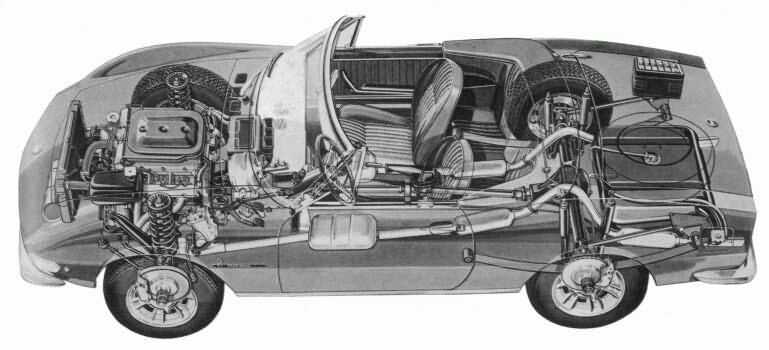 ---
Performance

| | | |
| --- | --- | --- |
| model | max speed | 0-100kph/0-60mph |
| 2000 Coupe | 125mph | 9 sec |
---
---
Buying / Selling
Some things to check :
1. Oil pressure, at around mid engine speed (3000rpm), exhaust smoke on acceleration, excess knocking from engine.
2. Gearbox - sticky/notchy when hot (normal when cold).
3. Straight and true tracking when driving straight ahead, no knocking when steering turned.
4. Excess noise from diff - check also in reverse.
5. Bodywork - rear wing behind wheelarch, rear section of front wing, front and rear valances, doors, bootlid, bonnet.
6. Complete interior and damage to non-repairable surfaces (eg dashboard)

---
---
For books on Fiat see our Online Bookstore
There is also a list of all our picture galleries (including museums, motorshows and various events).
Wallpapers/Desktop Backgrounds of numerous Fiats also available to download.
---
---
Dino comment form
---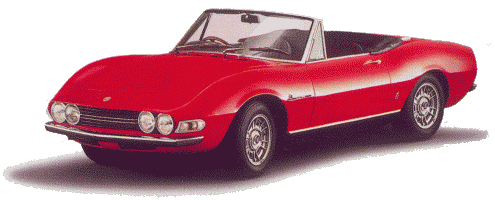 Your Comments
Most gorgeous car I can think of, wish I had one to replace my 124 Spyder - not sure I can afford one. (Gentle Ben, USA)
I own Fiat Dino Spider # 0001090 and absoutley love the car. This must be the best Fiat ever made. (Mike S. Pennsylvania, USA)
Few cars sound as sweet as the 2 liter six cylinder dino. More info on this Fiat can be obtained from the "The Other Dino" club by contacting Wally Clark via clarkinc@pacbell.net. (Joe V, San Diego, Ca)
---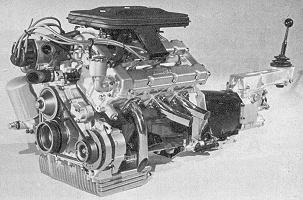 Use the buttons at the top to navigate further, or
---
Copyright © 2000 to 2008 CarsfromItaly