Fiat Idea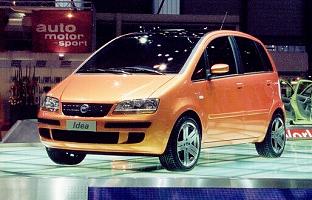 The Type 350, or Idea, was a new 'mini-MPV' based on a slightly stretched Punto platform. Mechanically conventional, with its small four-cylinder petrol (1.2 and 1.4-litres) and diesel (1.3 and 1.9 JTD MultiJet) engines mounted transversely at the front, the then-new Dualogic transmission provided an interesting option, combining automatic and sequential operating modes. The much praised 1.3 16v MultiJet turbo diesel is also fitted, at launch only with 70bhp, but later also the 90bhp version.
A pleasing and clean design, the car offers an exceptionally roomy and versatile interior with room for five adults and their luggage. It is in the latter cabin that most of the innovation is contained. The rear seats slide, fold and recline independently, the seat base being split 40/60 and the back 40/20/20 (the centre 20 also serving as an armrest). The front passenger seat folds to form a table, whilst numerous storage opportunities are provided and the whole vehicle can be tailored to the use required of it. Light and bright two-tone fabrics complement the bright interior, which benefits from an exceptionally large glass area and makes the interior a pleasant place to travel. This is especially true with more than two people, the traditional 'barrier' between the front and rear passengers simply not being there.
Items usually only found in larger cars are also to be found, such as dual-zone climate control, parking and rain sensors and a plethora of other features designed to make life easier. As would be expected, the safety features which are now becoming the norm are also all present, including ABS with EBD, six airbags, seatbelt pretensioners etc. ESP and even a hill-holder system (designed to aid hill starts without rolling backwards) can also be specified.
The Idea went on sale in various markets around Europe at the beginning of 2004. In March 2004, at the Geneva Motorshow, Fiat displayed a 4x4 version of the Idea, called the 5terre. In 2005 the Idea benefitted from a light redesign. The grille, headlights and interiors were all restyled and improved. The 1.4 8v (77bhp) engine was also added later, as was a six-speed transmission fitted to the 1.4 16v engine.
In South America the Idea was introduced using only the outer bodyshell and seats of the European version. It was based on the floorpan and chassis of the Palio and also featured the 110bhp 8v 1.8-litre petrol engine and, inside, the dashboard of that model. An 'Adventure' version, styled similar to a 4x4 with additional protection around the body, different roofbars and other styling features was also sold in that continent.
We have several images of the Idea launch at the Geneva Motorshow in March 2003. There is also an Idea screensaver and various Idea wallpapers to download.
See a video of the Idea here (9MB).
| | |
| --- | --- |
| | |
---
Technical Details

Driveline
transverse engine at front with front wheel drive
Engines
1242cc (70.8x78.86mm) 16v 4 cylinder dohc with 80bhp @ 5,000rpm and 114Nm @4,000rpm
1368cc (72x84mm) 16v 4 cylinder dohc with 95bhp @ 5,800rpm and 128Nm @ 4,500rpm
1248cc (69.6x82mm) 16v 4 cylinder dohc turbo diesel with 70bhp @ 4,000rpm and 180Nm @ 1,750rpm
1910cc (82x90.4mm) 8v 4 cylinder sohc turbo diesel with 100bhp @ 4,000rpm
Added later :
1368cc (72x84mm) 8v 4 cylinder sohc with 77bhp @ 6,000rpm and 115Nm @ 3,000rpm
1248cc (69.6x82mm) 16v 4 cylinder dohc turbo (VGT) diesel with 90bhp @ 4,000rpm and 200Nm @ 1,750rpm
In South America :
1796cc 8v 4 cylinder sohc with 110bhp @ 5,600rpm
Suspension
front : MacPherson strut with telescopic dampers and coil springs plus anti-roll bar
rear : trailing beam
track (front/rear) : 1434mm/1424mm
wheelbase : 2510mm
Brakes
front : discs, 257mm ventilated (1.9 MultiJet, 284mm ventilated)
rear : drums, 203mm (1.9 MultiJet 228mm)
handbrake operating on the rear via a cable
ABS
Gearbox
5 or 6 speed manual or 'Dualogic' sequential/automatic (clutchless)
Steering
Rack and Pinion with electric power assistance
Dimensions
Length / Width / Height : 3930mm / 1698mm / 1660mm
Weight
1155kg (petrol versions) or 1200kg (1.3 diesel versions)
---
---
For books on Fiat see our Online Bookstore
There is also a list of all our picture galleries (including museums, motorshows and various events).
Wallpapers/Desktop Backgrounds of numerous Fiats also available to download.
---
Idea comment form
---
Your Comments
We've just rented the Fiat Idea for three weeks, and driven across Italy. Wow! At one point I told my wife, "Do you mind if I slow down to 120Kph? I don't feel comfortable doing 150Kph on the Autostrada, because there are too many trucks..." This is with two adults, two children and four suitcases. The car is fast, roomy, yet narrow. We called it the "nightbus" from Harry Potter's latest movie. It handled well, althought the turning circle was a little bigger than expected. Lots of storage areas for sunglasses, maps, tissues etc. It went up Vesuvius quite easily, through the narrow streets of medieval towns such as Frascati and Palestrina with ease, and it flew on the Autostrada. We loved it. (Julian, Australia).
---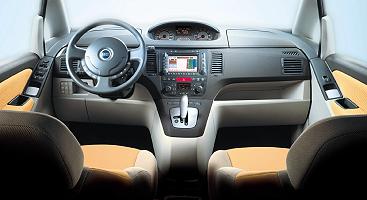 Use the buttons at the top to navigate further, or
---
Copyright © 2000 to 2008 CarsfromItaly