Fiat Punto (1999 on)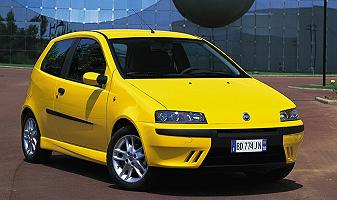 The 'Nuova Punto' was introduced on the 100th anniversary of the Fiat company in the summer of 1999. Although actually a mid-life update of the old Punto, most of the car is new (80% of parts are new), including an all new exterior design and new rear suspension (torsion beam). Class leading interior space and passive safety (the car received an excellent four stars in the Euro NCAP test) were praised by the press.
Available with three or five doors, and a range of engines comprsing 1242cc 8V with 60bhp, 1242cc 16V with 80bhp, 1910cc diesel with 60bhp, 1910cc JTD diesel with 85bhp (previously 80bhp) and at the top, the 1747cc 16V with 130bhp. This latter unit is the same as that in the Barchetta and Coupé. A special mention is deserved by the Sporting, which uses the 1.2 16v engine coupled to a six-speed manual gearbox. This model also features a stiffer suspension and an aggressive bodykit, and really follows the character of sportier small Fiats, being a genuine 'put a smile on your face car' without being seriously fast.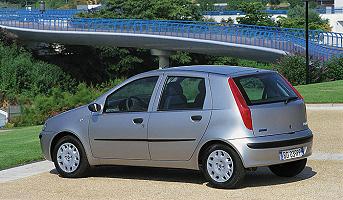 The three and five door cars are slightly differently styled, the five door having a more aggressive appearance especially from the front. All cars come with a drivers airbag and options include passenger and side airbags (standard in some markets). Other new features are the electronic power steering (with two levels of assistance selectable by the driver) and 'follow-me-home' headlights which stay on for a predetermined time after you lock the car. The HGT also features as standard a satellite navigation system, ABS and traction control.
Transmissions include a five speed manual, a six speed manual and a CVT ('Speedgear'). This latter can be used in the fully automatic mode, or as a sequential shift, with either six or seven preset ratios (depending on model).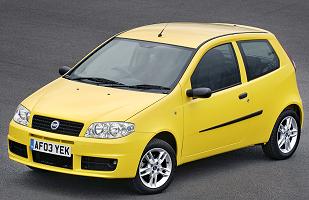 The Punto has proved to be a popular car and its mass appeal has led it to being the best-selling car in Europe for some years, whilst in early 2003 the 5,000,000th Punto was produced (including the earlier version).
Here you can find more on the competition Puntos.
In May 2003 a heavily revised Punto was released, the third incarnation of the best-selling car. Significant changes to the appearance were joined by new engines and content.
The whole front end is new, including the bonnet, lights, bumper, wings grill etc, whilst at the rear the bumper changed and some other detail changes made including the adoption of the round Fiat badge and additional reflectors on the three door car. Whereas the previous car had differentiated between three and five door versions visually (with different front and rear bumpers), the new car features a front end which is different for the sportier versions, the Sound (or Active Sport) Sporting and HGT, with all the other (both three and five door) using the same bumpers.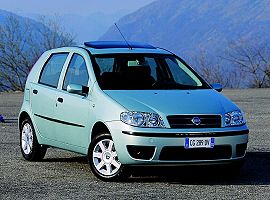 Under the bonnet the same 1.2 8v (60bhp) and 16v (80bhp) engines together with the 1.8 16v (130bhp) and 1.9 JTD (85bhp) continue, but they are joined by three new units. A 1.4-litre development of the FIRE engine with 95bhp is now available (fitted to the new Sporting version), and a 1.9 MultiJet JTD with 100bhp is also offered, derived from the earlier engine. Completely new is the award winning 1.3 16v MultiJet with 70bhp, claimed to be the smallest, most compact diesel, incorporating all the latest technology such as common-rail, dohc, 16v, EGR-cooling, turbocharging etc.
Other significant additions to the model include a new transmission known as Dualogic. This is a Selespeed-like unit, being a manual gearbox controlled by hydraulic actuators, in turn controlled via a sequential shift with a fully-automatic mode available. A dual-zone climate control is new in the segment and adds to the comfort and ease of use, as do rain and parking sensors.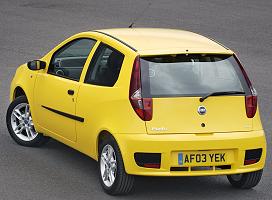 Safety has also been taken care of with ESP, MSR and various other electronic aids being added to the various versions, as well as up to six airbags being available. Novelties include the "hill-holder" which keeps the brakes on for 2 seconds if the car is in first gear and a sensor decides that it is on an incline - designed to make for perfect hill starts every time....
New colours, interior trims and various changes including the instrumentation and wheels complete a comprehensive makeover for the best-selling Fiat.
2005 saw a further revision of the Punto arrive, affecting only the interiors. Various new interior trims and colours were introduced, as well as a couple of new exterior colours. Later that year saw the all new Grande Punto arrive.
---
---
Technical Details

Driveline
transverse engine at front with front wheel drive
Suspension
front : MacPherson strut with telescopic dampers and coil springs plus anti-roll bar
rear : torsion beam axle with telescopic dampers and coil springs
wheelbase : 2460mm
front track : 1398mm (Sporting & HGT 1410mm), (diesels 1402mm)
rear track : 1392mm (Sporting 1399mm), (HGT 1397mm), (diesels 1395mm)
Brakes
front : discs, diameter 240mm (8V), 257mm (all others), (HGT & JTD ventilated)
rear : drums, diameter 180mm (HGT : 240mm discs)
handbrake operating on the rear via a cable
Gearbox
5 or 6 speed manual
Speedgear - CVT (six or seven preset ratios)
Dualogic - five speed clutchless semi-automatic transmission
Steering
Rack and pinion
electrical power assistance (two-stage 'Dualdrive' system)
Kerb Weight
range from 860kg (3 door 1.2) to 1055kg (5 door 1.9 JTD)
Sporting : 930kg
HGT : 1040kg
Click here for a cutaway drawing of the Punto
Here there are images of the 1242cc 16V, 1910cc JTD and 1747cc 16V engines.
---
---
Performance

| | | | |
| --- | --- | --- | --- |
| model | max speed | 0-60mph | in gear acceleration |
| 1.2 ELX | 104 mph | 11.2 sec | 17.7 sec (50-70 in 5th) |
| HGT | 122 mph | 9.2 sec | 10.3 sec (50-70 in 5th) |
---
Tuning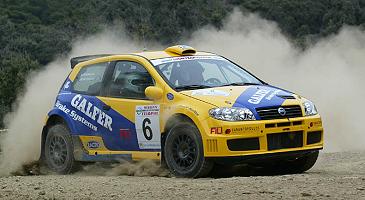 Some inspiration can be taken from the Punto Rally, developed to run in the 1600 Kit Car class of rallying. Fitted with 215bhp from a 1579cc version of the 1800 as well as a six speed sequential gearbox and limited slip diff, a completely built car can be bought from Fiat (with a rather high price).
For the normal road car, easily carried out modifications include installation of a free-flow air filter (a cold air duct is also a worthy mod) and fitment of a less restrictive exhaust system to improve the driveability, 'Chips' are also available which (claim to) increase the power, driveability and torque all at the same time.
The brakes can be improved by fitting drilled and grooved discs, using a superior pad compound and fitting stainless steel braided flexible hoses.
Dampers and springs are readily available for the Punto which will improve the handling, and a strut brace can be fitted at the front to increase the stiffness of the bodyshell.
For those wishing for more speed there are a variety of companies offering more radical engine tuning, including a number of turbocharging kits which are available.
See also our competition Puntos page for more inspiration.
---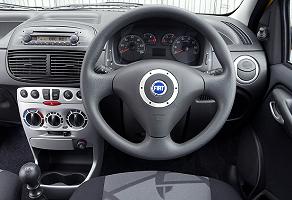 For books on Fiat see our Online Bookstore
There is also a list of all our picture galleries (including museums, motorshows and various events).
Wallpapers/Desktop Backgrounds of numerous Fiats also available to download.
---
Nuova Punto comment form
---
Your Comments
Love my new Punto, except the fact that the dealer bent the door to make a new rubber seal fit. (Spud, England)
Great car! The JTD engine is a wonderful engine. You don't realise you're driving a diesel (Kazan, Belgium)
I love this car. I bought HER almost a year ago, she is a HGT, and she loves to run. As the writer I began to saving too for a punto kitcar. More objectively, it has the one of the most beautiful interior what I've ever seen in a car. (Artifact, Hungary)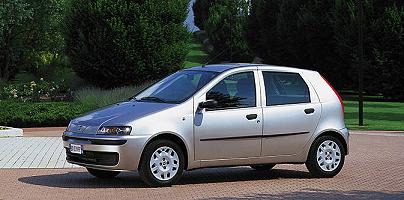 There is nothing nicer than a bright punto sporting or hgt. they are the most stunning car about at the moment!!!! (Owain)
My parents bought a new Punto, that car left me speechless, he's wonderfull, he got comfort, he got everything, he's Italian he's gotta be good. By the way I'm Fiat fan and I'm driving Fiat Uno(1994). Ivica(Croatia)
My new Punto is a fantastic car, is a Punto 1.2 16v HLX 3 door whit abbarth exterior equipment. Better than most superior class cars in my mind, bust the best of all cars in my heart (Bruno F, Portugal)
I have had my Punto JTD HLX for 8 months and have already done 15000 miles. The reason: I keep going out in it to drive for fun.
I LOVE MY PUNTO!!!!!!
I have a punto HGT and I love it. It kills golf gti's at pulling away at lights and it's a great feeling when they get beaten. Mine is black and can hardly be recogniced as a HGT. (Henk, Netherlands)
Everybody says that Italian cars don't have a good fabrication quality, that's bull! I've had a Peugeot 206 gti and that car had so many problems! I brought my Punto 6 months ago and no problems solong! and the material quality is superior! (Fabio, Belgium)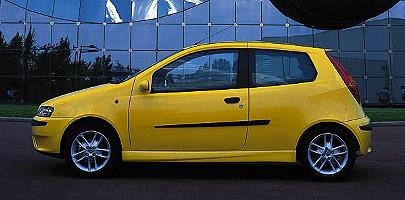 I'm a Fiat fan : My second car was a punto 60D, My third a punto JTD & my last a punto HGT. The JTD : was a great car and it really was a pleasure of driving diesel engine. But the HGT... I'm in another world !! (Nicolas, Reuinon island)
I am 19 and own the new shape Fiat Punto and to tell you the truth its the best thing I ever done, it is my dream car (especially the city steering, its wonderful).In a few years I will kit it up a bit with side trims and sports seats perhaps, its not only boys who can have sports cars see! I would reccomend every one to buy this car because it is the ultimate driving expieriance. (Lisa, UK)
Got the new Fiat Punto 1.9D fitted with BBS 14" alloy wheels and really love it!! Very economic, pleasant to drive, quite fast for being a normally-aspirated diesel, smooth in bumpy roads (got a lot in Malta) and VERY, VERY ATTRACTIVE!!!! (Mervyn, Malta)
on my second new punto now. this time around its the ELX 16V speedgear, takes off like a bat out of hell kickdown from all speeds, very fast little motor for a 1.2. my next car will be the sporting speedgear, I am hooked
I've had my Punto 1.2 8 valve for four months and I love it, it's the best car i've ever driven. Not the fastest, but definately the most fun. I love the way it's so well balanced, and the gearchange is brilliant -you find yourself changing gear just for the hell of it. It does seem to handle better with a full tank of petrol, and when i've worn these tyres out (in a few weeks, probably) I think some softer compound tyres are in order, as Fiat always seem to fit really hard ones which make it skittery on wet or greasy roads. Of course it looks great too, and with the way it's so well put together makes it the best car ever. I love my Punto! How do they make such a great car for £5,995, new? Why do people buy those crappy 'smart' cars when you can get a Punto for that? (Ed, UK)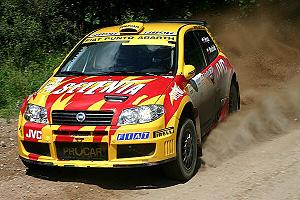 my punto is fantastic
Had my JTD ELX Punto for 18mth great car and unbelievably fast.This is my third Punto loved them all,but this one is by far the best so far. Looking forward to seeing the new upgraded one in the spring.
I bought my MkII 1.2 8v Punto from it's first owner having done 35k miles. What a great car! I have had the bumpers colour coded and a set of Wolfrace 15" Urban Racer 7 alloys fitted and it now looks very smart indeed. It is very well built with a solid clunk when you close the doors. The ride and handling are very good too although I have noticed that it is smoother with rear passengers or a full tank of fuel. Speaking of a full tank ...the economy is very good too. The only problem I have noticed so far is that the steering column has an annoying clattery rattle over rough roads. Other than that, there have been no faults. The road noise is a little higher than I'd like. My previous car was a BMW 318tds compact which is really an unfair comparison as it cost considerably more than twice the price of a Punto but it certainly wasn't worth that much more, the Punto is great and looks fantastic too! (Kevin H, UK)
A car with a soul. Silent and swift. I hope this little pal brings back the FIAT reputation to the place where it deserves to be: on top. (Tiago, Portugal)
I have Punto II 1.2 SX, year 2000. Now afther 35000 km I dont have any problems and it is still very comfortable. BRAVO! (Nino, Croatia)
I own a Punto Sporting 1242cc model year 2002. After five years of driving it and 45000 km, I have to say that it is an honest car. Fun to drive, fast enough for its category, nice design. The 6 speed gearbox is fantastic. The only problems that I have is that a)rain enters in the rear right lights set and b) the driver's seat belt isn't working anymore. It is much more reliable from my previous Punto GT which had many mechanical problems that made me sell it. The bad thing is that specific spare parts are somehow expensive. Rear lights set: 94 euros (original) 53 euros (Marelli), driver's seat belt: 240euros. (Yiannis, Greece)
---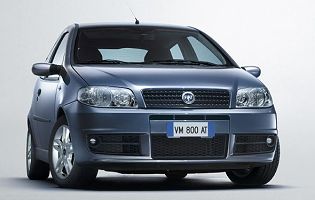 Use the buttons at the top to navigate further, or
---
Copyright © 2000 to 2011 CarsfromItaly