Fiat Marea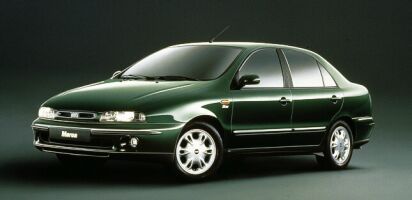 The Fiat Marea, based on the Bravo/Brava platform was Fiat's largest saloon at the time, taking the position left when the Croma ceased production. It entered production in 1996 and was available as either a four door saloon or a five door estate (the Weekend).
The floorpan (including the wheelbase) and most of the mechanicals are carried over from the Bravo/Brava, and the engines available are the 1581cc 16V (103bhp), 1747cc 16V (113bhp) and 1998cc 20V (154bhp) petrol engines (all four valves per cylinder, dohc) and the 1910cc (75bhp or 105bhp in JTD) and 2387cc (130bhp) turbo diesels. In some markets the five cylinder 20V 1998cc turbocharged engine (from the Coupé) is also available, for others the 1.4-litre 12V FIRE unit is an option.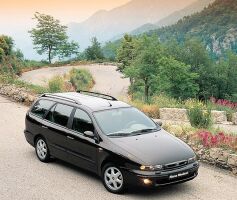 As far back as the B-pillar the styling is effectively the same as the Bravo/Brava, but behind that the body is new and in the saloon version ends in a distinct boot. The Weekend has an extended estate body with characteristic high mounted rear lights and integrated roof bars. It also features a fold down lip in the rear bumper to reduce the height of the lip, easing loading of the 1540dm3 (with the rear seats folded) load space. Equipment fitted in its role as the top of the range Fiat model include air conditioning, electric windows, drivers airbag, three 3-point rear seatbelts and ABS as standard, with numerous additional items available as options.
A dual-fuel vehicle, known as the Marea Bipower is available. This features a 1581cc 16V engine modified to operate on either petrol or methane, switchable from the drivers seat. Two sets of injectors are fitted and a special tank in the boot holds the methane at high pressure. A light commercial vehicle, the Fiat Marengo, is also offered, which is basically a Weekend with no rear seats and various modifications to optimise it for its role as a light commercial vehicle.
The Marea ceased production in Europe during late 2002.
Marea film (3.06 MB) : See the Marea and Marea Weekend in action.
---
Technical Details

Driveline
transverse engine at front with front wheel drive
Suspension
front : MacPherson strut with telescopic dampers and coil springs plus anti-roll bar
rear : independent with telescopic dampers within coil springs plus anti-roll bar
wheelbase : 2540mm
front track : 1470mm (20V : 1475mm), (TD75 & JTD130: 1480mm)
rear track : 1440mm (20V : 1430mm), (TD75 : 1455mm), (JTD130 : 1435mm)
Brakes
front : discs, ventilated, diameter 257mm, (20V & JTD130 284mm ventilated), (SX solid)
rear : drums, diameter 203mm, (20V & JTD130 discs, diameter 240mm)
handbrake operating on the rear via a cable
diagonally split dual circuit
ABS standard on all variants (4 channel, 4 sensor)
Gearbox
5 speed manual
4 speed automatic
Steering
Rack and pinion with power assistance
Kerb weight
Saloon : ranges from 1140kg (1600SX) to 1280kg (JTD130)
Weekend : ranges from 1200kg (1600SX) to 1340kg (JTD130)
Dimensions
saloon and Weekend.
Click here to see the colours available on the Marea (UK market).
---
---
Tuning
There are three main areas to concentrate on, the engine (and transmission), the brakes and the suspension and then various other details. These three should be done together since they complement each other, not all of one and none of another !
1. The engine.
Before modifying the engine it is worthwhile filling it with a good quality synthetic oil and fitting new spark plugs. An engine oil additive may also be used.
The first improvements are relatively simple. The air filter can be replaced for an aftermarket item which will help the engine breathe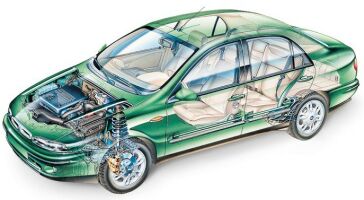 more freely, the type which completely replace the original airbox are best, and the exhaust can be replaced for one which will restrict the exit of the gases less. The whole system should be replaced, not just the back box. Stainless steel will last longer, but normal steel with a good coat of heat resistant paint will last a good while.
The most effective modification (short of engine rebuilds!) is probably to replace the electronic control unit (or 'chip'). A variety of these are available, but all should increase the power and improve the driveability. The downside is that these usually cancel the warranty and may affect the durability of the engine, the emissions and the fuel consumption. If one is not available for your specific model it is possible to buy a general one for any car and program it.
Other things to do should include fitting a cold air intake, a large diameter pipe (minimum 5cm) to provide air from outside the engine bay to the air filter. The exhaust manifold can also be lagged with thermal cloth or tape to keep the exhaust gases hotter (and thus reduce back pressure) and also to keep the underbonnet (and hence intake and fuel) temperatures lower.
The high tension leads can also be replaced with performance ones.
Further modifications require the machining of the cylinder headand/or cylinder block (which will not be dealt with here since it is not normally a DIY job) after which it may be worth fitting an oil cooler. If overheating is a problem due to the increased power output then a small hole can also be drilled through the plate in the thermostat.
Regarding the transmission the main requirement is to uprate the clutch to handle the increase in power and torque achieved though the engine modifications. Friction plates can be purchased with improved materials and heavier duty pressure plates are also available. Whilst doing this it is worthwhile lightening the flywheel.
2. The brakes.
Initially it is relatively easy to replace the brake discs with drilled and grooved items, and the pads for a harder compound. The latter should not be too hard (ie no race pads on the road) or they will not function effectively at the normal 'road' operating temperatures.
Stainless steel braided flexible hoses will improve the pedal feel and reduce the chance of damage whilst DoT5 fluid (not silicon) will increase the temperature at which it can operate effectively. If the brakes are getting too hot the dustguards can be removed and/or ducts fitted, taking air from behind the front bumper.
If more serious braking is required the next modification would be to increase the disc size. It is possible to use larger discs with a bracket allowing use of the production callipers, or alloy four pot callipers can be fitted. On lower models it is possible to fit 20V (or JTD130) brakes which will provide more stopping power.
In order to improve the balance of the car under braking it is desireable to be able to adjust the balance of braking from front to rear (and vice versa). This can be accomplished by fitting a bias valve in the line to the rear brakes, usually in a position so that it can be reached from the drivers seat.
3. The suspension.
The easiest improvement,and the one which will probably bring the single most noticeable change, is to replace the full set of dampers and springs. A variety of kits are available which include four matched dampers and springs. Top adjustable units are compromised, but are good for road and track day cars since it allows the suspension to be adjusted between these two, rather different, requirements. Coil over units add more adjustability and can be purchased outright, or can be made from standard dampers by welding a threaded sleeve to the standard tube.
There are then two other main suspension aims; to reduce the flexiblity in the suspension and to increase the stiffness of the car,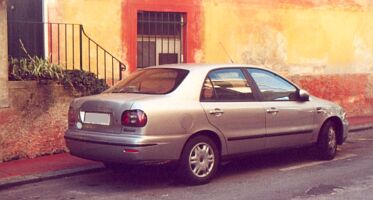 both of which aim at more accurate control of the wheel movement. To reduce the flexibility it is possible to fit nylon bushes instead of the normal production rubber items, or if perfection is desired the suspension can be fitted with metallic bearings (rose joints / rod ends). Spherical bearing top mounts can also be used. To stiffen the car it is most popular to fit strut braces. These can be fitted to the front and rear. For more extreme cases a rollcage can be fitted.....
Into this category also fall the choice of wheels and tyres. With an increase in power it can be necessary to fit larger tyres (thus requiring larger wheels) but the temptation to fit the biggest possible should be resisted. Consideration should be given to fitting a wider tyre on the front (since they provide traction and steering) but keeping the standard, or a wider but not as wide as the front, tyre at the rear. This will improve the balance of the car.
4. other things.
Other modifications worth considering include fitment of a shift light (and rev limiter if there is not one as standard), higher power bulbs in the headlights (if you are going to go faster you need to see further) and installation of a quicker steering rack.
---
For books on Fiat see our Online Bookstore
There is also a list of all our picture galleries (including museums, motorshows and various events).
Wallpapers/Desktop Backgrounds of numerous Fiats also available to download.
---
Links
The Bravo/Brava/Marea Owners Club website

---
Marea comment form
---
Your Comments
Well after selling our Tempra SW 2.0 i.e. 16V (1997 model) TOFAS built, we deceided to buy a car in the same class. We chose a Fiat again bacause if you got a Fiat in Turkey you don't have any problems with parts or with he Service. So went up to buy a car, and we saw the Fiat Marea. We all fell in love with this Car. So we deceided to buy the Fiat Marea 1.6 SX AC in White (TOFAS built). Well everything has changed since the Tempra, all Console's are easy to control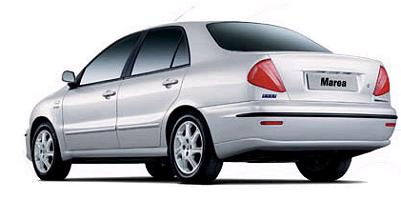 (you can see em' easily) the shift gear is better to handle than the Tempra's. The big difference between the Tempra and the Marea were the pedals, the Marea's pedals are too small for people like me wearing shoe's with 45-46 (EU) size. But at last the only thing I can say about this car is, that I just love it !!! If you just want a good Saloon go get it.(Tolga, Turkey)
My Marea Weekend has just completed 81,000 miles and has not missed a beat - fantastic motor - DJM
I have a Fiat Marea Weekend 1.2 16v wich is a litle engine for this car but i´m not disapointed,it has god aceleration and passes 170km/h.Is very confortable, good-looking and has a good price.Well done Fiat! (Helder M, Portugal)
After selling my beloved Cinquecento Sporting, I bought a Marea ELX 1.8, year 2000 . The car is fast, with good handling and spacious. Very different from the majority of the cars, it can outperform them in performance and styling (except the rear). My only complain is about a sound coming from the electric right rearview mirror (to be exact, the sound is from the plastic cover in the cabin side). Anyway, I still miss my Cinquecento (Claudio, Chile)

Finding a metallic gold, blue/black interior Marea ELX in my local showroom had me 'gobsmacked' (Yorkshire phrase for speechless). As a teacher of design, I was overcome with delight at the styling of this vehicle (have you looked at the curves from the front of the car?). Driving it is an absolute delight, construction, finish etc all brilliant (pity the only fault I have is there is nowhere to put a cup or can safely!). Many thanks, even though FIAT has a relatively high depreciation in the UK, I would not part with my Marea for anything...Well done FIAT. (Kevin, UK)
My Marea Weekend 130 JTD HLX is one of the best cars I have ever owned. And I'am driving her now for two years. It's very much value for money. And I know what I am taking about. I had a Mercedes, a Volvo, a Audi, a Mutsubisi and a Toyota before. This car performs the best in power, price and relialebility. At last an european manufactory made a "close to perfect" car for a middleclass price.
Upgrade from a Panda 1000 CL (!) with 80,000 + miles (the mileometer gave up for about 5,000 miles!) to a 1 year old Marea ELX 2.0 20v with 11,000 miles on - quite an upgrade! I can't believe Fiat don't sell more of these in the UK - they outperform most other 2.0l engines, look smart and are amazingly cheap compared to competing cars. Only major failure (heater matrix) in 3 years of great driving - pity my wife won't let me have it on week-days! (Matt, UK)
I am on my second Marea Weekend SX and my fifth Fiat in 18 years. I reckon I have covered over 400,000 miles in Fiats, 200,000 in two Fiat Pandas. There can be no other car company that provides such quality for the price asked. The Weekend carries four passangers in comfort, four mountain bikes on the roof, 100 bottles of wine in the rear, plus all the luggage needed for six weeks in the south of France. I'd like to see the rather puny Audi A4 do that. I've helped friends move house and it is great for moving the rubbish from the garden. I'm looking forward to trying out the aircon in France this summer. (Stephen, Scotland)
I bought the car (Marea HLX) completely by accident - I'd never heard of the model in fact when I looked it up on the web - it was described by one reviewer as the "forgotten Fiat" I've now had it for almost a year and it has been remarkably reliable. I never thought it would be possible but I think it's the best car I've ever owned. I'm very impressed. (Julian, UK)
Best all rounder Iv'e ever owned. Small car economy, with JTD engine and even bargain size tyres! Much big car ability,performance and roadholding. Medium size car practicality. All this and it pulls my Caravan with ease and stability. (Frank, England)
I bought my '98 1.6 SX 16v Weekend second-hand, with 90k on the clock for a bargain. I've now had it 4 years, the engine is a sweet as a nut, that great boot with the tailgate can handle all sorts of large and awkward items with ease, it has an excellent turning cirle for a largish car, and generally the build quality is good. I'm going to own it till it dies, which might (hopefully) be more than 3 years from now. At the price I bought it, that will mean a depreciation of less than five hundred pounds a year. Would buy another in a heartbeat. (Barry McW, Northern Ireland)
HI, said I'd never have another FIAT after a really troublesome 126 but read below! We now own a marea weekend very similar to the one shown on this form - it is a 1.6 ELX auto . It performs like a 2 litre motor and is really good on fuel. A good looking car and reliable . could not ask for more! would only swap for newer model of same car! not the saloon though - the estate definitely looks better! SO CHEAP AS WELL! I could go on - but I already have !
Well I've just bought my first Fiat after my 406 DT GLX died on me it's a 1800 elx weekend 1998 and it beats the 406 hands down for comfort and style and is very good on fuel there's no rust which was always something that happened to Fiats or so I was told it goes like a train holds the road on fast bends and is very comfortable and cheap what more can you ask will defiantly buy another (Giuliano, Weymouth England)
---

Use the buttons at the top to navigate further, or
---
Copyright © 2000 to 2008 CarsfromItaly