Fiat Multipla

The Multipla was first seen as a concept in 1996, and entered production in an almost unchanged form in 1998. A less conventional approach to the 'mini-MPV' class of vehicles started by the Renault Scenic, the Multipla seats its six passengers on two rows of three individual seats, the idea being to carry six people and their luggage in a vehicle less tha 4 metres long (the length of a Fiat Bravo). The interior is also designed to be versatile and all the seats can be removed to increase the flexibility of the vehicle, although (unusually for a compact MPV) even with all the seats fitted the luggage capacity is quite good. Mechanically it is conventional, with four cylinder petrol (1581cc with 103bhp) and diesel (1910cc JTD with 105bhp) engines mounted transversely and driving the front wheels.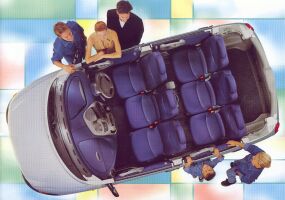 Some more unusual variants include the 'Bipower' version which runs on either petrol or CNG (stored in tanks under the floor), the 'Blupower' which runs on CNG only and the 'Hybridpower' which has a 1600 petrol engine combined with an electric motor. Click here for more information on the versions of the Multipla using alternative fuels.
Highly acclaimed by the press for its ingenuity and design, the Multipla features a novel 'spaceframe' construction technique, whereby the non-stressed body panels are supported by a structural steel frame. This is claimed to make smaller production runs feasible, and to allow more flexibility in design whereby many cars can be built on one chassis.
At the Paris Show in 2000 a slightly revised car was shown, using the 'new' round Fiat badge externally, and revised instruments (now featuring a rev counter on all models) internally. The 105 JTD was also replaced by a 110 JTD unit. Another facelift emerged in 2002, easily recognisable by the colour coded bumpers. A number of other small improvements were also made.
2004 saw the launch of the "New" Multipla. Visually very different, thanks to the completely new front end, it remains distinctly Multipla. The front is basically the same as the similarly timed Idea whilst the back is also tidied up, the overall effect a successful attempt to make the vehicle more acceptable to a larger audience. Mechanically it remained identical, whilst more importantly the award winning interior with 3x3 seating remains unchanged. Fabrics, colours, wheels etc were all revised to top a much awaited, needed and pleasing revision.
See a video of the New Multipla here (2.9MB).
---
| | |
| --- | --- |
| | |
---
Technical Details

Driveline
transverse engine at front with front wheel drive
Suspension
front : MacPherson strut with telescopic dampers and coil springs plus anti-roll bar
rear : independent with telescopic dampers and coil springs plus anti-roll bar
wheelbase : 2666mm
front track : 1511mm
rear track : 1520mm
Brakes
front : discs, ventilated, diameter 284mm
rear : drums, diameter 228mm
handbrake operating on the rear via a cable
ABS
Gearbox
5 speed manual
Steering
Rack and Pinion with power assistance
Dimensions
click here.
Kerb Weight
1300kg (1600)
1370kg (105JTD)
Click here for a cutaway drawing of the Multipla showing the structure plus passive safety features.
---
Performance

| | | | |
| --- | --- | --- | --- |
| model | max speed | 0-60mph | in gear acceleration |
| 1.6 | 105 mph | 13.7 sec | 18.4 (50-70 in 5th) |
| JTD | 101 mph | 13.7 sec | 16.6 (50-70 in 5th) |
---
---
Tuning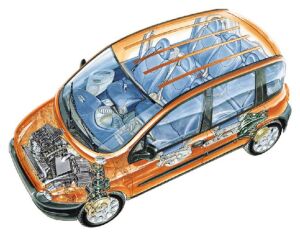 Easily carried out modifications include installation of a free-flow air filter (a cold air duct is also a worthy modification) and fitment of a less restrictive exhaust system to improve the driveability, 'Chips' are also available which (claim to) increase the power, driveability and torque all at the same time. Since the mechanicals are almost all the same as the Bravo/Brava there are numerous options commercially available for the latter which can also be used on the Multipla.
The brakes can be improved by fitting drilled and grooved discs, using a superior pad compound and fitting stainless steel braided flexible hoses.
Dampers and springs can also be purchased for the Multipla which will improve the handling, and a strut brace can be fitted at the front to increase the stiffness of the bodyshell.
---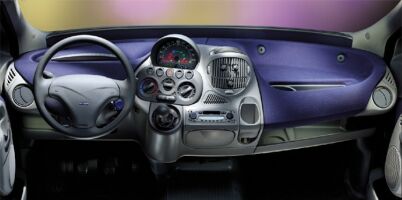 Links
A UK owners club website.





---
For books on Fiat see our Online Bookstore
There is also a list of all our picture galleries (including museums, motorshows and various events).
Wallpapers/Desktop Backgrounds of numerous Fiats also available to download.
---
Multipla comment form
---
Your Comments
I bought a used FIAT Multipla JTD SX two months ago. After our first vacation-tour to Slovenia and Croatia (2 adults, 1 child, 1 mountain-bike and a lot of luggage) I am very satisfied with the car. The engine is quiet, seats are comfortable and the consumption rate is very low. Unfortunately the car sells very bad in Germany, because most people find it ugly. The positive effect is that used car prices are very reasonable. (Richard, Germany)
We think that the Multipla is a car out the ordinary and would suit our family.COOL! looking CAR , WELLDONE FIAT!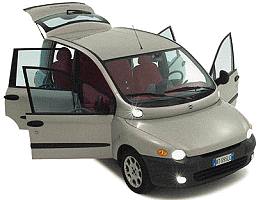 I bought a new Multipla JTD ELX six months ago, and love it! It handles very well, with little roll, although the ride is a little harder than I am used to. It has been totally reliable so far, and I think that the extra money for the ELX is well worth it for all you get (Aircon, sunroofs, coloured fascia, alloys, foglamps etc). It still gets lots of attention when out on the road from other drivers and pedestrians, and people often have a look round it when it is parked. My three children all like it, and have to have a rota for who sits between Mum and Dad, whilt the two in the back fold down the centre seat for a picnic table. All in all an excellent family car, although I wish they would do it with the 155 20v engine (or even the 20v turbo!)! (Jerry, UK)
I think the Multipla is simply brilliant! The designers at Fiat has just created a miracle of a car. I don't know why, but to me, it looks really great. I know it's a matter of opinion, but, you know... The one and only problem which I find with it is the slight lack of power from the engine, but it doesn't matter 'cause the rest of the car is so great, so complete that I can overlook that completely. I'm so very smitten with this amazing car for the whole family. Thank you Fiat! (Flashson, Singapore)
For me Multipla is really outstanding. The design is fantastic and for the day by day work is the best. I even change from an Audi A4 for this car. The only thing that really has to improve is the engine. Well, I will put a chip, direct admisson air, better air circulation, anti aproach bars, diferrent colector, and with this tuning i´ll get around 140hp. Hope to have it ready next month. (Pedro, Portugal)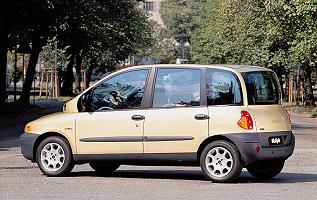 The engineers @ FIAT have really done a great job in packaging so much in such a small space. My only hope is that they could have a version with automatic transmission. We are still waiting for the release of this car in Singapore. (Samsu, Singapore)
Perfect car and brilliant design! Only the plastic interior materials should be better scratch resistant. (Gerard, Netherlands)
Best car I have ever had!! (Dennis, The Netherlands)
We are a family of two adults and four kids. We found pictures of the Multipla on the web before it was released, and decided directly to get one ASAP. Our Multipla is from the first year, 1999. So far it is the best car ever, not one problem and only one oil change . Three summers in a row we have gone for long car trips. It is amazing how six people and a lot of luggage can be loaded into this short car. Our next car will be another Multipla, this time with a sunroof (Christer, Sweden)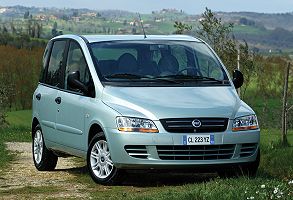 The Multipla's adaptdability sold it to me, that and it's individuality - if you really want to stand out from the crowd, drive a Multipla! It just cries out for personalising. And for Dr Who fans - it's like a TARDIS inside! Everyone who sees mine for the first time can't believe how spacious it is. The engine is the best diesel I've ever driven. It cruises effortlessly, and as quietly as a petrol engine, and has good acceleration in 3rd/4th for overtaking. I tested the Scenic and the Zafira and the Multipla (in my opinion) drives/handles better than both. I'm looking forward to the next year during which I'll cover approx 40,000 miles.
12,000 km and loving every one. A dream car to drive with open view and at hand controls etc. Just wish for cruise control for long trips. (Arieh, Israel)
I purchased a Multipla ELX petrol version two years ago and must say they have been the two most satisfying motoring years of my life. I first saw a Multipla on a business trip to Denamark and was immediately excited by its appearance. On my return to Dublin I visited my Fiat dealer ( I owned a Brava at that time)and asked for information on the Multipla, it had not yet arrived in Ireland however it became available shortly after and a test drive confirmed my thoughts and I made a purchase.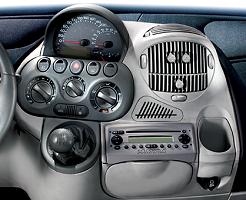 Like a number of the comments on the site the only serious reservation I have is the lack of power, hopefully Fiat will address this issue soon at least before I purchase my second Multipla! (Ian K, Ireland)
With a baby on the way the Lotus Elise had to go. We needed a practical car. I'd seen the Multipla at the Motor Show in London in 1999 and was amazed that a big car manufacturer like Fiat were serious about trying to sell somthing so obviously lacking in any rational sense of beauty. The three seats up front though suited us so we took the plunge. Three years later our admiration for this thing knows no bounds. We will drive Multipla's as long as Fiat makes them. Sadly looking at the current state of Fiat that might not be as long as we would like ! (Simon, UK)
When I first saw the Multipla on TV I said to myself : Jesus! what an ugly car. I'll never buy a frog like that. I had an old Tipo, and the Fiat dealer gave me the keys of his own Multipla and said I HAD TO drive a few kilometers to test it... One month later I had my Multipla. My wife doesn't like large cars but she loves to drive the Multipla. My two children were enthousistic when they first climbed in. What I would like on my Multipla ? Cruise control, better seats... My next car will be a ... Multipla
I am in love with Multipla 3 years ago because of the design.It may look ugly to others but its unique to me.2005 I bought a used Multipla.I enjoy driving,spacious,wide screen and fuel consumption are good too.right decision to buy and never regret it. Multipla will be my stallion for long time.
---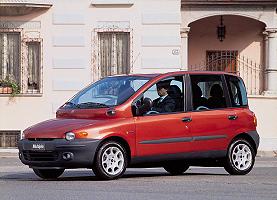 Use the buttons at the top to navigate further, or
---
Copyright © 2000 to 2008 CarsfromItaly