Fiat Bravo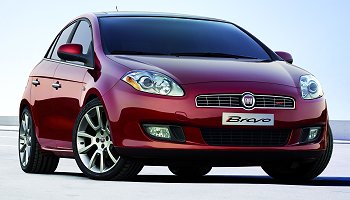 Announced late in 2006, although not launched until January 2007, the new Fiat Bravo is the mid-size hatchback replacement for the Stilo, and uses the name of the latter cars predecessor. A conventional front-engined, front-wheel-drive 5-door hatchback, it is only available in the one bodystyle.
Designed internally by the Fiat Centro Stile, the Bravo sets out to attract with its uncluttered, smooth lines, borrowing heavily from the successful Grande Punto to continue a consistent 'family feeling'. At the rear the lights hark back strongly to the original Bravo. Although only available as a five-door, the design is overtly sporty despite a roomy interior and a class-leading boot space.
In terms of engines the new Fiat Bravo was the first model presented with the (then) new family of turbocharged TJet 1.4-litre petrol engines. Based around the very proven FIRE engine, these low-capacity turbo units are designed to combine fuel economy, low emissions and exceptional performance. Available in the Bravo are two versions, one with 120bhp and the other with 150bhp. See the TJet system here. They are partnered by a basic 90bhp 1.4 16v FIRE engine and two well tried 1.9 MultiJet units, again with 120bhp and 150bhp. Both five and six-speed gearboxes are used, depending on the engine, whilst a 'Dualogic' semi-automatic clutchless transmission was introduced later.
Mechanically the Bravo is a development of the Stilo, using a modified chassis and running gear. The steering comes with electric power-assistance (Dualdrive) as standard, whilst excellent roadholding is guaranteed thanks to the use of tried and tested suspension systems : independent MacPherson at the front, and a semi-independent torsion axle with interconnected wheels at the rear.

The Fiat Bravo was designed to score maximum points in both passive and active safety tests, thanks to several airbags, three-point seat-belts with pre-tensioners and load limiters, and five head-restraints (diagram). It was awarded a maximum five stars in the EuroNCAP test for adult occupant protection. The behaviour in an impact of all chassis parts including the bodywork, the bonnet, doors and upper front crossmember is calculated as well as individual compenents such as the seats or the steering column. As many as seven airbags, depending on version and market, are fitted. These include dual-stage (so called 'Smart') airbags for the driver and front passenger, side airbags mounted in the sides of the front seats, a knee airbag for the driver and roof airbags which drop down to protect the heads of both the front and rear passengers. 'Pedestrian impact' was also taken into account during the design of the chassis, it being designed to maximise the absorption of this type of impact. The Bravo also features various sophisticated electronic systems to monitor the vehicle's dynamic behaviour, such as ABS with EBD, ESP (with Fiat's proprietary Hill Holder) and ASR traction control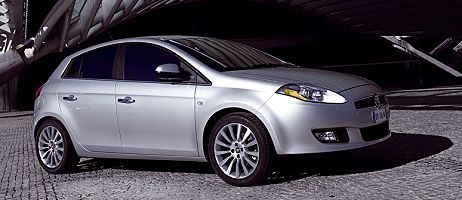 Inside, the front and rear seats of the Bravo were specially designed to guarantee the best possible comfort with an improved lumbar support system, padding which adapts to the shape of the body and an 'anti-submarining' structure that prevents the body from sliding forward, under the seat-belt, in the event of a violent head-on impact. The instrument panel (developed by Magneti Marelli), is turned entirely towards the driver, and is blended into the curved dashboard. The latter includes a strip of colour or fabric, depending on the trim level. Space for both the driver and their passengers is good, especially laterally thanks to the width of the car. The rear seat squab splits 40/60 and is also fitted with Isofix attachments for child seats.
Content to keep the occupants happy varies from the joint Fiat & Microsoft 'Blue&Me' system (which combines a Bluetooth hands-free phone system with a USB port for MP3 music-player connectivity), the second generation 'Blue&Me Nav' (which adds a pictogram navigation system), a dual-zone automatic climate control system, various audio systems, a large panoramic opening double sunroof, cruise control and rain, dusk and parking sensors.
A maximum of four trim levels (Active, Dynamic, Emotion and Sport) and twelve exterior colours are available, depending on the local market. In Australia the Bravo is marketed under the name Ritmo.
The Fiat Bravo is built in the Piedimonte S. Germano factory near Frosinone which originally opened in 1972.
The New Bravo was also the launch platform for a new Fiat logo. Harking back to its heritage, the new logo retains a circular form with the word FIAT inside, but the background colour is a deep red, whilst the wreath has become a 3D squared metallic band.
Early 2008 saw the introduction of the 1.6 MultiJet diesel. A completely new family of engines, at its heart is a turbocharged four-cylinder 16-valve unit with a capacity of 1598cc, combined with an advanced six-speed transmission. The Bravo takes two versions, one with 105bhp (using a fixed geometry turbo) and one with 120bhp (with a variable geometry turbo). Both are Euro 5 compliant and include all the latest emissions reduction technology, including a close-coupled DPF (Diesel Particulate Filter) and EGR (Exhaust Gas Recirculation). A version with less than 120g/km CO2 is also available as an option.
Later in 2008 a new 2.0 16v MultiJet engine was introduced to the Bravo. With 165bhp this version provided a decidedly more interesting drive ! It was available only in the Sport and Emotion (luxury) versions and completed the 0-100kmh sprint in just 8.2 seconds, whilst returning a combined fuel consumption of a mere 5.3l/100km.
In 2010 production of the Bravo (a localised version) also started in Brasil.
See a studio video (2.5MB), and a driving video (7.8MB) here.
---
Driveline
transverse engine at front with front wheel drive
Engines
1368cc (72x84mm) 16v dohc four cylinder with 90bhp @ 5,500rpm
1.4 16v TJet turbo four cylinder 120bhp
1.4 16v TJet turbo four cylinder 150bhp
See the TJet system here.
1910cc (82x90.4mm) 8v sohc four cylinder MultiJet turbo diesel with 120bhp @ 4,000rpm
1910cc (82x90.4mm) 16v dohc four cylinder MultiJet turbo diesel with 150bhp @ 4,000rpm

1598cc (79.5x80.5mm) 16v dohc four cylinder MultiJet turbo diesel with 105bhp @ 4,000rpm
1598cc (79.5x80.5mm) 16v dohc four cylinder MultiJet turbo diesel with 120bhp @ 4,000rpm
1956cc (83x90.4mm) 16v dohc four cylinder MultiJet turbo diesel with 165bhp

Suspension
front : MacPherson strut with telescopic dampers and coil springs plus anti-roll bar
rear : torsion beam axle with telescopic dampers and coil springs
wheelbase : 2600mm
track (front/rear) : 1538mm/1532mm
Brakes
front : ventilated discs, diameter 257mm to 284mm
rear : discs, diameter 251mm
handbrake operating on the rear via a cable
ABS, EBD, ASR, MSR plus ESP on some models
Gearbox
5 or 6 speed manual
dual cable gearshift mechanism and hydraulic clutch
Steering
Rack and pinion
electrical power assistance (Dualdrive)
Kerb Weight
range from 1205kg (1.4 90bhp) to 1360kg (1.9 MultiJet 150bhp)
Dimensions
length / width / height (mm) : 4340 / 1790 / 1490
or see the internal and external dimensions
---
---
| | |
| --- | --- |
| | |
---
For books on Fiat see our Online Bookstore
There is also a list of all our picture galleries (including museums, motorshows and various events).
Wallpapers/Desktop Backgrounds of numerous Fiats also available to download.
---
New Bravo comment form
---
Your Comments
Stunning looking design that deserves to do well. New logo reminiscent of that on my old 125. Thanks for the cash injection GM. Can Fiat be finding their way again?
Hi, I'm from Australia and we finally have fiat back :) this is being called RITMO here, I have Punto and its superb -thanx for coming back Fiat. (Rodney, Australia)
I bought new Bravo 1.4 TJet 120 hp and it' s brilliant. I love it, it goes great, it looks great (Dino, Croatia)
Great car! I own the old Bravo and looking at this new one it's a "must have". Plan to get it by 3rd quarter of this year so that I can rebuild the old one. (Speedqronik, Malaysia)
Hi, just picked up my knew Fiat Ritmo - looks fantastic, and drives wonderfully... Grazie (Angelo, Sydney/Australia)
---
Use the buttons at the top to navigate further, or
---
Copyright © 2000 to 2011 CarsfromItaly